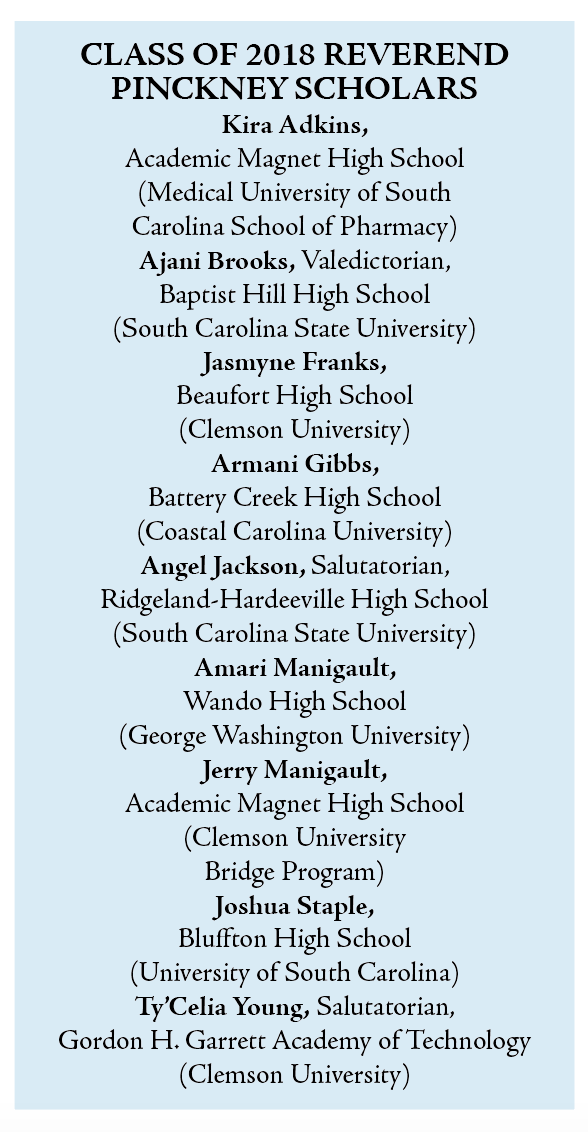 Recent Beaufort High School graduate Jasmyne Franks and recent Battery Creek High School graduate Armani Gibbs are among nine members of this year's cohort of scholarship recipients of the Reverend Pinckney Scholars Program.
Coastal Community Foundation (CCF) established the program in memory of the late Rev. Clementa C. Pinckney and in response to the June 17, 2015, massacre at Charleston's Emanuel A.M.E. Church.
CCF also announced that several of the original anonymous donors to the program had contributed an additional $3 million to increase dramatically the scope of the program.
"Furthering your education was always important to Clementa. He valued it and felt it should not be taken for granted," says Jennifer Pinckney, widow of Rev. Pinckney. "I know that he is smiling down as he sees all of the Pinckney Scholars moving forward in life to improve upon themselves and strive to make a better future."
The program will now include three key components: scholarships for higher education; college counseling; and career development.
The four-year renewable scholarship program, which is dedicated to promoting access to higher education for African American students, will benefit nine Class of 2018 scholars from Beaufort, Charleston, and Jasper counties who will receive up to $10,000 for each of their four years of college, in addition to supportive resources such as professional development and networking opportunities, through the foundation during their college career.

The first two classes of scholars (a total of 21 students) are thriving at 18 colleges and universities. CCF reports that all scholars remain enrolled and their cumulative grade point average is 3.68. In addition, their list of accomplishments to date is lengthy and impressive.
Applicants are selected based on three main criteria: academic performance, substantial financial need, and leadership potential.
About the Reverend Pinckney Scholars Fund and Program
On July 2, 2015, a group of anonymous donors, moved by the tragic murders at Mother Emanuel A.M.E. Church and Charleston's remarkable response to the shooting, created a $3.2 million scholarship fund in honor of Reverend Clementa C. Pinckney. In March 2016, Coastal Community Foundation began to administer the scholarship fund and its companion program, the Reverend Pinckney Scholars Program. The program will support up to 40 students (up to 10 per class year) with renewable 4-year undergraduate scholarships; professional development, internship, and networking opportunities, and beginning in Fall 2018 will administer a companion program to assist high school juniors with the college application process and financial aid literacy.
About Coastal Community Foundation
Coastal Community Foundation (CCF) helps create vibrant communities by uniting people and investing resources. Founded in 1974 to make a lasting impact through permanent, endowed funds for charitable giving, CCF embodies the core values of stewardship, integrity, inclusion with equity, and courage.
CCF serves nine counties across coastal South Carolina, manages more than $250 million in assets (among the top 100 community foundations in the nation), and awarded more than $17 million in grants in 2016. To learn more, visit coastalcommunityfoundation.org or call (843) 723-3635.
THE PROGRAM AND 2018-19 ENHANCEMENTS

Scholars are eligible to renew their award each year by maintaining good standing in the program, with an expected total award of approximately $360,000 to the Class of 2018 over their four years of college. The program—now in its third year—is supporting 30 students in total with a dollar amount of nearly $240,000 being awarded in the 2018-2019 academic year across the three cohorts.
"This program gives promising students an opportunity to attend their school of choice," says Darrin Goss, Sr., President and CEO of Coastal Community Foundation. "Feeling a sense of belonging in the place where one studies is a key ingredient to academic, social, and civic engagement, which is integral to student achievement."
CCF has identified a need to reach students earlier in their high school years and a need to provide them with more opportunities during their undergraduate experience. Thanks to the generosity of three of the fund's original donors, CCF will now be able to help meet these needs. These program enhancements focus on supporting scholars in three areas identified as critical for academic success:
College preparation, selection, and first-year succes (A cohort of approximately 30 applicants from Beaufort, Charleston and Jasper counties will be selected to participate in the College Readiness Program during their Junior year of high school.)
Preparation for post-college success through internships (Rising junior and senior Pinckney Scholars will be connected to paid summer internship opportunities in their respective future career fields.)
Opportunity grants for academic, social, and professional development opportunities (Such as networking or professional development events and conferences, and an experience for each student once during their four years of college such as a study abroad or summer learning opportunities.)
Programming for new scholars will begin this summer with an orientation on June 16 covering topics pertaining to the college transition, such as time management and on-campus resources. All Pinckney Scholar cohorts will attend a luncheon and professional development sessions covering soft skills training, resume building & personal marketing, and financial literacy.
The media is invited to attend a press junket and interview scholars (wishing to participate) and CCF staff on June 16 at 3 p.m. at the Belmond Charleston Place. (More information will be sent to the media under separate cover.)