On Friday, September 30, the Child Abuse Prevention Association purchased a new location for its CAPA's Closet Thrift Shop. The building, currently known as Keith's Place, has been a staple in the Beaufort community for years. It has been a drive-up restaurant and a pool hall and has always been known for great food and service. With opening planned for early 2012, CAPA is looking forward to setting up shop on Ribaut Road and continuing to provide quality clothing and home goods to the community at low prices.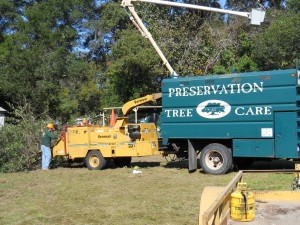 "This purchase would not have happened without a generous gift from a family who believes in our mission and wanted to help us take this bold step toward sustainability. The $150,000 gift made it possible for us to move ahead with the plan to purchase and renovate the existing building. While we will have a mortgage, it will be less than we currently pay in rent," said Susan Cato, CAPA Executive Director.
The community is hard at work to turn the building into a retail space for CAPA's Closet Thrift Store. Bartlett Tree Experts, formerly Preservation Tree Care, spent most of the day on Wednesday, October 26, clearing out the back yard of the future home of CAPA's Closet. The crew worked hard to remove dead or drooping trees and vines and prune the rest. The crew at Bartlett donated their time and talents and helped CAPA make the first visible improvements to the newly purchased space.
"Preservation Tree Care always enjoyed helping the community," said Michael Murphy, former owner of Preservation Tree Care and current manager of Bartlett Tree Experts. "Now that we are Bartlett Tree Experts, we hope to continue to help make a difference in our local community."
CAPA's Closet Thrift Store first opened its doors in 1995 and relies 100% on community donations and volunteers. Every dollar earned from CAPA's Closet helps pay for the many child abuse prevention and intervention programs offered by CAPA including school-based safety and character development education programs for children, parent education and support groups, and CAPA's Open Arms Shelter for Abused and Neglected Children.
CAPA will remain in its current location next to Bi-Lo on Parris Island Gateway until the new building is ready. Please continue to stop by to shop and drop off items Monday through Saturday. If you are interested in volunteering at CAPA's Closet or willing to help with the move, please call Bobbi Aimar at 843.524.0281.