From staff reports
A Burton Fire District Captain/EMT provided aid to a passenger who was in distress during a return flight from New Orleans, preventing the flight from having to make an emergency landing.
While returning from a family vacation in New Orleans on an America Airlines flight last week, Capt. Bobby Davidson, an Air Force veteran and a member of the Lowcountry Firefighter Assistance Support Team (F.A.S.T.) trained to help firefighters cope with tragedy and PTSD, noticed a passenger sitting nearby in severe distress.
The passenger, a military veteran, was experiencing a PTSD crisis resulting in emotions that drew concerns from the flight crew and passengers alike, with one flight attendant concerned that they would have to make an emergency landing if the situation continued. Using his knowledge and experiences as a fellow veteran himself, along with his F.A.S.T. team training, he was able to comfort and calm the veteran, and fellow passengers, throughout the flight allowing it to safely reach its destination without incident.
American Airlines sent Davidson a letter of appreciation and awarded him 15,000 bonus miles.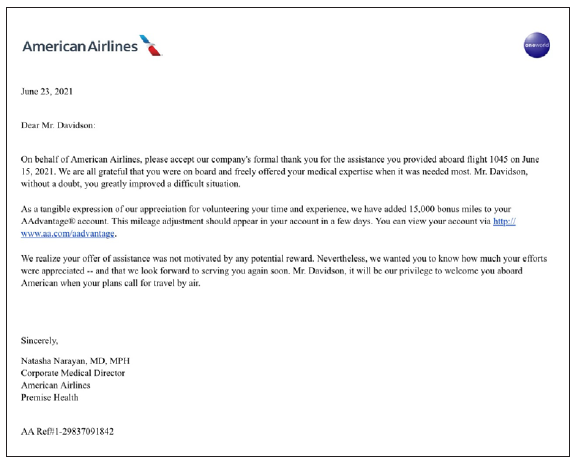 Davidson graduated the S.C. Fire Academy in 2003 where he was selected to receive the Order of the Maltese Cross award for the student who best exemplifies the courage and integrity of the fire service. In addition to awards for community involvement, Davidson was selected as Burton's Firefighter of the Year in 2010 and Fire Officer of the Year in 2015. In 2017, he received the S.C. Firefighters' Association Citizenship award for his mission work in Africa, and in 2018 he was selected as the Beaufort Exchange Club Firefighter of the Year.