By Mindy Lucas
Beaufort business owner and former city councilman Stephen Murray was sworn into office on Dec. 8 as the city's first mayor in 12 years.
While Murray is one of the youngest mayors the city has had in decades, politics and civic engagement weren't always top of mind for the 39-year-old.
Thanks to a drama teacher at Beaufort High School, Murray was "bit by the theater bug" and as a result found his way into business at an early age.
Over the years, he has started and managed several successful business ventures and currently runs Kazoobie Kazoos and New South Shirts. He and wife, Melissa Murray, Beaufort County School District's PK-12 Director of Literacy, have twin girls.
As the city's new mayor, Murray will be coming in at a time of increased growth and development, tension between developers and historic and environmental preservationists and a global pandemic that has affected Americans everywhere.
The Island News recently talked with Murray by phone, just before his swearing in, on these and other issues and his goals as mayor.
TIN: How did you get your start in business. Where did you get your drive to be self employed and basically a self-made business owner?
Murray: When I was a freshman at Beaufort High School, I had to pick an elective. I decided it was theater or studio art. At the time I figured theater I could B.S. my way through, but studio art I'd have to produce tangible work, and I wasn't that good of an artist.
So I picked theater, and Tim Brown was my instructor. It was his, I think, first year of teaching. He was just out of college and organized a trip to New York (City) that fall. So I was fortunate enough to go on that trip and got to go to Broadway. I was about 14 at the time and just got bit by the theater bug. Just the whole, the production of it all really struck me.
So I came back to Beaufort and really got involved in the theater program thanks to Mr. Brown. I had an opportunity at the time, as a job, to run the sound board for The Shed Center for the Arts. I think I made about $15 an hour at the time, while my buddies were bagging groceries at the Piggly Wiggly for minimum wage. I thought I had died and gone to heaven.
But that sort of turned into the '90s. The mid '90s was a really exciting time for live performance in Beaufort. We had several dance companies in town both for the young and adults. Byrne Miller Dance company was bringing travelling professional troupes to Beaufort. Southern Circuit Film Series happened a couple of times a year. The Hallelujah Singers was very active at the time with Marlena Smalls and Anita Prather.
So it was exciting because I was able to stay pretty busy all through high school and made really good money doing sound and lighting and technical direction and setting up some of these travelling shows as a technical director.
And so I thought, I couldn't get paid to act, even though that was kind of one of my passions, but I could get paid to be in the theater on the technical side of things, and I enjoyed that almost as much.
So I was making pretty good money and had pretty stable work as I graduated high school here in Beaufort. I was making probably $20 plus an hour for most of my jobs. So I decided to go to college just because that was what was expected, but I didn't necessarily enjoy it, and I was really called into the work, and I wanted to travel.
So the thing about this is it was '99, so the internet was just kind of really getting going. There's a website called playbill.com that has a theater classified section, and so I applied for a job as a production manager in a touring children's show.
That's how I met Rick Hubbard who is the king of Kazoo. So I toured with him for about a year on the road.
TIN: If he was the king of kazoo, what was he doing on the road?
Murray: (Hubbard) was a performer and a singer and entertainer for a number of years.
I don't know if you remember, there was a Fox Kids Club. They had these affiliates all over the country and each Fox affiliate had a Kids Club host. And so in the afternoon when you came home from school, you had Duck Tales and Tale Spin and a bunch of different cartoons and during the commercial break they would have this host who would come out and teach you some life lesson.
…And so Rick was the Kids Club host. He sort of turned that local celebrity into a travelling show. He did two: one for family festivals all over the country and theaters and outdoor events and then he had a kids' show in schools called "Who Can Do It? I can."
It was a motivational live interactive performance for elementary school-age kids. …Throughout the show he gave away kazoos. He was giving away 30 or 40,000 kazoos a year and had turned it into a real business. He's played Carnegie Hall and the Kennedy Center, 40,000-person kazoo bands and Cincinnati with Weird Al Yankovic.
So in 1997, he bought kazoos.com. (Hubbard) is kind of a techno-geek. So he bought that and opened an e-commerce website and when I say e-commerce, it was essentially a single page.
…Overtime though, up to about 2000, he kept building the site and after spending a year on the road with him, I decided I didn't want to live out of a suitcase anymore. The road life isn't nearly as glamorous as you see on TV.
So he was complaining about the kazoo business, the few customers that they had a week, and I had dabbled a little bit in computers and had offered to take it over. At this point it was just a retailer. We bought kazoos from other manufacturers and resold them online.
TIN: So that's how you got your first business?
Murray: Before that, I had my little theater company and had employees that helped me with doing lights and sound setup and that was my first business. And like a lot of 14-year-olds, I had a lawn care business with maybe 20 or so frequent clients, and I had a carpet cleaning business after that.
TIN: Sounds like you were already well on your way to being an entrepreneur or self-made business owner by the time you were a young adult.
Murray: Yeah, so I ran the business for Rick for about a year, and the manufacturer up in Michigan, because of offshore competition, lost about 60% of his business overnight and decided he was going to get out of the business and sell off all the assets. So he called us and said he was going to have to close his shop.
I was 19 years old at the time and Rick, in hindsight it's kind of crazy, but he flew me to Detroit to look at the operations. I came back to Beaufort and said, 'Kazoos! Looks super easy. We should buy it.'
So he got together with a partner and bought all the assets, and we moved the business to Hilton Head Island. So kind of overnight we became manufacturers and had no idea what we were doing. Rick and the partner essentially just let me run the business because they both had other jobs.
Over the course over the next few years, we figured out had to make kazoos and ended up taking it to Tampa, Florida for about seven or eight years. Almost a decade ago, I guess, I bought both partners out and became sole owner of the business.
We moved back in '09. The business was growing and we needed a larger location, and Melissa and I decided we wanted to start a family.
Is New South Shirts a recent business?
While we were in Florida, we had a carpet cleaning business, we did kazoos, I worked on a paint crew for awhile, I did kitchen and bathroom remodeling with a friend of mine. Then we had a tutoring business …so Melissa and I had a tutoring business for three years, 40 employees, four different sites.
When we moved back to Beaufort, we closed the tutoring business, and I had some profits from that business that we needed to do something with.
I kind of fell in love with the technology of the T-shirts, and we had some extra space in the factory we were trying to fill, so in 2010 we just celebrated ten years in the kazoo business and in 2010 I started New South Shirts.
TIN: When you say you fell in love with the technology of T-shirts, is there something interesting to that, that people don't know about?
Murray: New South is a digital printer. These digital apparel printers are kind of like an oversized inkjet printer like you'd see at your house except they are designed to print right on the shirt.
I always thought the technology of being able to print with no set up charges, no set ups, to be able to print on demand, like right on one garment in high resolution and high quality, is really kind of intriguing to me.
We've expanded since then. We do embroidery and silk screening, but the business started just because no one in Beaufort was offering that kind of technology, and I thought it would be kind of fun to try to build a business around it.
TIN: How is that going?
Murray: We were doing pretty good until COVID hit. But we just celebrated ten years and have three employees.
TIN: How did those skills in business and other work translate into public service or do you see that as separate from public service?
Murray: So growing up, I had a dad who was in small business most of my life, so I liked the sort of freedom and flexibility that I saw that he had.
Conversely, I had a mom who worked 60 plus hours in corporate America and missed a lot of things because she had to work, and I could tell that she was kind of miserable about it.
I didn't come from a family of wealth, and so I think I also realized that if I wanted to acquire wealth and build economic security, I was going to have to do that on my own and find my own destiny.
So those two things kind of are what got me wanting to create my own enterprises. I tend to be Type A (personality), so I often have a hard time working for people.
And so again, theater was a really good opportunity. It inspired a passion for literature. I just started reading – text, plays and scripts. We wrote a lot in class. It teaches you about you about public speaking. If you get down into method and character acting, you really start talking about people's intentions and motivations, and I think those things have been helpful. It teaches you about empathy early on.
I think those things are really important in public service, because a lot of the work is about bringing people around the table and trying to understand where they are coming from as an individual and then figuring out that common ground to be able to move whatever the issue is forward.
TIN: When did you know you wanted to run for mayor? Have you known for sometime, or was there one moment in the last year or so when you thought, I need to do this?
Murray: It's really surreal, Mindy, that I'm going to be mayor. I mean, I grew up under the shadow of (former and longtime mayor) Henry Chambers. He was my grandfather's best friend and he was kind of a constant figure in my life as a child. He always had this aura around him that I respected and admired, but I don't think I ever aspired to the job.
I was never really active civically. I never attended city council meetings, I never volunteered civically, until I came back to Beaufort in '09.
I generally give Leadership Beaufort all the credit and the blame for this. Leadership Beaufort did two things for me. One, it introduced me to hundreds of people who get up everyday to try and make this community a better place.
…I came away feeling a little guilty that here are all these folks who work in nonprofits, or work in government, and I got to take advantage of this really great community, and I really wasn't pulling my weight.
I was fortunate enough at the time that my businesses were in such a position that I could carve out a little free time to participate.
The second thing Leadership Beaufort did was expose me to some of the challenges that we have in this community around economic development, the lack of job diversity for those of us who have to work in order to live here, that we had turned an eye away from some of these infrastructure issues that we need to deal with and around leadership tables around the county, and there weren't a lot of young professionals at the table.
It was primarily retirees and the overwhelming majority of them are well-meaning, thoughtful people who love Beaufort, but when I watched the decisions they were making, they didn't necessarily align with my perspective as a young business owner or young guy trying to raise a family.
So I thought maybe there is an opportunity for me to participate in that space and bring a different set of eyes and a different viewpoint.
So I just started attending council meetings. I got on the Chamber (of Commerce) board and thought that would be a good place to work on economic diversification and supporting small business. So that's what led me to go on city council and start acting with governmental officials.
Was there ever a time that completely turned you off of government or made you think, 'I don't want to do this?'
Murray: I think the opposite. There were two specific issues that really pissed me off and out of that anger, that's when I decided to run for council.
The first was the (Beaufort) commerce park. You know the council had bought the commerce park. It was very controversial. I was on the chamber board at the time. I spoke up. I wrote some public letters. I went to meetings, and I was one of the few people in the community who was not on council but advocated for the purchase of the park.
A year or two years after they purchased the park, I drove out there and they had the sign out there. And the phone number was disconnected and the website was like a Chinese website, and I just thought you know this is simple ground game stuff.
So I took a picture of it and sent it over to the city manager at the time. …He said, 'Yeah we'll get to it in a few months.' So a few months go by and nothing happens, so I sent him another email and they just kind of blow it off.
I was just sort of frustrated that number one, you're going to spend my tax money to do some of these things we can do a better job and job diversification is very important and they really weren't taking a serious attempt at it.
And the second one was the bathrooms. We had twin girls that were just born. It was Water Festival. We had the double stroller. There were 4,000 people in the park and we had a blowout dirty diaper.
I don't know if you've ever tried to change a diaper in a Port-a-potty. It's darn near impossible. So we wheeled the stroller over to the playground bathrooms and go to pull on the door and the damn thing is locked.
So I called the city manager at the time and she said, 'Oh we don't have the tax revenue to keep the bathrooms opened.' I call a member of council and they tell me the same thing.
Meanwhile, we had spent almost $2 million to hire a consultant to talk about the Civic Master Plan about how great of a city we want to be in a hundred years. And I just thought how backward are our priorities, when – during what I consider Beaufort's home coming, our friends and neighbors and visitors are here – we can't even prioritize keeping the bathrooms open.
…I was already attending the (city council) meetings and feeling like I was making some impact, but then several things had gotten ignored and I just thought we could do better.
When (City Councilman Mike) Sutton decided he was going term limit himself and not run, I saw that as kind of an opening.
So I never had political aspirations. I guess I still don't. I like fixing things – renovated houses, businesses. I like fixing things.
One of my favorite quotes is by Donald McGannon (president of Westinghouse Broadcasting Company in the '50s and '60s). One of his quotes is "Leadership is action, not position."
Essentially, leadership is about doing, it's about accomplishing things regardless of your position. Position just allows us sometimes to take a different form of action.
So for me, it's been more about there are these problems in my community. I would like to solve them and be part of the solution and running for council and then running for mayor is really just a way for me to have a different course of action toward solving those problems.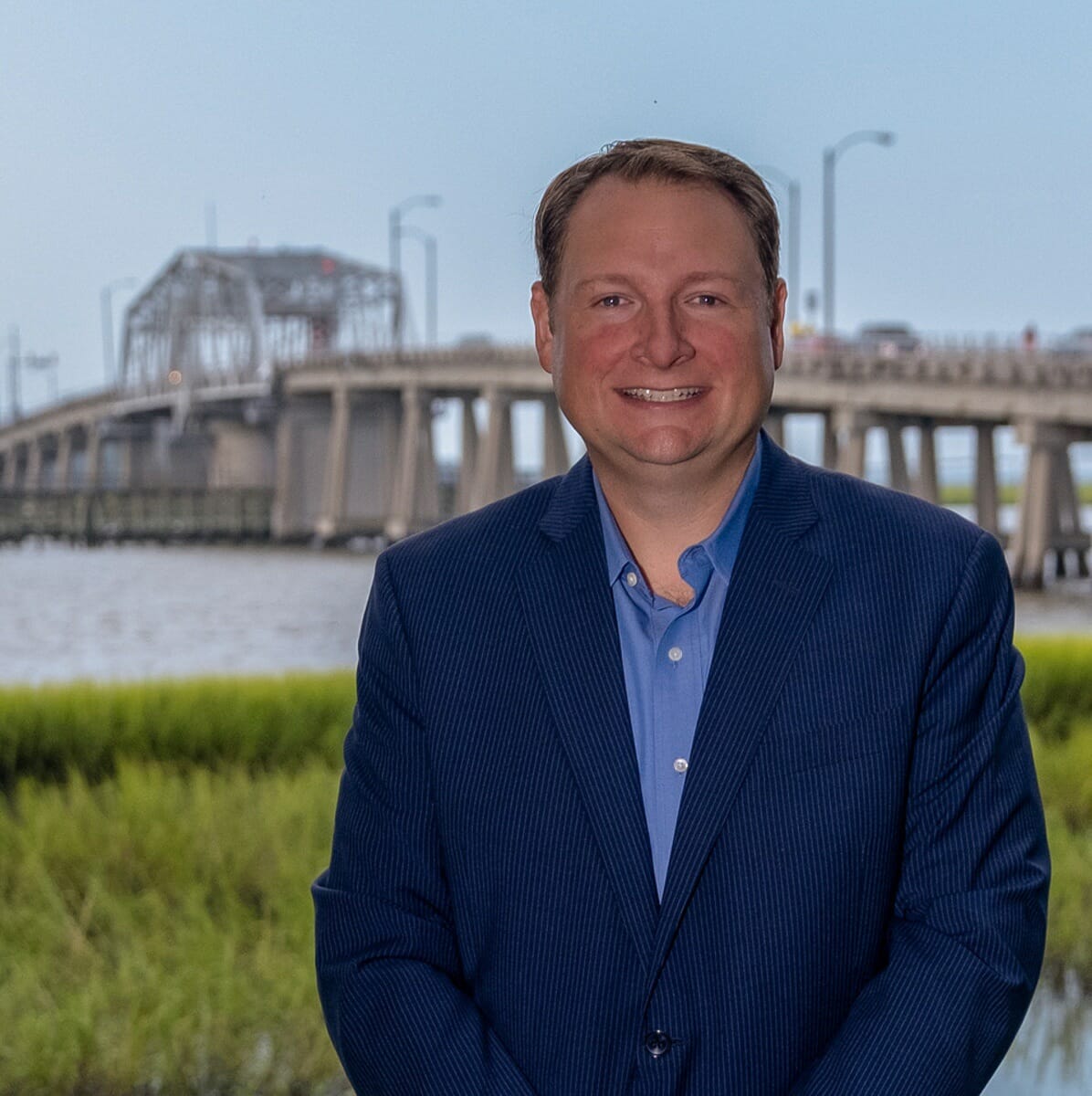 TIN: During our election coverage, The Island News asked all candidates what were the key challenges facing the city or their district.
You said rapid regional growth, young folks leaving, aging infrastructure, a lack of affordable housing and a lack of high paying jobs all threaten our quality of life and authenticity. Let's talk specifics on some of these.
For example, how would you plan or work to balance rapid regional growth when it comes to developers and concerns over private property rights with those who want to see Beaufort's historic buildings and landmarks or the character of Beaufort preserved?
Murray: I think balance is the key word. I think philosophically that's what we're trying to do is balance competing interests.
I think we have to grow. We're going to grow, whether we like it or not. Folks are moving here and so the question really becomes how do we balance that growth? How do we maintain our sense of authenticity, our sense of place, but allow ourselves to capture this growth in a responsible way.?
Part of that is predictability, I think, for developers and for preservationists and just citizens in general. Making our processes, and our expectations as a regulatory authority as predictable as possible is important. I think that helps eliminate frustration and it can reduce cost. But when you set clear expectations it reduces confusion.
So I think as mayor, one of the goals is to make sure that the processes are accessible and predictable to all the stakeholders.
The second thing are design standards. Beaufort over 300-plus years has really cultivated a unique sort of authentic style. What I've heard from residents time and time again, and I believe myself, that nationally and maybe even globally you see this race to sameness.
I was in Frankfurt, Germany a couple of years ago for a music conference for the kazoo business, and I am excited about going to Frankfurt. I arrive at my hotel and look out the window and there's a Sbarro and Taco Bell right across the street, and they looked just like the franchise forms that they would build anywhere in the USA. It was a little troubling, because I like authenticity of place.
We've done a nice job over the last five or six years. Our design standards I think are very reflective of the Beaufort style.
We've made a shift in the type of codes that we have in the Beaufort code, the form base code. It's not a perfect document. They are not perfect codes. They are going to need some tweaking and modifications. And so I think you'll see an ongoing conversation about what's working what's not working.
I think more globally, we've got to educate citizens and the development community, and the stakeholders who are involved in that process on why our development pattern, our design standards, have to change a little bit.
We've been hooked on this auto-centric development pattern for 50 or 60 years, that you have to get in your car to do anything or all of your daily services or daily trips.
One of our primary goals is to try to reduce daily car trips. So that's where the zoning is important. That's where the design standards are important, because it is going to mean a bit of a shift in how we've historically developed over the last 50 to 60 years.
If you look back before that time, for the first couple hundred years of our development pattern, it was a very traditional growth for pattern and rate. Things were mixed use, they were walkable and they were sort of dense.
So I think our design standards and our zoning, they are trying to move us back to a more traditional type of city building. And there's going to be tension there, there's going to be tension from developers who are going to complain about costs associated with something that's a little different than what they historically build around the country. And there may be some push back from residents who see mixed use is not necessarily reflective of the community they live in now.
So I think the education is a big part of our responsibility.
Another one of those issues – young folks leaving. You often quote Census data that show Beaufort's demographics are shifting, I believe something like a 25 percent decrease in the 21-44 age group. What would you propose to do or try to build in terms of an economy or jobs that would attract more younger people from this age group?
The job diversity piece is what I think is most important for any number of reasons. I'm not going to claim I have have all the answers.
I think part of it is you've got some leadership who is retired or they are independently wealthy or whatever the case is. It's really easy to hire a consultant or throw a bunch of money at a problem and get this great guide book and then put it on a shelf and then forget about it until it becomes an issue again.
I think in Beaufort's case, we've had military and tourism, and real estate that's driven by military and tourism, so leadership has been happy. It's all the rest of us, those of us who have to work for a living that it's a real problem.
I often argue when we go to raise taxes or look at impact fees that for the 20 percent of our citizens who live at or below the poverty line, or another hefty percentage that are just above, there's a lot of pressure being put on our working class folks. And it often falls on deaf ears, partly because those folks aren't speaking up, and I hear that too from some who say, 'Well I don't hear from those folks.' Well, yeah, (that's because) they are working 60 hours a week.
TIN: On the issue of affordable housing, Councilman (Phil) Cromer is chairing the committee on Affordable Housing, and it seems that issue goes in lockstep with that idea of trying to attract young professionals not lose them, because when they talk about teachers and firemen and police officers, and how we're trying to attract people to do those jobs, they often find there's nowhere affordable to live downtown or where these folks will be working.
Murray: Right. So I think there are a few things we need to be working on. One is just better opportunity and a different type of job.
With the economic development corporation, we've landed a number of companies and we're just getting started. I'm meeting with a California manufacturing company tomorrow that could potentially bring 90 jobs, all well paying with benefits, to Beaufort.
I'm a believer in our first responsibility in the public sector is to make sure people have economic opportunity. I would much rather that you, for the private sector, and for folks to have gainful employment, be able to just naturally afford the cost of living that we have in Beaufort.
I think we can do that in advanced manufacturing and we can do that in technology and innovation. That's why we started the Beaufort Digital Corridor to help in that sector of jobs and we just started the South Coast Cyber Center to bring together all the partners to stake our flag in the cyber sector industry, nationally and internationally.
So we're at the genesis of all those initiatives. The Economic Development Corporation is probably the oldest at four years old, the Digital Corridor is just over three years old and Cyber Center just celebrated a year.
So we finally have the organizational capacity and folks who wake up everyday thinking about these problems and trying to move the community forward. So I think what you'll see from me over the next few years is to make sure those organizations have the resources they need, make sure that we're setting clear goals and we're setting clear metrics and tactics on how we are going to achieve and measure those goals and then we're going to report them in as transparently and as frequently as possible with all the stakeholders who need to be involved.
TIN: Do you have a "First 100 Days" plan or something similar that you plan to roll out? Or, if you have specific goals what are those?
On the job diversity piece, I want to go back to that for a second, It's the opportunity piece working with those three entities and the chamber, make sure that the business community and economic opportunity is expanding for everybody who wants a well paying job. That's priority number one of that retention piece.
The second one is around amenities and recreation, so I think you're going to see an additional investment in parks and recreation around the city and that's polishing up the some of the things we offer for young professionals.
I don't have an answer yet, but I think there's a role for the city to play in trying to help the private sector expand recreational amenities for young families. So I want to see how we can figure out some of those things in the coming year.
And then the workforce and affordable housing piece – taking the Bowen National Research Study (on housing needs) and looking at the implementation and the tools in the back of that document and figuring out how we can execute those in the city to increase the availability of affordable, workforce housing across the city.
So I think if we can work on jobs, we can work on activities and recreation for people, we can work on affordable workforce housing, and education sort of falls in with the economic opportunity piece, I think we can make some real progress in not only retaining young professionals but also attracting more to the region.
So no I don't have a formal 100 day plan. I think if you watched the campaign, I didn't run on some tremendous change platform. I think if you looked at the other council campaigns, (you'll see) there's a lot of alignment around many of the issues that we've already talked about.
…When I first came onto city council we didn't have a strategic plan, and I got really frustrated. We'd go to these retreats and just complain about things that were happening to us without any goal setting. And so Bill Prokop and myself and the rest of the team created a really great working strategic document. And so I take a lot of ownership in the city's strategic plan, and so that's the working document of where we're going.
We will have a strategic planning retreat in March, and so I expect some changes and some additions to the plan, but for the most part, the city's headed in the strategic direction I think it needs to be headed in so you'll just see a little Murray flavor put on some of those things.
Over the next 90 days, I am going to try and meet with regional leaders across the region.
I have relationships with most of those folks, but since I'm coming in in a new capacity I think it's important to sit back down with those folks and make sure the relationship is strong and communicate some of my priorities, hear some of their priorities and figure out how to continue to work together.
Will your management style be different from what we saw in your predecessor, former Mayor Billy Keyserling, or about the same? And how would you describe your leadership style?
I really admire Billy. He's taught me a lot about leadership. I also acknowledge that I've been a bit of a firebrand on council and I've used a hammer many times on some of the policy issues that I want to accomplish, and I've had that luxury of being sort of an independent member of council. But I think I understand as a presiding officer and as the mayor, my role has to change a bit.
And it really is about listening number one, and number two is bringing people together and making sure folks are being heard …and trying to figure out how we move things forward with consensus and compromise. So you might see a little softer side of Mayor Murray from my performance as a councilman on council.
I am probably more impatient than Billy and have a stronger sense of urgency on some of these. I don't tolerate folks not doing what they say they are going to do, when they say they're going to do it, very well. I don't tolerate a lot of talk towards an issue without a lot of action, especially after we all agree that that's where we're going.
I might expect some tough conversations with folks from time to time. …But by and large I think you'll still see a mayor who is still extraordinarily inclusive and promotes stability and promotes open dialogue and transparency.
As most everyone has been saying, as a year 2020 probably won't be looked back on with any great deal of fondness in large part due to COVID-19, but news of a vaccine has many now looking ahead to a better 2021, I think. So to end on a positive note, what do you think are some of the best qualities our city has going for it, or what do you think the future holds in terms of things we can all look forward to?
That earlier question about when did you decide to run for mayor? I tried to talk myself out of it for about six months this year. Well, six months might be a stretch. Billy had indicated earlier this might be his last term, so there was some thought as to who would be next.
It's a challenging time to be in leadership, no doubt, but I think we need strong leadership now more than ever because of the complexities of the world, and the issues we're dealing with locally and globally.
But I'm still an optimist. I look at the data, I look at globally how many folks we raised out of poverty over the last 20 to 30 years, the literacy rate continues to dramatically increase.
We live at the pinnacle of science and technology in terms transportation and medicine and (other) technology. You look at crime rates again both locally and nationally and they've dramatically fallen over the last couple of decades.
So the data, the indicators say that we are living in a safer, more connected, exciting world …and so I tend to lean on those things.
I think locally when you look at business license revenues, accommodations and hospitality taxes, that's not to say we don't have our challenges (such as) young people leaving like crazy.
I just think it's a really exciting time, and I think we ought to be a little more positive about the world around us. I think we ought to confront these challenges a little more forward facing and data based than what we are.
The silver lining of COVID, is increased economic development traffic because folks are trying to get out of major metropolitan areas and have had a different COVID experience than we've had here locally.
But for the next month or so, it's going to be really telling. But we ought to be proud of ourselves as a community that we've done a pretty damn good job of stopping or slowing community spread and keeping our hospitals well under capacity this year, which not every community around the country can say that.
So I really think there's light on the other side of the tunnel. Now that the national election is getting settled, that creates some certainty. I think we are fortunate that 300 years of forebears have made historic and natural preservation (in Beaufort) a real priority.
We do live in this really remarkable, authentic unique hometown. The question is how do we keep that? How we do keep the important parts of that fabric as we have to grow and move into the future?
It's going to be different. There's no doubt, it's going to be different, but I think it can be even better. I think we can keep how great we are, but make it a little bit better as we evolve.
Photo at top: Then-City Councilmen Stephen Murray, left, and Mike McFee wave to the crowd during the 2015 Memorial Day Parade in Beaufort. Photo by Bob Sofaly.