Above: Weightlifter C.J. Cummings, gets in a workout Thursday, July 8, at The Foundry in Beaufort. Cummings is set to compete July 28 in the 2020 Summer Olympic Games in Toyko. Photo by Bob Sofaly

Olympic dream coming true for Beaufort's CJ Cummings
By Mike McCombs
Monday, March 30, 2020 was a day that would have been more than discouraging for most 19 year olds.
C.J. Cummings was not most 19 year olds.
"He's not the norm," Team Beaufort coach Ray Jones said at the time. "He never has been."
Cummings learned early that morning that the 2020 Summer Olympic Games in Tokyo had been delayed a year as a result of the COVID-19 pandemic.
Cummings was visibly disappointed.
Jones? Not so much.
"THIS JUST IN, CJ NOW HAS A YEAR AND FOUR MONTHS TO MAKE HIMSELF THAT MUCH BETTER!"
That was the text message Jones sent to The Island News at 9:09 that morning.

"It's going to make him more mature," Jones said later that day. "He's going to be better with that, with another year of training. For them to pump the brakes and put it on hold for a year is a good thing."
At the time, that was almost impossible to believe. Cummings, was the four-time defending Junior World Champion and the defending Pan American Champion in the 73-kilogram weight class. He was the No. 1 weightlifter in the United States and ranked fifth in the world.
But Jones couldn't have been more right.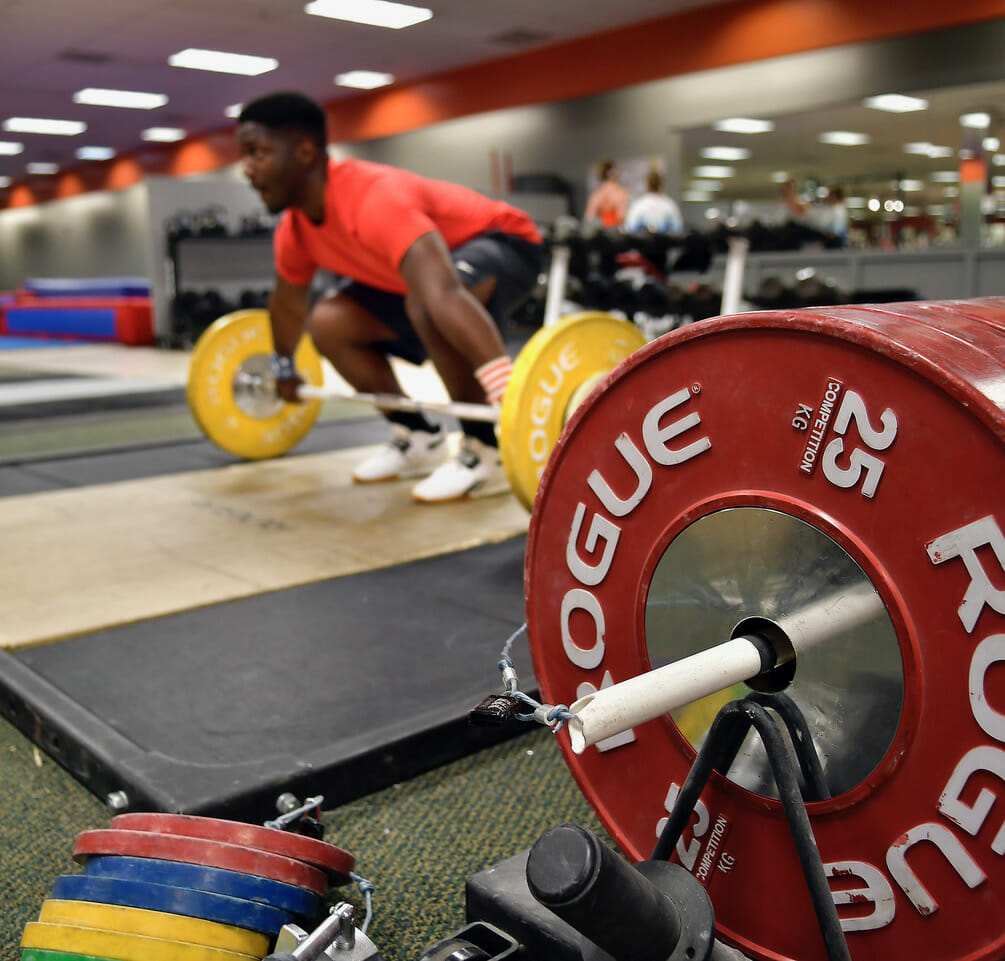 "If it had gone on in 2020 where we had the Olympics and all that stuff, C.J. would have been really really good, but he wouldn't have been nearly as good as he is now. C.J. just started to do more," Jones said last week. "The little things that you would do as a professional – and he is a professional athlete, even though he just turned 21 years old. You can get just so far with that talent, but if you want to do the very best, it's about sleeping better and eating better and doing all the mobility work. Just coming in a lifting for that hour and half, two hours a day, that's not what it's about. … He's doing all the little things. That makes his opportunity better when it comes time to make lifts."
Group A of the 73-kilogram weight class, which includes Cummings, will begin it's competition at 7:50 p.m. Tokyo time on Wednesday, July 28. That's 6:50 a.m. here in Beaufort because of the 13-hour time difference.
When he takes to the platform next week, Cummings will have his work cut out for him. It won't matter that he's the two-time defending Pan-Am Games champion or that he owns 23 American and three world records.
Four lifters in the 73kg weight class come in with qualifying totals equal or better than Cummings' 347kg. And then there's China's Zhiyong Shi, the prohibitive favorite. He's the defending Olympic Gold Medalist and holds the World Record in the Snatch, Clean & Jerk and Overall total.
But neither Cummings nor Jones are concerned with how tough the road is. They are both focused simply on Cummings doing his best.
"I am going to treat it like everything else, but obviously its the Olympics and it is going to be different," Cummings said. "It's going to be a lot more attention and probably a lot more distractions and there are other top-level athletes. But I'm going to treat it like it's any other competition, honestly."
"I have no worries about Tokyo," Jones said emphasizing that Cummings is as healthy as he's ever been, and his National Championship lifts earlier this month, at basically 90 percent of his ability, have him right on schedule to be at his best July 28.
Jones showed Cummings, along with Team Beaufort teammate and Lebanese Olympian Mahassen Hala Fattouh, the scene from Hoosiers where Gene Hackman's character has the players measure the height of the rim and the distance from the free throw line to the basket in the huge gym where the state championship would be played.
"I'm keeping it in perspective, but I know it's the Olympics," Jones said. "There's still a bar and there's still a platform. You've become one of the best in the world. Now's your chance to go and prove it."
That this is actually – finally – the Olympics is slowly settling in for Cummings, and that feeling will likely only intensify with the journey to Hawaii and then Japan.
"I'm taking it day by day," he said. "It's getting closer. It's starting to hit me."
If there are nerves, Cumming said his family is likely feeling them more than him.
"Everybody is probably more nervous than me when I'm competing," he said. "But everyone is pretty good."
Nervous or not, win or lose, Cummings is showing the ability to take his first Olympic appearance in stride.
"The experience or the opportunity, whether it goes well or not, I'm going to try to make the most of it and the best of it and hopefully, it does go well," Cumming said. "If not, hopefully it's a learning experience and a great opportunity to meet other great athletes."
Mike McCombs is the editor of The Island News and can be reached at TheIslandNews@gmail.com.


WHEN C.J. LIFTS
Group A of C.J. Cummings' 73-kilogram weight class will begin it's competition at 7:50 p.m. Tokyo time on Wednesday, July 28. That's 6:50 a.m. here in Beaufort because of the 13-hour time difference. Group B actually lifts earlier.
HOW TO WATCH C.J.
The 73kg competition can be streamed live at NBCOlympics.com or can be watched via tape delay at 4 p.m., Wednesday, July 28 on USA Network.
THE FIELD
There are 14 lifters in the Men's 73kg weight class (name, country, age):
Rahmat Erwin Abdullah, Indonesia, 20
Mahmoud Mohammed S Alhumayd, Saudi Arabia, 27
Bozhidar Dimitrov Andreev, Bulgaria, 24
Briken Calja, Albania, 31
Jorge Adon Cardenas Estrada, Mexico, 24
Clarence Cummings Jr., USA, 21
Karem Ben Hnia, Tunisia, 26
Julio Ruben Mayora Pernia, Venezuela, 25
Masamori Miyamoto, Japan, 24
Abderrahim Moum, Morocco, 20
Marin Robu, Moldova, 21
David Sanchez Lopex, Spain, 27
Zhiyong Shi, China, 27
Brandon Dean Wakeling, Australia, 27
*Note: This is subject to change at the discretion of the International Olympic Committee.
ABOUT C.J.'S COMPETITION
China's Zhiyong Shi is the World Record Holder in the Snatch (169kg), the Clean & Jerk (198kg) and Overall Total (363kg).
Shi is the defending Olympic Gold Medalist, winning with a total of 352kg in 2016 in Rio de Janeiro.
Shi may be the defending Olympic Gold Medalist and the World Record holder, but Tunisia's Karem Ben Hnia comes in with the top qualifying weight, 351kg to Shi's 350kg.
There are 4 lifters who enter the Olympics with a qualifying weight equal or better than C.J. Cummings' 347kg: Ben Hnia, Shi, Venezuala's Julio Ruben Mayora Pernia (350kg) and Bulgaria's Bozhidar Dimitrov Andreev (347kg).
THE FRAZIER FACTOR
Beaufort's only Olympic Gold Medalist is boxing great Joe Frazier, who won his gold medal in the heavyweight division at the 1964 Summer Olympics, ironically, also in Tokyo.
"I really don't think about it, but I know he was one of the top boxers," Cummings said. "He's the man around here. Hopefully I can make an imprint on this community like he has. That would be a major goal for me."