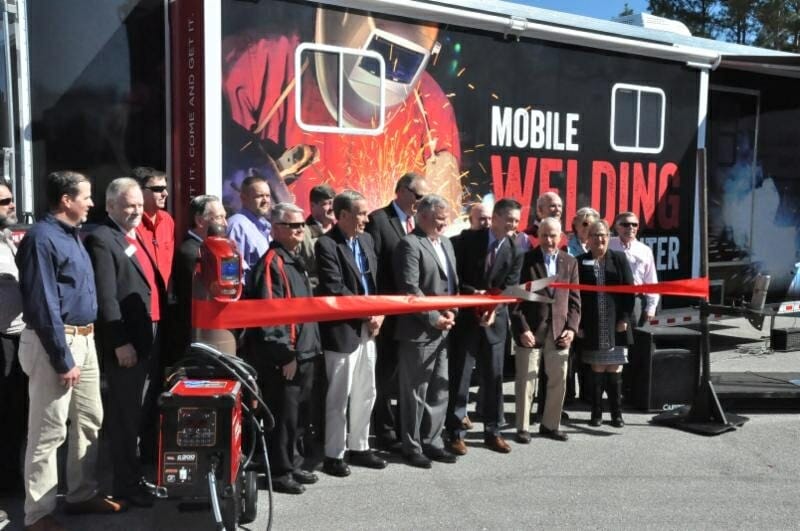 TCL to offer classes for welding, CDL
The Technical College of the Lowcountry Center for Business and Workforce Solutions held a ribbon cutting on Nov. 10 for its new Mobile Welding Training Center and Commercial Driver's License (CDL) program.
The celebration was held at the TCL New River Campus in Bluffton and featured messages from TCL President Richard Gough and state Sen. Tom Davis.
"These programs are a win for the Lowcountry. Enhanced workforce development initiatives directly benefit the economic vitality of the Lowcountry," Gough said.
Davis agreed. "TCL is where the rubber hits the road. We need to understand just how important technical colleges are to workforce development and industrial and business recruitment," he said.
TCL received a $1.35 million appropriation from the state of South Carolina to fund the programs.
The Mobile Welding Training Center is one of only two such systems in the country and will provide student training, incumbent worker training and travel to schools throughout the Lowcountry.
The center features six state-of-the-art welding simulators and a live welder for demonstration purposes.
The center will enhance TCL's existing welding programs at the Beaufort and Hampton campuses.
"We believe that technical training is key to worthy careers for today and tomorrow," said Sean Henrickson, vice president for Continuing Education & Workforce Development. "The center will help promote welding and other technical careers as we take it out across the Lowcountry."
The college also purchased two tractor trailers to offer CDL training at its New River and Hampton campuses. Truck driving is one of the most in-demand professions regionally and nationally, and with the Jasper Ocean Terminal, local demand for CDL professionals is expected to grow exponentially.
"Now is the time to prepare these workers," Gough said. "We are ensuring there is a pipeline of skilled professionals to meet current and future workforce needs."
Davis pledged continued support to the Lowcountry and to the college.
"The next 10 to 15 years for Beaufort and Jasper are going to be tremendously exciting and the Technical College of the Lowcountry is going to be at the center of it all," Davis said.
For more information about Welding and CDL, contact Sean Henrickson at shenrickson@tcl.edu or 843-525-8369.
District's high school graduation rate up
The Beaufort County School District's on-time high school graduation rate improved for a seventh consecutive year in 2017 to reach a new all-time high, according to data released by the South Carolina Department of Education.
The district's graduation rate – the percentage of students who complete high school "on time" and earn a diploma in four years – improved to 84.1 percent, up from 83.4 percent in 2016 and up from 75.3 in 2013.
"If your entire system is improving, all the way from prekindergarten through grade 12, then on-time graduation rates can be viewed as key indicators," said Superintendent Jeff Moss. "Seven straight years of improvement is something that everyone can be proud of, and that means our educators, our students, our parents and all of our community supporters."
Moss described a high school diploma as an "entry-level credential."
"Nearly all productive and good-paying careers today require some education or training beyond high school," he said, "and earning a diploma is the first step toward those careers."
Moss said that the district's improving graduation rates are the result of a comprehensive strategy that included:
• Effectively and quickly identifying students when they start to struggle academically.
• Providing those students with intensive counseling, direct assistance and additional individualized instruction from teachers. High schools receive additional funds to support individualized tutoring efforts.
• Credit recovery initiatives that allow students to earn credits in courses where they struggle.
• The district's transition to a "four-by-four block schedule" that offers students more opportunities to earn the state-required total of 24 credits to earn a diploma.
• Special efforts like "Knockout Dropout Day" each September, when educators and community volunteers visit the homes of students who haven't returned to classes for the new school year. Volunteers work to convince those students to return to school.
The latest high school graduation rates are featured in 2017 School Report Cards released by the South Carolina Department of Education. The annual Report Cards allow parents and the public to view numerous data points on public schools, ranging from teacher experience to parent satisfaction. Also available for review are previously released student testing data.
South Carolina's overall 2017 on-time graduation rate was 84.6 percent, up 2 percent from last year and an all-time high for the state.
For the first time ever in 2017, on-time graduation rates at two Beaufort County School District high schools – Hilton Head Island and May River High – exceeded 90 percent.
Looking at five-year trend data, Battery Creek High's on-time graduation rate improved from 77 percent in 2013 to 77.4 percent in 2017.
Beaufort High improved from 79.7 to 87.5 percent; Bluffton High improved from 71.2 percent to 82.7 percent; Hilton Head Island High improved from 83.5 percent to 90.2 percent; and Whale Branch Early College High improved from 74.2 percent to 83.9 percent.
May River High graduated 93 percent of its first senior class.
The superintendent said that increased graduation rates represent improvements at all grade levels, not just high school.
"In order for students to be successful in high school, they've got to have solid preparation in elementary and middle school," Moss said. "It takes work and attention at each grade level in order for students to be successful at the end, when they walk across that stage and pick up the diplomas they've earned."