Photo above: Members of the Beaufort County Senior Leadership Program greet one of the members of the K9 unit from the Beaufort County Sheriff's Department during the program's Law Enforcement Day. The Beaufort County Senior Leadership Program, established in 1993, is offered by Clemson University with the co-sponsorship of Beaufort County Regional Chamber of Commerce. This 13-week program focuses on building community through volunteerism and civic engagement. Photo by Steve Brown.
Firefighters respond to homes on fire
A Burton resident was displaced after a fire in her Morrall Drive home caused by a fire in her breaker box.
Burton firefighters were dispatched to a report of a house fire on Morrall Drive just before 11:30 a.m. March 15 after a resident reported that her breaker box was hot and smoking.
The resident told Beaufort County dispatchers that she could see fire coming from the wall outside of the home opposite the breaker box location.
Burton fire crews brought the fire, which was spreading through the walls of the home, under control in less than 15 minutes and fully extinguished in less than 30 minutes. Firefighters from MCAS Beaufort also responded and assisted Burton firefighters in extinguishing the fire.
Burton fire officials said the home did not have a working smoke detector and had this fire occurred during sleeping hours, the result may have been much worse.
No injuries were reported. Damages are not available but the resident was displaced and Red Cross was notified to assist.
In another incident less than 24 hours later, a fire destroyed a home on Harveys Bend on Paulkie Island.
Firefighters arrived to find a mobile home located on the waterfront fully engulfed in fire and endangering several nearby homes.
Burton fire crews were able to quickly contain the fire, however a nearby home under construction suffered fire damages. It took fire crews over an hour to fully extinguish the flames due to the mobile home's elevated structure and wind coming off the water.
Firefighters from MCAS Beaufort, Sheldon and the city of Beaufort also responded to the scene to assist with the fire.
The residents were not home at the time of the fire and no injuries were reported. The home was totally destroyed in the fire. Costs are not available at this time. The fire is still under investigation
Burton firefighters have responded to 12 building fires so far in 2017, including a fatal fire on March 6 in a Shanklin Road mobile home park and a fire which heavily damaged a two-story home March 11 on Bostick Circle in Beaufort that resulted in the loss of a family dog .
Walterboro man gets 51 years in murder
A Walterboro man has been convicted of the 2015 shooting and killing of a Hampton apartment complex building manager.
Sidney Antoine Holmes, 26, of Walterboro, was sentenced March 15 to 51 years in prison in the shooting death of 51-year-old Steven Douglas Cochran.
Following a two-day trial at the Hampton County Courthouse, a jury found Holmes guilty of four crimes: murder, possession of a weapon during the commission of a violent crime, discharging a firearm into a dwelling and unlawful possession of a weapon.
He received 40 years for murder; five years for possession of a weapon during the commission of a violent crime; five years for shooting into a dwelling and one year for unlawful possession of a weapon. The sentences are to run consecutively.
"This was a brazen murder committed in front of a group of people," said Randolph Murdaugh, III, special assistant solicitor assigned to the Career Criminal Prosecution Team. "Not only did people witness the defendant shoot Mr. Cochran multiple times, a Hampton police officer heard the incident while on the phone with the victim. The defendant in this case has a total and utter disregard for anything or anyone."
On Aug. 1, 2015, Cochran, who was the building manager for the Hampton Garden Apartments on Holly Street West, called Hampton police after telling a group of men who were loitering at the apartment complex to leave the property. During the call, Cochran began to scream for help. A bystander picked up the phone and told the officer that a man ran up to Cochran and shot him.
County agencies team up for rescue
Three Beaufort County emergency agencies combined to rescue a family of five stuck on a mudflat in the cold on March 18.
Beaufort County emergency agencies were notified of an occupied boat stuck on a mudflat off the Broad River boat landing.
Burton firefighters arrived and located a small boat with a family of five; three adults and two children, stuck on a mudflat in dropping temperatures and approaching nightfall.
Beaufort Marine Rescue and the Parris Island Fire Department also responded with water rescue equipment, helping to rescue the family and remove the boat from the flat. No injuries were reported.
Rash of vandalism hits Lady's Island
Several cars where vandalized by having golf balls thrown through their windows on March 18 in the Telfair/Pleasant Point area.
The Beaufort County Sheriff's Office is currently investigating and is asking that anyone who has information or may have seen something suspicious to call 843-524-2777.
Man wanted on variety of warrants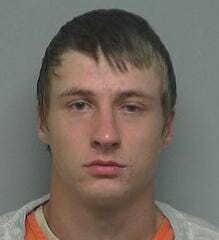 The Beaufort County Sheriff's Office is attempting to locate Desten Faltus for questioning in several cases. Faltus has active warrants with the Beaufort and Bluffton police departments.
Anyone with information is asked to call Investigator Disbrow at 843-255 3407 or Beaufort County Dispatch at 843-524-2777.
For a possible reward and to remain anonymous, call Crimestoppers at 888-274-6372.