By Pamela Brownstein
After eight years of working on his memoir, H.H. Von Harten, Jr., also known as Bubba, has published "Little Geech: A Shrimper's Story."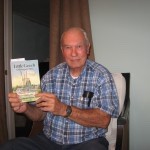 Filled with great black and white historical photos of shrimp trawlers, family members and area landscapes and landmarks, the book recalls Von Harten's life with many colorful anecdotes.
The book describes being born and growing up in Beaufort in the 1930s and 40s, his days in the air force, getting married and raising a family and being involved in the community.
He also describes always being close to the water, learning about boats, the shrimping industry and running businesses with his family, including H.H. Von Harten & Sons Seafood on Lady's Island in the 1960s.
The final chapter, called Ebb Tide, is a tribute to the future. He writes: "Everyone who was born or raised in Beaufort will remember Beaufort as it was in their time period. It is my hope that the ones coming after us will enjoy Beaufort and not let change come too quickly."
Von Harten will be signing books at Beaufort Book Store in Beaufort Town Center on Boundary Street on Saturday, Oct. 22, from 10 a.m. to 12 p.m., and at McIntosh Book Shoppe on Bay Street from 1 to 3 p.m.
You can contact the author at 524-2522 or vharten2522@charter.net.