'Mission-critical' front-line workers at Beaufort Memorial receive COVID-19 vaccination
By Mindy Lucas
Beaufort Memorial's Director of Safety and Security Doug Rhodin was among the first to receive the COVID-19 vaccination at the hospital on Monday.
As Rhodin rolled up his sleeve, he joked with nurse practitioner Jaime Cuff who was administering the vaccination.
"I'm ready," he said after she was done to the laughter of those in the room, saying later he didn't feel a thing.
The hospital began the process of inoculating staff and medical workers at its on-campus vaccine clinic early Monday morning after receiving its first shipment on Sunday.
The shipment contained 300 doses of the Pfizer-BioNtech COVID-19 vaccination – enough for 300 employees to receive their first dose.
In its regular statewide media teleconference on Friday, Dec. 18, officials with the South Carolina Department of Health and Environment Control (DHEC) said South Carolina was expected to receive nearly 43,000 doses of the vaccine in a matter of just days.
Front-line medical workers like those at Beaufort Memorial and long-term care facility residents and staff are among those in Phase 1a of the vaccine roll out.
These front-line workers are considered "mission-critical" since they are treating patients both with and without COVID-19 and are most critical to saving lives, DHEC officials said.
"Ensuring those responsible for treating our COVID-19 patients are the first to be vaccinated is one way of protecting our front-line healthcare workers so that they can continue to protect all of us," said the agency's Interim Public Health Director Dr. Brannon Traxler.
Others included in Phase 1a are first responders who provide emergency medical response, medical staff in correctional facilities, dialysis and infusion centers, outpatient settings frequently treating COVID-19 patients, home health and hospice workers, autopsy staff and coroners and other healthcare professionals at high risk of frequent exposure to COVID-19.
Beaufort Memorial's front-line workers who received their first doses of the vaccine on Monday were registered in a secure database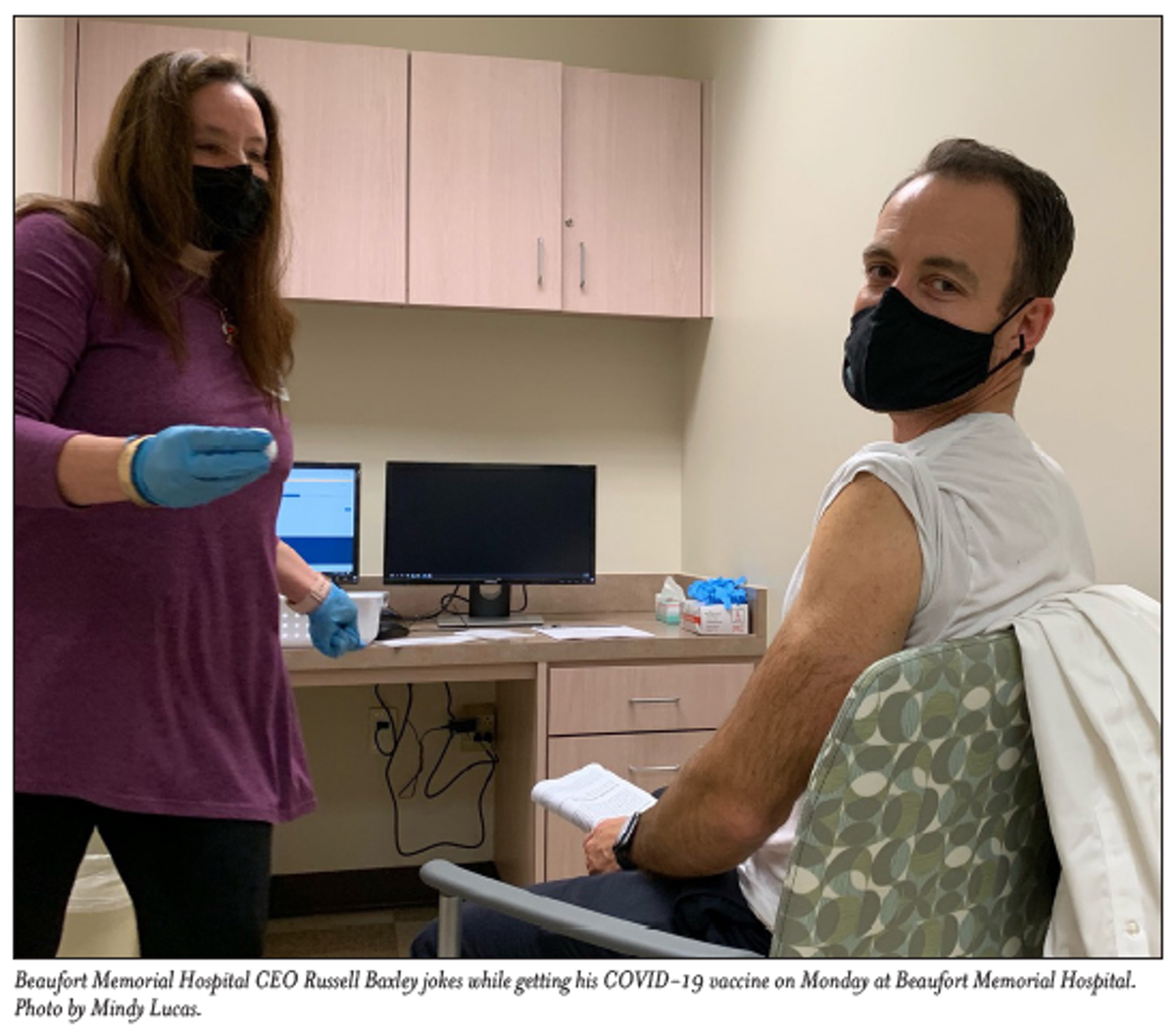 called VAMS, or Vaccine Administration Management System, a federal database that allows the CDC and state health departments to monitor vaccine administrations and administer the second dose which is held in reserve.
They were also given vaccine cards and will receive a notification through VAMS of when to return for that all-important second dose, or 21 days from Monday.
The federal government is holding those second doses in reserve to ensure the vaccine is available and earmarked specifically for the same individuals when it's time to receive their second dose, DHEC officials said.
In addition, residents and staff at long-term care facilities are expected to receive the vaccine within three to six weeks.
Those facilities will more than likely receive the Moderna vaccine – recently green-lighted for shipping – due to the number of available doses, its ability to be stored in a regular freezer and transported to facilities, officials said.
"We felt that the number we had with Moderna … would be able to meet the number of doses that are going to be required for those long-term care facilities, for the residents and the staff, with the Moderna product," DHEC's Director of Immunization and Prevention Stephen White said on Friday's call.
DHEC expects to receive 200,000 to 300,000 doses of vaccine – including both the Pfizer and Moderna vaccines – by the end of the year. Those numbers reflect only the first round of shots with the second dose being held for future allocation, officials on the call said.
Who Will Be Next
While it will "take weeks" vaccinate everyone in Phase 1a, DHEC is looking ahead now to those populations, or groups who will be vaccinated next in South Carolina.
The agency has a draft plan for all phases, but also takes its cues from the Centers for Disease Control (CDC) and South Carolina's vaccine advisory committee, which ensures that vaccine planning is specific to serving South Carolina populations.
On Friday, DHEC officials said they were waiting on the CDC's Advisory Committee on Immunization Practices (ACIP) to release its policy decisions and wanted time to review those recommendations after they came in.
On Sunday, ACIP voted to include adults ages 75 and older — along with such front-line essential workers as police officers, fire fighters, teachers and grocery store workers among others in Phase 1b.
After that will be adults ages 65 and older, along with people with underlying medical conditions that put them at higher risk of getting severely ill from COVID-19, and other essential workers including those who work in trucking or transportation services, construction, food service and others in Phase 1c.
Turning the corner
While Beaufort Memorial is not making the vaccine mandatory for employees, many on the medical staff like Diane Razo, the hospital's Director of Critical Care, have had conversations with colleagues and is encouraged by their willingness to get vaccinated.
"I think it's a personal choice," she said. "But for my colleagues and especially for my colleagues in critical care, absolutely."
Having worked in the Intensive Care Unit since the beginning of the outbreak in March, this year has been like nothing she's seen before in her 30-plus years of nursing, she said. The early months were particularly difficult, she said.
Before hospitals and medical teams across the country learned best practices and protocols for dealing with the virus, the ICU team "saw a lot of death," she said. It was particularly hard knowing families weren't allowed to visit.
"So our staff had become the families of the patients who were passing," she said. "You just can't imagine what that was like day after day."
The pandemic has most assuredly taken its toll on those in healthcare.
"If you could just look into their eyes and see the scars that are left there, it has been horrific," she said. "But at the same time, you have to commend the ICU staff for continuing to come back every day and care for these folks."
The vaccine will help "turn the corner," she said, in the fight against the virus. What's more, she is hopeful – hopeful for when it finally becomes available to everyone.
"Because there are so many who can benefit from it as well," she said.

Top photo: Beaufort Memorial's Director of Safety and Security Doug Rhodin receives his COVID-19 vaccination from nurse practitioner Jaime Cuff on Monday morning at Beaufort Memorial Hospital. Photos by Mindy Lucas