By Tess Malijenovsky
Beaufort, our historic jewel, is three centuries rich with remarkable architecture. Located in the heart of the Carolina Lowcountry, our repository of 18th, 19th and 20th century gems make up Beaufort's National Historic Landmark District — the largest in South Carolina. This weekend the Historic Beaufort Foundation invites visitors for an exclusive tour of private homes, churches, gardens and plantations rarely open to the public during its annual Fall Festival of Houses and Gardens.
Historic Beaufort Foundation is a nonprofit organization that preserves, protects and restores buildings and sites of historic or architectural significance in Beaufort County. The Fall Festival of Houses and Gardens is the primary fundraiser for the organization. All proceeds from the event will further the preservation efforts.
The first anticipated event of the festival weekend is the luncheon and lecture with one of the world's leading antiques expert, Judith Miller. Miller is co-founder of Antiques Price Guide and author of more than 100 books. Her expertise has brought her to the Smithsonian museum in DC and on BBC's The Antiques Roadshow, Martha Stewart and CNN. Be sure to greet Judith Miller on Friday, Oct. 21, 12 p.m. at the Dataw Island Clubhouse.
Later on that day, visitors can take a self-paced walking tour of seven private houses that represent the array of architectural styles from the last two hundred years, including the circa 1805 Verdier House, which is Historic Beaufort Foundation's house museum.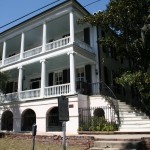 On Saturday, Oct. 22, the Ramble Around Beaufort tour brings visitors from city houses to country retreats and plantations. The exquisite gardens and grounds of Dean Hall Plantation are exclusively open for this day. In the late afternoon, visit the Lowcountry icon, the Tabby Ruins on Spring Island. Tabby Ruins are situated within a nature preserve in a private residential community with views of the Chechessee and Broad Rivers. Here visitors will find the final resting place of African Americans who fought in the Civil War. Wine and cheese will be served with a performance by the B.J. Scott Choir of Huspah Baptist Church.
Last but not least, Sunday, Oct. 23 five local chefs will prepare regional specialties in five private homes — an event with a limited number of tickets.
Isabella Reeves, the Fall Festival of Houses and Gardens Coordinator, gives her warm regards to everyone who's helped make this fall festival possible: "We're very appreciative to the property owners for opening their properties for benefit of historic preservation and the many volunteers that work on this event. We can't do this without them."
This weekend, all Beaufortonians can take part in preserving our historic charm and get an exclusive glimpse of some of the town's best kept architectural secrets. Tickets may be ordered a la carte or in a package either by phone (843-379-3331) or online at www.historicbeaufort.org.