A community remembers Beaufort Police Chief Matt Clancy: Beloved husband, father, friend and colleague
By Mindy Lucas
Tyler Clancy thought it fitting that his father was named Matthew.
"It's ironic that the Prophet Matthew would proclaim, 'Blessed are the peacemakers for they should be called the children of God,'" he told the crowd gathered for his father's funeral service, held Friday, Aug. 7, at Beaufort's Waterfront Park.
"I don't think that was a coincidence," he said, adding that his father, Beaufort Police Chief Matthew "Matt" Clancy, dedicated his life to public service.
Several hundred people – including members of the Beaufort Police Department, local officials, members of the military and first responders from around the area – turned out for the public service.
Clancy, who spent 27 years in law enforcement, died on July 29 after a long fight with neuroendocrine cancer. He was 56.
The program included a number of speakers with countless stories of a man who was respected by all and who embodied the idea of grace under pressure.
"Spine, grit, tenacity – all joined together with kindness and love," said State Rep. Shannon Erickson, R-Beaufort.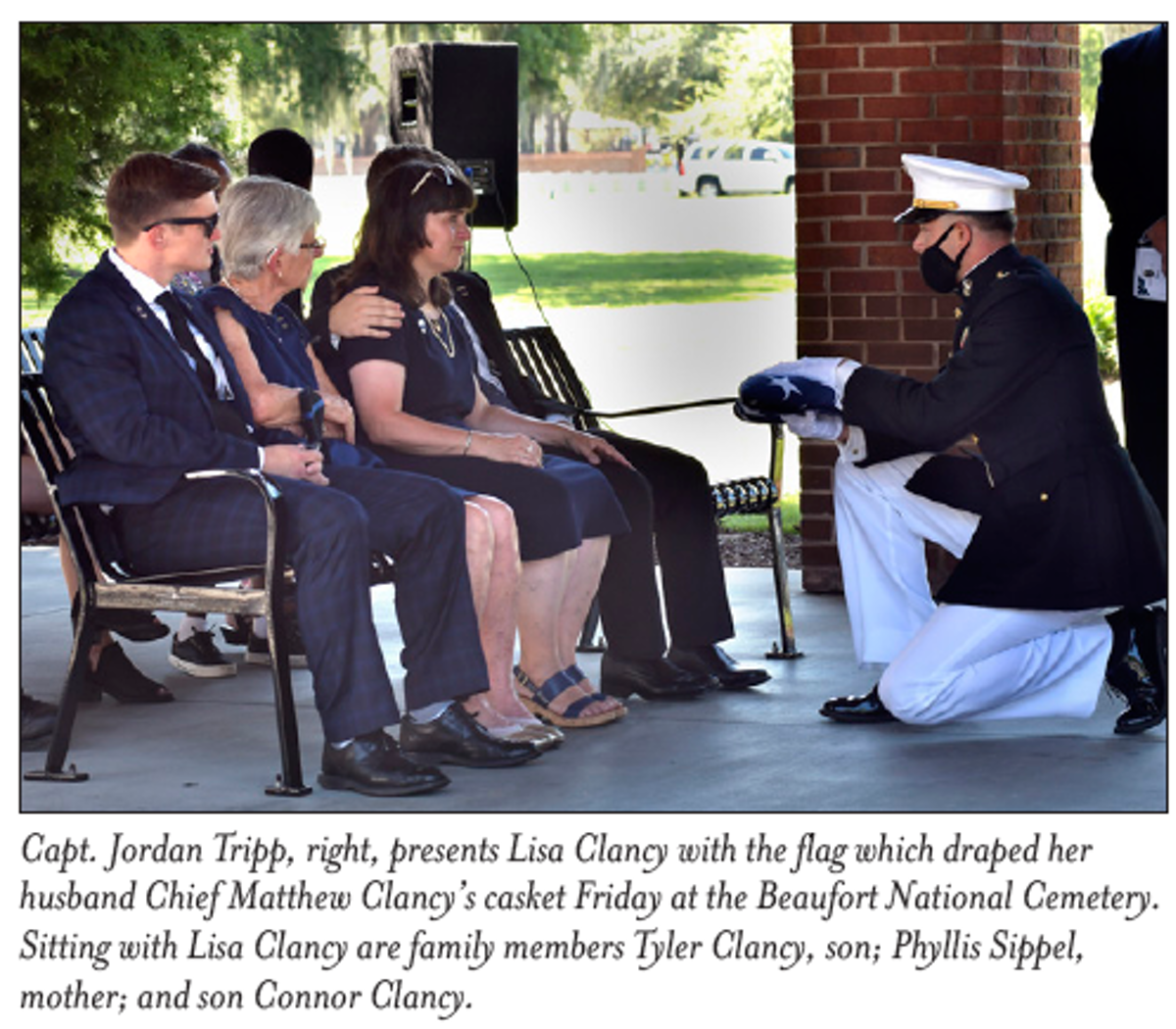 Erickson arranged for flags atop the State House in Columbia to be flown at half staff on Friday in honor of Clancy.
Born in Kingston, N.Y. and raised on Long Island, Clancy graduated from The Citadel in 1986 with a degree in Political Science. After graduating, he was commissioned as a 2nd Lieutenant in the United States Marine Corps and went on to obtain the rank of captain.
He left the Corps in 1993 to begin his career in law enforcement with the Beaufort County Sheriff's Office where he served as deputy sheriff, corporal and sergeant.
He joined the Beaufort Police Department in 1997, serving first as a patrol officer, then as a criminal investigator, an investigative lieutenant and deputy chief. He was promoted to chief in 2009.
Among the many leadership programs Clancy participated in over the years was the esteemed South Carolina Diversity Leadership Initiative at the Riley Institute at Furman University. In addition, he was a member of the 220th Session of the FBI National Academy.
Respected by his department and city hall colleagues for his commitment to community policing and neighborhood outreach, Clancy was also remembered by his fellow officers for his ability not only to lead but to serve alongside those who reported to him.
"His integrity was beyond reproach, his leadership was always from the front," said Sgt. Chris Cushman, adding that Clancy knew how to diffuse tense situations way before the idea of "de-escalation" became part of the law enforcement vernacular.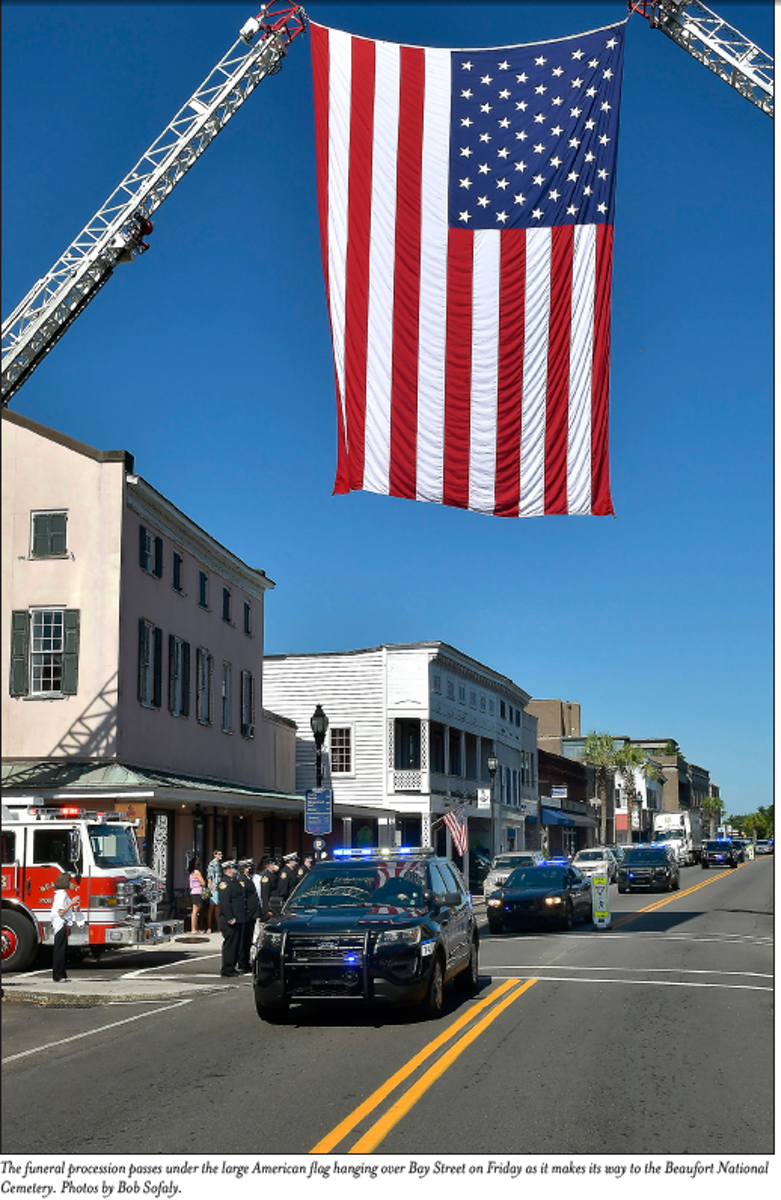 Unafraid to respond to a call or arrive first on the scene, officers respected the way Clancy wasn't afraid to "get dirty," Cushman said.
Others remembered Clancy for the way he could find common ground with anyone he met.
"He judged me by the content of my character," said North Charleston Police Chief Reggie Burgess.
After meeting Clancy at SWAT training in Charleston, the two became fast friends, Burgess said, and would often get together to share a meal and exchange thoughts and ideas on the business of community policing.
"We talked a lot about leadership, a lot about service, a lot about dedication and most of all the thing that Matt and I believed in is this – we have to be about the people's business," he said, adding that people just want peace and tranquility in their communities. "That was Matt."
But above all else, he was a husband and a family man, said his sons who recounted the nearly daily example Clancy set for them — such as the time their father came home late one night battered, exhausted and covered in mud.
Having chasing an armed suspect into the marsh, Clancy had shattered his elbow, Tyler Clancy said. Despite the long night, his father was up the next morning, had breakfast already made for the family and was ironing his new uniform when Tyler rose.
"This kind of quiet strength was commonplace in my home, and I had the blessing of being raised by a man who taught me what character really was," he said.
But his father also had a big heart, he said, and was often humble about his accomplishments. He realized this even more after learning only recently of various commendations they never knew their father had received, such as one given to Clancy for rescuing an unconscious man from a burning car.
"What is truly amazing to me, despite the physical feat of ripping someone out of a burning car, is that we never of this story," he said.
Or how his father, while out walking the dog, would spend time talking to a former Marine he had met who was battling PTSD. The man would later tell the chief's son, "I didn't know I was struggling but your father did."
Tyler concluded his eulogy by saying he had given a lot of thought to why his father had been taken from them but spoke of his faith and strong belief, which he shared with his father.
He also said much had been said about his father's battle with cancer, adding that cancer did not win.
"Cancer would have won if it took away our smiles, if it took away his laughter, if it took a way his drive, if it took away his passion, if it took away his faith," he said. "But cancer lost because it could never take away my father's spirit."
Clancy is survived by his wife, Lisa, his sons, Tyler and Connor, mother, Phyllis, and many family members.