From staff reports
Beaufort High School junior Holland Perryman has been selected as the winner of the second annual Ann Head Literary Prize for her story "Our Toothpick House."
Perryman will receive a cash prize of $500 and her name will be engraved on the Ann Head Literary Prize plaque to be permanently displayed at Beaufort High School. She will also be honored at the Pat Conroy Literary Festival this fall, where she will have the opportunity to read from her story.
Perryman won by the unanimous vote of the competition's six judges.
From the judges' perspectives, Perryman's story speaks with empathy to the anxieties of this peculiar year and, at the same time, presents a fresh and ultimately life-affirming take on a mother-daughter relationship. Using just the short time frame between when a mother drops off her daughter for her weekly therapy appointment until she must pick up her daughter afterwards, Perryman delves into the mother's feelings of failure, her concerns for her daughter's well being, and her own fears of what their future holds.
According to the judges, such was the accuracy and insight of Perryman's depiction of a mother's thoughts that they all felt they knew and loved this woman. To create a character whose authenticity feels so genuine that a reader truly comes to care about the character is at the heart of every fiction writer's craft.
A Beaufort High School junior and the newly elected student body president, Perryman was a finalist for the inaugural Ann Head Literary Prize in 2020 and the recipient of the creative writing award for a competition inspired by the Pat Conroy Literary Center's March Forth partnership at Beaufort High in 2019. She was selected for the Creative Writing Academy Program at the South Carolina Governor's School for the Arts and Humanities in 2019.
Perryman is also the first writer, of any age, to be twice featured in the Lowcountry Poets Corner segment of the Telly Award-winning ETV series By the River. Her book reviews and author interviews have been published in the Charleston Post and Courier, Lowcountry Weekly, and the Southern Review of Books. She is in her second year as the first intern of the nonprofit Pat Conroy Literary Center. Perryman is also an accomplished musical theatre actress, a member of the Beaufort High Voices auditioned choir, and captain of the Beaufort High School Girls Varsity Lacrosse Team.
The winning story was chosen from short stories written by students at Beaufort High School and submitted for consideration. The judges were all family members of Ann Head.
About Ann Head
Writer Ann Head, the pen name of Anne Wales Christensen Head Morse (1915– 1968), was the granddaughter of Abbie Holmes Christensen, who came to Beaufort during the Civil War to educate the recently freed enslaved populations of the Sea Islands.
Moving back and forth between Boston and Beaufort, Ann carried on the family tradition of bucking traditions and creating new literary forms.
Head was Pat Conroy's first creative writing teacher at Beaufort High School and became Conroy's mentor, confidante, and friend. She was a central figure in Beaufort's mid-century literary scene, befriending many of the famous authors who wintered in Beaufort, including Samuel Hopkins Adams (whom she considered her mentor), Somerset Maugham, John Marquand, and Katherine and E. B. White among others.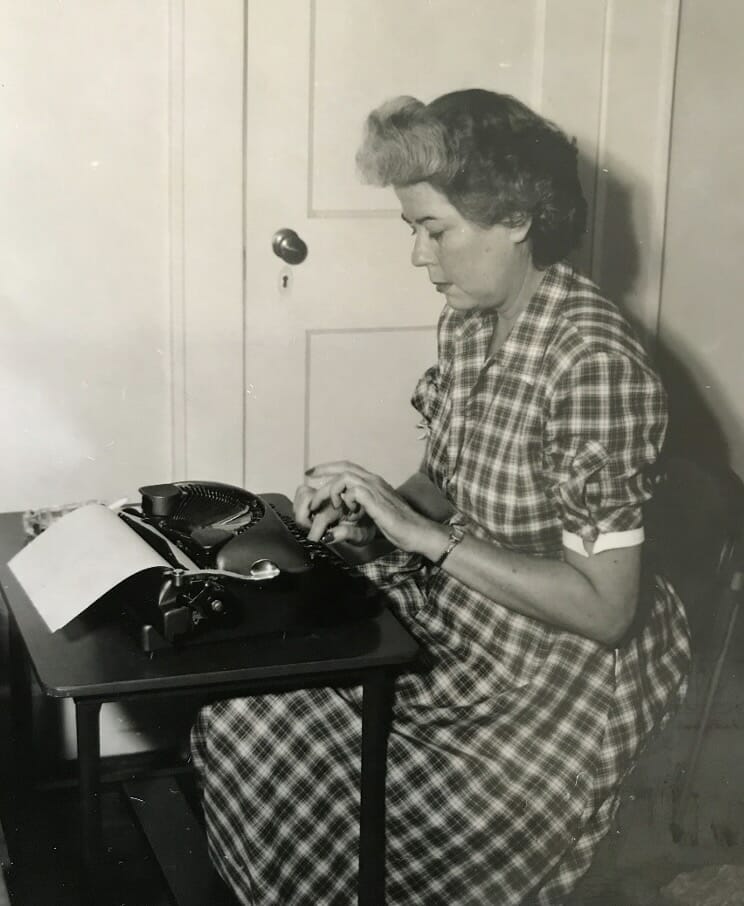 Head published dozens of short stories and serials in the major national magazines of her day, with many of her stories set in a small town just like Beaufort. She wrote of divorce, snobbery, affairs both emotional and sexual, prejudice, death, and out-of-wedlock childbirth, championing the non-typical heroines of the magazines that eagerly accepted her work.
In addition, she authored four novels which were published internationally, most notably Mr. and Mrs. Bo Jo Jones, a compelling story of teen pregnancy which was on school reading lists for 50 years and is credited with helping create the Young Adult novel genre.
Head died in 1968 at the age of 52, cutting short a vibrant life and promising literary career. The Life of Ann Head was chronicled by her daughter, Nancy Thode, in a lecture originally presented at the Beaufort County Library and now available on YouTube at https://tinyurl. com/annheadpresentation.
Head is the revered subject of the essay "My First Novelist" in the Pat Conroy Cookbook.