Beaufort Academy's Paula Quinn was recognized as part of the South Carolina Independent School Association (SCISA) Master Teacher program at a pinning ceremony last week.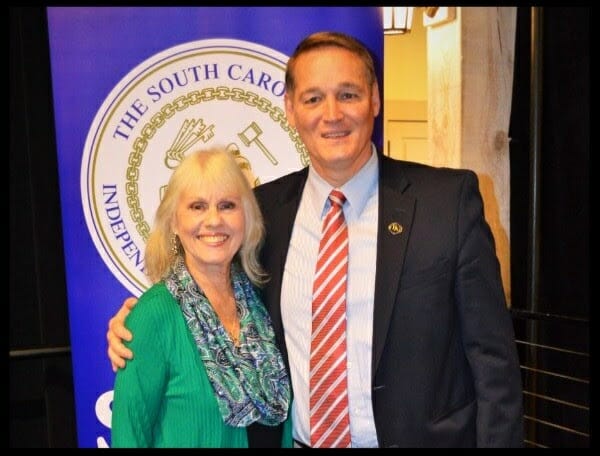 In its 15th year, the Master Teacher program was created to bestow well-deserved recognition to educators who exhibit best practices in the classroom and a willingness to share and collaborate with other educators. SCISA commends its Master Teachers who inspire excellence in the classroom, among colleagues and, especially, among students.
Quinn, along with fellow SCISA awardees were celebrated during a pinning ceremony held in Lake City during the annual Teachers Fall Conference, hosted by The Carolina Academy. SCISA Executive Director, Dr. Jordan A. Spencer gave a brief summary of the importance and significance of the Master Teacher program, and honored and pinned each awardee.
As a Humanities teacher for 40 years, Quinn believes the power of language is extraordinary. To her, words are the blood of conversations, the catechism of rituals, the song of celebrations, and the passion of opinions. It is from the language of hope that we derive the sustenance to strive to a brighter tomorrow. Therefore, the language of expression must be mastered to live.
Her gift to each student is to discover his or her individual voice — the articulation of spirit — by pen or paint. Quinn has had a varied career. She was instrumental in the development of the educational program for the China Trade Museum in Boston, the Teacher of the Year at Tompkins Middle School in Savannah, English chair at Agape Christian Academy, and is currently the Art chair at Beaufort Academy. For more than six years, Quinn has taught the multiple subjects at Beaufort Academy, including English, Leadership, Creative Writing, Drama, Art History, AP Studio Art 2-D Design, and AP Studio Art Drawing.
In the creative realm, Quinn suggests each child is a raw diamond ready to shine. As a teacher, Quinn believes she must help define the cut, put clarity in the substance, and ignite the fire for maximum effect. Once a student connects with his or her inner-self, she says, the world of exploration and creativity burst forth to the benefit of all.