LowcoSports.com
In an ordinary year, picking the All-Lowco Football Team is a daunting task. We spend weeks collecting and compiling the stats, comparing the nominees, and consulting with coaches for insight that only they can provide, and then we take our best crack at identifying the best high school football players in Beaufort and Jasper counties.
This, of course, was no ordinary year.
The private schools played a full schedule (with few exceptions) but the public schools started later and played a reduced slate focused on region games. Some of them didn't even get in all of those.
So how do you compare players in that unbalanced universe? For starters, it was a natural time to separate our SCHSL and SCISA All-Lowco Teams. Although there are individual SCISA standouts who certainly could cross over and star at any SCHSL program, on the whole, it's comparing apples to oranges, and especially this season. Expect this change to become the status quo. It allows us to honor more players and measure them against their peers.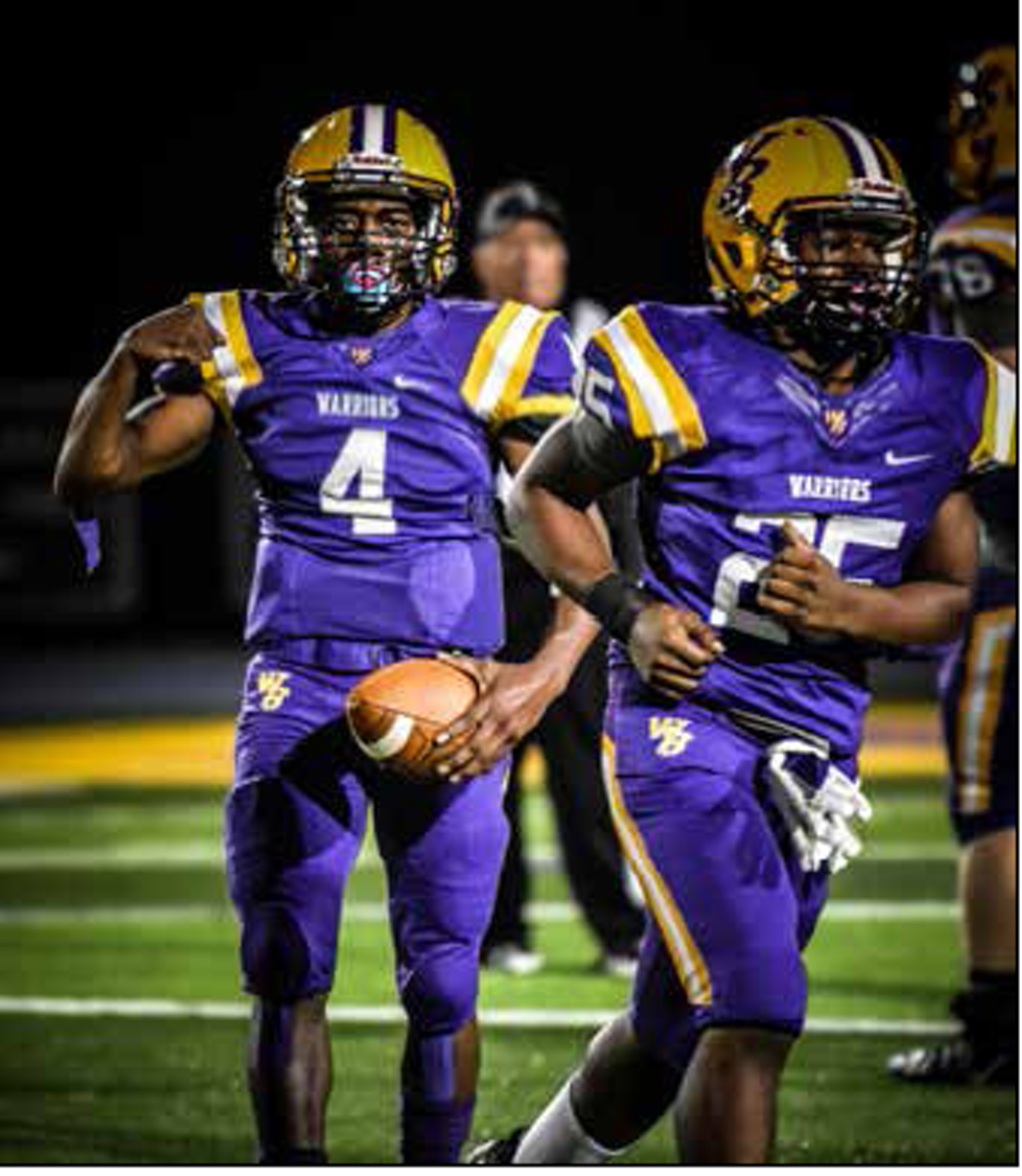 We relied on per-game averages to help level the playing field for those players whose teams were denied the opportunity to play a full schedule, but still rewarded those players who helped their teams play extra games in the postseason.
Did we get it exactly right? Probably not. But to move someone up, you have to move someone down.
Did we miss someone? Gosh, we hope not. If we did, prove us wrong next season.
Did we do our best? You bet. And here it is. Your 2020 All-Lowco SCISA Football Team presented by Local Pie.
LowcoSports 2020 All-Lowco Football Teams presented by Local Pie
SCHSL
Offensive Player of the Year
Tyler Haley, BHS
Defensive Player of the Year
Eli Hall, MRHS
Iron Lowco Award
Jaylen Reeves, WB
Coach of the Year
Jerry Hatcher, WB
1ST TEAM OFFENSE
QB — Tyler Haley, BHS
QB — Ahmad Green, MRHS
RB — Amariee Morris, BHS
RB — Joseph Hicks, WB
RB — Jaiden Jones, MRHS
WR — Kacy Fields, BHS
WR — Evan Elliot, HHIHS
OL — Aaron Rhode, WB
OL — Luke Bond, BLHS
OL — Terence Wilson, BHS
OL — Garrett Bonneville, MRHS
OL — Moxon Zehr, MRHS
1ST TEAM DEFENSE
DL — Eamon Smalls, BHS
DL — Jaylen Roberts, WB
DL — Xavier Chaplin, WB
DL/LB — Jaylen Sneed, HHIHS
LB — Eli Hall, MRHS
LB —D'Ante Parker, WB
LB — Justin Smalls, BCHS
LB — Daniel Phares, BHS
LB — William Winburn, BHS
LB — Steffin Gadson, MRHS
DB — Jayden Gilliam-Singleton, HHIHS
DB — Amar Jenkins, WB
1ST TEAM SPECIALISTS
K — Henry Tome, WB
P — Nate Hoyt, BLHS
HONORABLE MENTION
Dreshaun Brown, BCHS
Jonah Comfort, MRHS
Jeremiah Curry, BLHS
Hart Cushman, BHS
Nashaun Green, HHIHS
Gavin Heintschel, BLHS
Jaylin Houseal, BHS
Anders Kennedy, HHIHS
Max Kimmel, MRHS
Matthew Larkby, HHIHS
Jaylin Linder, BLHS
Richard Parker, WB
Darrion Perry, MRHS
Cam Scott, MRHS
Jacove Singleton, BCHS
Chase Wilfong, BLHS
Jaquinn Williams, BLHS
Toshane Wittingham, MRHS
SCISA
Offensive Player of the Year
Jace Blackshear, HHCA
Defensive Player of the Year
John Hampton Hewlett, THA
Iron Lowco Award
J.P. Peduzzi, HHCA
Coach of the Year
Ron Peduzzi, HHCA
1ST TEAM OFFENSE
QB — Jace Blackshear, HHCA
QB — Jeremiah Young, JPII
RB — JR Patterson, THA
RB — Ja'Sean Lawson, BA
RB — Tommy Stauffer, HHP
WR — Bruzza Pusha, THA
WR — Cameron Strickland, HHCA
OL — Therion Cannon, THA
OL — Quillan White, THA
OL — John Asher Howell, BA
OL — Warner Hahn, HHCA
OL — JP Wilder, HHCA
1ST TEAM DEFENSE
DL — John Hampton Hewlett, THA
DL — Hayden Jennings, JPII
DL — Kent Camp, HHCA
DL — Liam Sirgo, HHCA
DL/LB — Carson King, HHP
LB — Jackson Lanier, HHCA
LB — Troy Chisolm, HHCA
LB — Brandon Howard, THA
LB — Austin McIntosh, JPII
DB — Cody Parker, THA
DB — Braydon Dineen, BA
DB — Devonte Green, BA
1ST TEAM SPECIALISTS
K — Trevor Weldon, HHP
P — Cameron Strickland, HHCA
2ND TEAM OFFENSE
QB — Peyton Bennett, THA
RB — Anthony Fripp, THA
RB —Carlos Jones, BA
RB/WR — Riley Shinn, HHCA
WR — Elijah Fess, BA
WR — Mark Knight, JPII
OL — Preston Hamilton, THA
OL — Max Hickey, THA
OL — Tripp Currier, JPII
OL — Torrin Kennedy, HHCA
OL — Max Marko, HHP
2ND TEAM DEFENSE
DL — Loncelle Daley, HHP
DL — Michael Carbone, JPII
DL — Cameron VanGeison, THA
DL — Brandon Smith, THA
LB — Sonny Halker, THA
LB — Jeremy Clemmer, THA
LB — Quinn Ryan, HHCA
LB/DB — Malone Kinard-Huisinger, JPII
DB — Jackson Ogden, JPII
DB — Jayden Void, HHCA
DB — Ben Lubkin, BA
2ND TEAM SPECIALISTS
K — Logan Harsta, HHCA
P — Evan Slusne, JPII
IRON LOWCO — Malakai Steiniger, BA
HONORABLE MENTION
Guy Annunziata, HHCA
Brady Bagenstose, HHCA
Paul Carrabba, HHP
Luke Foley, HHP
Will Gray, HHP
Lawson Hewlett, THA
Peter Hughes, JPII
Preston Humbert, THA
William Newton, HHCA
Jaxen Porter, BA
Kevin Rogers, BA
Carter Zareva, THA
Top picture: SCHSL Offensive Player of the Year, Tyler Haley, BHS
Bottom picture: SCHSL Iron Lowco Award, Jaylen Reeves, WB