Photo above: The Beaufort Fund awarded $588,000 to local nonprofits at an event on Jan. 12.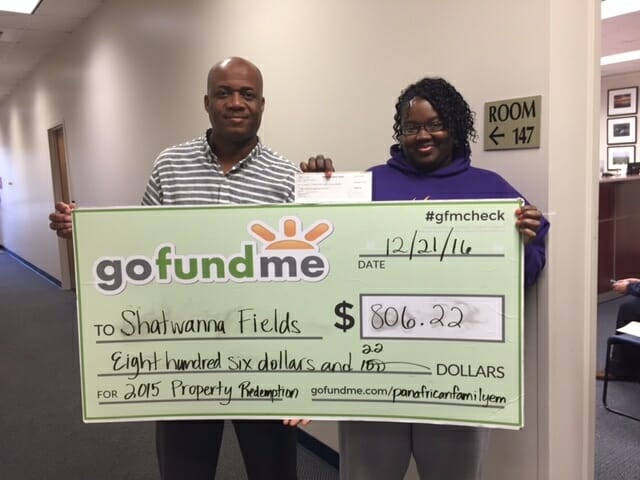 59 nonprofits get grants from foundation
The Coastal Community Foundation, a grantmaking organization serving coastal South Carolina, recently announced $588,000 in awards from The Beaufort Fund's 2017 grant cycle.
Fifty-nine nonprofits from the Lowcountry – Beaufort, Colleton, Hampton and Jasper counties – and supporters from the community gathered at an annual reception on Jan. 12 to honor grantees at Tabby Place at The Beaufort Inn.
"It's wonderful to celebrate a program every year that highlights the generosity, kindness and collaborative spirit at work in our community, especially in light of the divisiveness our country experienced in 2016 and the devastating impact of Hurricane Matthew on our region," said Danica Whitney, program officer for The Beaufort Fund of Coastal Community Foundation. "This program works because we all work together, and that gives me great hope for the future."
At the reception, remarks were made by Coastal Community Foundation staff members Whitney and Gloria Duryea, as well as Fred Washington Jr., chair of The Beaufort Fund Advisory Committee.
CCF President and CEO Darrin Goss Sr. closed out the remarks with a speech "shining the light" on the work of the local nonprofit sector, the theme of the evening.
In his speech, Goss highlighted the leadership of fellow funders such as the Community Foundation of the Lowcountry and United Way of the Lowcountry and applauded the efforts of the nonprofit sector in Hurricane Matthew recovery. He also introduced Betsy Kinsley, CCF's new vice president of Development & Stewardship, who was in attendance for her first event with CCF since relocating from Lake Tahoe, Nev.
The Beaufort Fund supports a wide array of nonprofit programs through special project and general operating support. This year, 34 nonprofits – 58 percent of all grantees – received general operating support, an important building block of nonprofit capacity. The total grants also include awards to 12 three-year grantees, organizations receiving renewable support in recognition of a highly effective program and business model.
Since its founding in 1998, The Beaufort Fund has awarded more than $8 million to organizations serving Beaufort, Colleton, Hampton and Jasper counties. Grants are recommended by a diverse committee of community leaders drawn from across the four counties.
For more information about The Beaufort Fund, contact Whitney at danica@coastalcommunityfoundation.org. To learn more about supporting Coastal Community Foundation's work in the Southern Lowcountry, contact Duryea at gloria@coastalcommunityfoundation.org.
Democratic club to hold meeting Jan. 19 
The Northern Beaufort County Democratic Club will meet on Thursday, Jan. 19, at the Grand Army Hall at 706 Newcastle St.
The social time will begin at 6:30 p.m. and the meeting will start at 7 p.m.
The meeting will include a report from Democrat York Glover, newly elected Beaufort County Council member from District 3, reviewing his first days in office and speaking to the need for board member volunteers in Beaufort County
There will also be a group discussion on "Indivisible: A Practical Guide for Resisting the Trump Agenda."
Light refreshments will be served and all are welcome.
Lawmakers introduce medical pot legislation
A bipartisan group of state lawmakers, led by Beaufort County's representative in the SC Senate, have introduced comprehensive medical cannabis legislation in both chambers of the South Carolina General Assembly.
The South Carolina Compassionate Care Act will allow patients suffering from debilitating medical conditions to access medical cannabis if their doctors recommend it.
"This legislation will establish a comprehensive and tightly regulated medical cannabis program," said Sen. Tom Davis, R-Beaufort, the bill's lead sponsor in the Senate. "It will ensure seriously ill patients are able to access this medicine safely and legally if their doctors believe it will help them.
"South Carolinians suffering from debilitating conditions deserve the same chance at relief as the roughly 200 million Americans living in states that have adopted similar laws."
Under the proposed law, the Department of Health and Environmental Control (DHEC) would license and regulate a limited number of qualified medical cannabis cultivation centers, processing facilities, independent testing laboratories and dispensaries.
It would issue registration cards to patients with qualifying medical conditions who have received written recommendations from their physicians, allowing them to purchase a limited amount of medical cannabis from a licensed dispensary.
Similar laws have been adopted in 28 states, the District of Columbia, and the U.S. territories of Guam and Puerto Rico.
"This legislation is about helping people who are in need, who are suffering, and who are in pain," said Rep. Peter McCoy, R-Charleston, the bill's lead sponsor in the House. "There are so many circumstances in which medical marijuana can provide substantial help to families and friends in South Carolina. I'm hopeful that with the filing of this bill we can raise awareness and move the ball forward when it comes to treating South Carolina citizens with epilepsy, PTSD, cancer and many other debilitating conditions."
In 2014, South Carolina adopted a law that allows patients with severe forms of epilepsy to use preparations of cannabis that contain high levels of CBD and very low levels of THC. It does not cover a variety of other debilitating conditions for which medical cannabis can be efficacious, and it does not provide for a regulated supply of CBD products. Some epilepsy patients also report that a greater ratio of THC to CBD is necessary for it to be effective in reducing the frequency and severity of seizures.
Arbor Day group giving out free trees
South Carolina residents can ring in the New Year with 10 free flowering trees by joining the Arbor Day Foundation any time during January.
By becoming a part of the nonprofit Arbor Day Foundation, new members will receive two Sargent crabapples, three American redbuds, two Washington hawthorns and three white flowering dogwoods.
"These beautiful trees will beautify your home with lovely flowers of pink, yellow and white colors," said Matt Harris, chief executive of the Arbor Day Foundation. "These trees are perfect for large and small spaces, and they will provide food and habitat for songbirds."
The free trees are part of the foundation's Trees for America campaign.
The trees will be shipped postpaid at the right time for planting, between Wednesday, Feb. 1, and Wednesday, May 31, with enclosed planting instructions.
The 6- to 12-inch tall trees are guaranteed to grow or they will be replaced free of charge.
Members will also receive a subscription to the foundation's bimonthly publication, Arbor Day, and The Tree Book, which includes information about tree planting and care.
To become a member of the foundation and to receive the free trees, send a $10 contribution to Ten Free Flowering Trees, Arbor Day Foundation, 100 Arbor Ave., Nebraska City, NE 68410, by Tuesday, Jan. 31. Residents can also join online at arborday.org/january.
Big barbecue event looking for sponsors
Bands, Brews & BBQ, an event that will be held in Port Royal, is looking for business and organization sponsors.
Over the past 36 years, businesses have given back to the community by becoming sponsors of the barbecue cooking contest sanctioned by the South Carolina Barbeque Association. This publicized signature event provides a meaningful investment for sponsorship participants.
This year's event will be held Friday, Feb. 24, and Saturday, Feb. 25, on Paris Avenue.
In addition to the championship barbecue cooking contest, Bands, Brews & BBQ will feature activities for families and children, live music, a variety of vendors and much more.
Friday night is the Wing Throw Down where attendees can sample wing recipes from participating cookers, and includes the First Annual Eat Sleep Play Beaufort Hot Wing Eating Contest sponsored by the Carolina Tavern.
The success of a community event such as this depends heavily on sponsorship from area businesses. The sponsors invite businesses to take advantage of this advertising and promotional opportunity as a sponsorship participant.
There are a variety of sponsorship levels offered.
Visit www.friendsofcarolinehospice.org for more details.