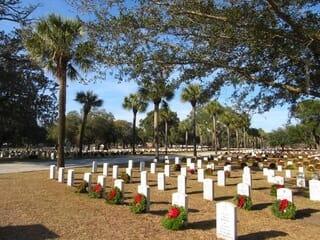 Wreaths Across America Beaufort is selling wreaths again with a goal of placing one on the grave of each of the 24,000 veterans interred in Beaufort National Cemetery. Wreaths are $15 each and can be ordered online directly from Wreaths Across America Beaufort's Facebook page.
Wreaths Across America Beaufort's ceremony will be Saturday, Dec. 15, at noon in Beaufort National Ceremony. The event is open to the public and volunteers will be on hand to place the wreaths purchased on each veteran's headstone.
National Wreaths Across America Day is Saturday, Dec. 15, when thousands of volunteers — scouts, school groups, community organizations, businesses, families and individuals — lay wreaths in veterans cemeteries across the country.