Port Royal Veterinary Hospital closed indefinitely 
By Mike McCombs 
As a tornado that came out of Tropical Storm Elsa ripped through the Town of Port Royal late Wednesday and early Thursday morning, it damaged 44 homes, displaced two families and laid waste to trees and power lines all down Paris Avenue.
But the storm left a serious mark on three local businesses, particularly the Port Royal Veterinary Hospital (PRVH), which is closed indefinitely while awaiting repairs.
The tornado damaged boats, the building and the floating dock at Butler Marine Dry Stack and Sales of Port Royal. The storm also left a live oak laying on the back of popular 10th Street restaurant Madison's.
When reached by phone Monday, both businesses had recordings stating they expected to re-open in the coming days after repairs and both have re-opened.
Butler Marine was back in operation on Saturday despite more than $250,000 of damage, according to Chris Butler, who said his business lost about 75 percent of its staging dock. And he said he's going to have to wait 16 to 24 weeks to have his 40-foot-by-24-foot garage door repaired.
"I've been in the car or boat business since 1993," Butler said, "and it's the worst loss I've ever taken … just the deductible."
Butler said he's not sure exactly what his deductibles are since the damage came from a wind event during a named storm, but he's expecting $100,000.
"That's a big whack," Butler said.
In a Facebook message Tuesday, Madison's announced they were back open for regular business hours.
"Thank you everyone for the constant support," the post read. "We are back open regular hours (11 a.m.-9 p.m. Tuesday-Saturday) as of today! Stay safe everyone and we will see you when your stomach starts yelling!"
No such luck for PRVH. If fact, any re-opening is likely a long way off.
"We had three trees impact our buildings. On to our front corner and pergola, part of a live oak came down causing minimal damage," said Dr. Marikay Campbell, who purchased the practice in 2009 before a large expansion two years ago. "But in the back, a couple of other trees came through our roof, broke a couple rafters, came through the attic floor and came down into the surgery suite.
"The back corner took a major amount of structural damage and allowed a great amount of water inside. There was water standing in the majority of the new part of building built just a couple of years ago."
Campbell said a crane was supposed to come Tuesday morning to remove trees from the roof. The damage is still being evaluated.
"Right now, we're considered a red flag, not fit for occupancy because of the dangers from the structure," she said. "We've gotten the water out through the work of the regular cleaning company. ServPro came by on Friday to cleaning up debris. We've had dryers, blowers, de-humidifiers running, … all trying to pull as much additional water out as possible."
Right now, the hospital, which handled 11,000 office visits from July 1, 2020 to July 1, 2021, is not operating at all, though Campbell said they are allowing people to pick up prescriptions if they've already been ordered.
"We can't see any patients, we can't let anyone in the building, we're closed for an undetermined time," she said.
Campbell and PRVH are asking for the public's help to get back on their feet. Since PRVH is east of I-95, it is considered coastal and in the case of a wind event, has a 5 percent deductible.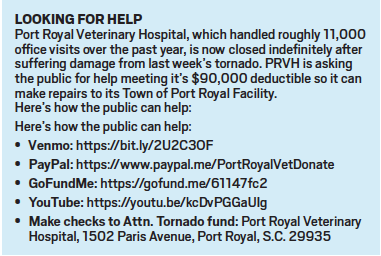 "It's not 5 percent of the damage, it's 5 percent of the total coverage," Campbell said. "(They're) estimating that will be about $90,000 we need to pay, and then they will pay above that. That is a considerable amount of money to come up with."
Campbell said she was advised by a number of people to reach out and let the community know what the situation was.
"We've had many notes from community members (who are) sad for us," she said. "They tell us they care, hoping we're up and running soon, offering help."
Not only does PRVH have to worry about the $90,000 deductible, Campbell said the hospital has roughly 30 employees that need work.
"One of our huge priorities is making sure all of those people continue to have a job," Campbell said. "Taking care of those people that take care of us everyday."
Mike McCombs is the editor of The Island News and can be reached at TheIslandNews@gmail.com.


Above: Tree limbs and damaged power lines hang on businesses on Paris Ave. after a tornado associated with Tropical Storm Elsa touched down in Port Royal early Thursday morning. Photo by Bob Sofaly.