By Pamela Brownstein
Southern Graces holds a special place in my heart. Not only because the food is always amazing, but because they catered my wedding and I'll always remember our guests — especially the ones from up North — raving about the delicious Southern dishes.
That was in 2009 when Bethany and Chris Hewitt just started Southern Graces at The Beaufort Inn at 809 Port Republic St. In the two years since then, the business has grown and expanded and become beloved among locals and tourists — and many married couples.
Last week, the Lunch Bunch had the pleasure of sampling the new fall lunch menu, as well as the dinner menu.
A mix-up in schedules meant April and I were there early waiting for the rest of the bunch. Our gracious hostess, Tasha, indulged the two of us and brought us our favorite starters: Fried green tomatoes served with a sweet corn sauce and the Beaufort Bay Shrimp Wraps, fresh local shrimp stuffed with sausage and lump crab meat wrapped in a spring roll and served with sweet garlic aioli. Both are super must-haves.
Once the others arrived, we all gobbled the fresh popovers with homemade maple butter, and even asked for more. We also loved the pecan-crusted baked Brie appetizer with green apple chow-chow and toasted baguettes.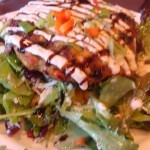 For entrees, Heather and Buck both chose yummy sandwiches off the lunch menu. Heather chose the Harvest Panini: French bread pressed with smoked Gouda, caramelized apples, roast turkey and cranberry aioli, and a side of sweet potato fries. Buck opted for the orange marmalade chicken salad made with grapes, pecans and orange marmalade and served on a croissant.
Elizabeth ordered the crispy scored flounder off the dinner menu with sides of whipped buttermilk potatoes and sauteed spinach. The whole fish, topped with an apricot shallot sauce, was cooked to perfection and very tasty.
After much debate, I settled on the crab cake served atop the signature salad featuring smoked Gouda cheese, toasted pecans, dried cranberries, mandarin oranges with citrus vinaigrette. The Creole mustard remoulade gave the crab cake a subtle kick, and the portion was huge, so there was that much more to enjoy.
April went outside her comfort zone and tried the shrimp and sweet potato grits. Although they weren't exactly what she expected, Elizabeth and I thought the shrimp were outstanding.
For dessert, we all had the chocolate creme brulee, celebration cake and white chocolate chip banana pudding. I could probably eat that trio after every meal, each item is so scrumptious. Don't forget to try the new dessert options on the fall menu, especially the caramel apple cheesecake and coconut cake.
Even though we were all full, Chef Chris brought out a special chocolate skillet. The piping hot dish made with fudge and coffee and topped with vanilla ice cream was too good to pass up and Elizabeth and I gladly finished it.
Southern Graces serves lunch, afternoon tea and dinner Tuesday through Saturday, and brunch on Sunday. To make a reservation or to have them cater your next event, call 843-379-0555 or www.southerngracesbeaufort.com.