BA Snaps State's Longest Win Streak, Gives Clifford First Title
By Mike McCombs
The clock read 0:06 Friday night at Patrick Henry Academy's Cone Field in Estill as Beaufort Academy's De'Shaun Epps cradled the football in his arms with tears in his eyes.
Epps' interception of Clay Brunson's desperation pass inside the Eagles' 5-yard line sealed Beaufort Academy's 42-40 win over Andrew Jackson Academy (11-1) in the SCISA 8-man state championship.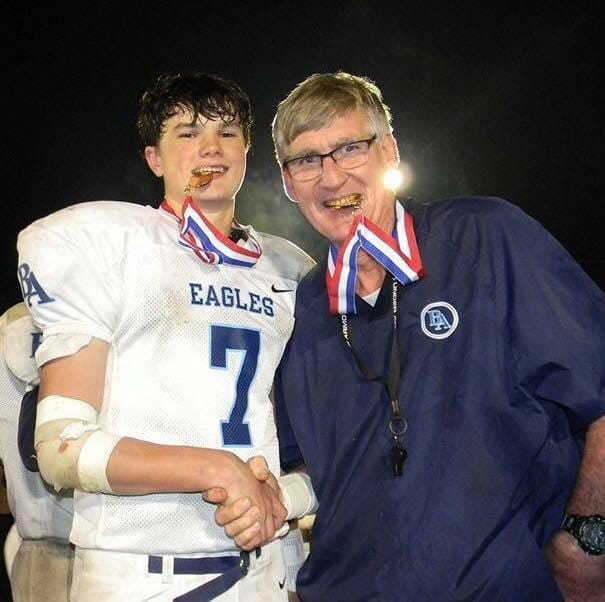 The Eagles (10-2) ended the Confederates' 48-game win streak and stopped their string of state championships at three.
"It felt good. I just started crying, I got emotional," Epps said. "It just feels good when the team has been working so hard."
The win gave BA its first state title in football and was the first for Mark Clifford as a head coach.
"I just coach football. I love coaching kids, and these kids were very coachable," Clifford said. "As the season went on, (the team) just got more confident and more confident and they executed."
After heading into halftime leading 28-20, Clifford and his Eagles found out what they were made of in the second half, thanks to two long, game-tying drives by Andrew Jackson.
In the third quarter, a promising BA drive stalled at the Andrew Jackson 13, and the Confederates took over on downs. From there, Andrew Jackson, led by quarterback Brunson and backs Jon Schaffer and Tucker Cook, pushed the Eagles down the field on a 15-play, 87-yard touchdown drive capped by Brunson's 1-yard touchdown run and 2-point conversion pass to tie the game at 28.
The Eagles tried to answer, but their drive stalled on the Confederate 10. Three plays later, however, Ja'Sean Lawson recovered a Brunson fumble, and a 29-yard touchdown run around the end by quarterback Dawson Coleman pushed the lead back to 34-28.
Then in the fourth, the Confederates drove for another equalizing score – a 6-yard scoring run by Schaffer to knot the game at 34.
Again, the Eagles would answer. After five straight Epps carries and a holding penalty put BA at the Andrew Jackson 35, Edward McCormick ran 35 yards around left end for the score. Coleman's 2-point run gave the Eagles a 42-34 lead the Confederates would not overcome with just 3:10 remaining.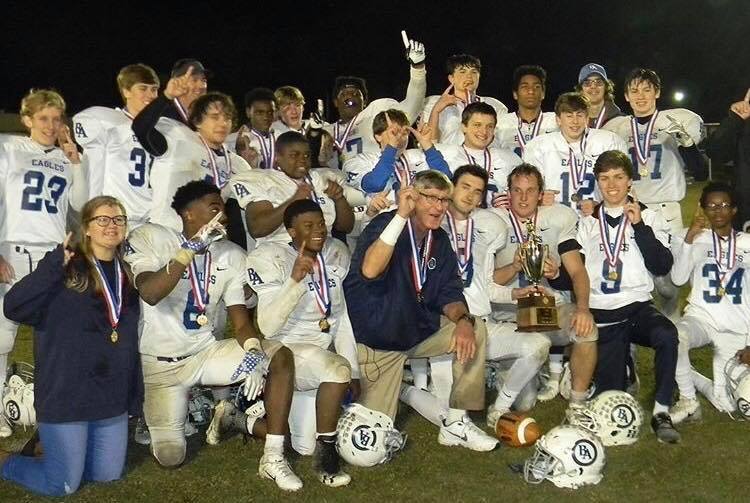 "We were all on the same page. We knew what we had to do," Coleman said. "We expected long drives. We knew we had to get stops and get turnovers. We knew what we had to do."
But Andrew Jackson made it interesting.
The Confederates' Moye Brandt got behind the Eagles' defense and caught Brunson's play-action pass in the end zone with 1:23 remaining in the game. But on the 2-point try, Trey Pulaski was pulled down from behind in the backfield and the Eagles held onto a 2-point lead.
But it still wasn't through.
The Eagles mishandled the kickoff and the Confederates recovered at their own 46. But seven plays later, time was running out, and Andrew Jackson quarterback Brunson was forced to try to make a big pass on third and 12 from the BA 27.
He threw a prayer into double coverage, and Epps made sure it wasn't answered.
Coleman took a knee in the shadow of his own goalpost, and the Eagles' celebration began.
"(The Confederates) gave us exactly what we expected. They are a hard-nosed football team," Clifford said of Andrew Jackson, who beat the Eagles 40-28 in early October. "Stronger. Faster. Smarter. (We are) a lot better than we were in August."
Despite the losses early in the season, Coleman said the Eagles were confident they could get it done Friday.
"We were prepared for anything this year. We (knew we) could line up with anybody," Coleman said. "We got better every week. We didn't know how good we were."
Epps and the Eagles executed from the start on Friday.
On the game's second play from scrimmage, the junior back busted loose for a 49-yard touchdown rumble. He would go on to rush for 263 yards on 23 carries – including touchdown runs of 49, 77, 19 and 35 yards – along with a 7-yard reception and the game-clinching interception.
Coleman had 118 yards on eight carries including touchdowns of 34 and 29 yards. He completed just 4 of 9 passes for 27 yards and his first interception of the season.
Sophomore Elijah Fess, playing a bigger role with the injury to William Tumlin, caught three passes for 20 yards and hauled in two key 2-point conversion passes.
McCormick, who had the go-ahead 35-yard scoring scamper, finished with 53 yards on six carries. Lawson added three carries for 11 yards.
Coleman credited the win to Clifford and his staff.
"I knew we were going to be something special with these coaches. It's a completely different atmosphere than I've ever been around," he said. "Coach Clifford has a reputation for winning and he came here and turned this thing around."
The coach, who won 107 games at Beaufort High School before stepping down after last season, may have vanquished a few ghosts from his seasons with those Eagles. Clifford led Beaufort High to a state championship game in 2007 before losing.
This time, the former Clemson tight end sealed the deal.
"It's the greatest feeling I've ever had," he said.