• Thursday, Nov. 10, Whale Branch Elementary is having a Patriotic Celebration, 6:30 p.m. Second graders will perform, and local military, police officers, fire fighters and paramedic are invited to attend to be honored in conjunction with Veteran's Day.
• Thursday, Nov. 10, Faculty Professional Development Day: no school for Beaufort Academy students.
• Thursday, Nov. 10, join your child for the Thanksgiving Luncheon during lunchtime. Cost is $4: turkey with mashed potatoes and gravy, green beans, stuffing, candied yams, chef salad and ice tea.
• Friday, Nov. 11, Veteran's Day: no school
• Monday, Nov. 14, LIMS Scholastic Book Fair opens. Parent volunteers are needed to work mornings and afternoons. Please contact Paige Lancaster, 843-524-0549, or aelancaster@embargmail.com.
• Monday, Nov. 14, report cards go home from Riverview Charter School. Also, Tidewatch second session begins. Exciting new programs have been added including Bricks 4 Kids LEGO, dance, mixed media art, cooking, and photography and creative writing.
• Monday, Nov. 14, Sea Island Presbyterian Day School has its first parent seminar titled "Social Networking and Internet Safety" presented by SSGT Mike Jennings, 9:15-10 a.m.
• Monday, Nov. 14, St. Peter Catholic School's make-up school pictures, 10 a.m.
• Tuesday, Nov. 15, Grandparent's Raising Grandchildren Support Group of Beaufort County will meet at Beaufort Elementary School, 6 p.m. Childcare will be provided. For more information contact Lorain Tascoe-Bey, 843-726-1092, or Ashley Hutchison, 843-521-2399
• Wednesday, Nov. 16, District will sponsor a workshop for parents on how to finance their children's college education at Beaufort High School, free of charge, 6-7:30 p.m.
Annual Fall Dance Concert
The Beaufort High School Dance Ensemble presents its Annual Fall Dance Concert on Thursday and Friday, November 17 and 18, in The Arts Center at Beaufort High School. This year's theme is a tribute to some of the American Dance Classics through the ages. The performances will begin at 7 p.m. each night. Tickets are $5 general admission and will be available the night of the show. For additional information, please contact Teresa Baker, BHS Dance Ensemble Director, at 843-322-2153.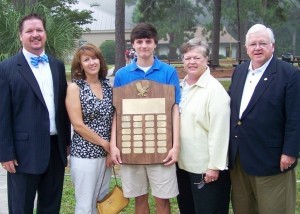 T. Reynolds Robinson Scholarship Recipient: Jack Dailey
Jack Dailey was named as the recipient of the 2011 T. Reynolds Robinson Scholarship. This scholarship has been awarded annually since 1989, the year Reynolds died tragically at the young age of 13. Reynolds was a student at Beaufort Academy during his short, but full-of-adventure life. The Reynolds family rewards this scholarship in celebration and remembrance of Reynolds. Recipients must possess many of the qualities that people loved about Reynolds, for example strong leadership and athletic ability and the respect and friendship of classmates, in addition to maintaining a cumulative grade point average of at least 2.0 during the seventh, eighth, and ninth grades. Awarded to a 10th grader, the scholarship offers $1,500 toward the student's college education.
Annual Needs Assessment
Survey posted
This week, the Annual Needs Assessment survey for each school and for the district will be posted on the district website and on each school's web-site. There are versions in both Spanish and English. Parents are encouraged to respond to the school and district survey as this information will help in the development of the School Renewal Plan update due later in the year.
LIMS McTeacher's Night
Lady's Island Middle School McTeacher's Night was held at the Lady's Island McDonald's. Teachers came out to help work after hours and McDonald's donated 15 percent of the proceeds to the school to help supplement classroom libraries. Students and families were encouraged to come out and support their school.