Two men injured in Burton shooting
Two men were shot at about 11:45 a.m. Sept. 29 on Ramsey Road in Burton.
Beaufort County Sheriff's Office deputies responded to the scene and found the two men, one who had been shot in the leg and the other who had been shot in the back.
Both were transported to Beaufort Memorial Hospital for treatment by Beaufort County Emergency Medical Services.
Sheriff's office investigators collected evidence for forensic examination and interviewed witnesses throughout the day.
The man shot in the leg has been released, while the man shot in the back remains in the hospital.
The investigation is ongoing.
Anyone with information is encouraged to call the Beaufort County Sheriff's Office Emergency Dispatch at 843-524-2777 or CrimeStoppers at 1-888-CrimeSC to remain anonymous and for a possible reward.
Man is wanted on sex with minor charges
The Beaufort County Sheriff's Office is seeking assistance in locating Maruice Tyrone Moultrie who is wanted for criminal sexual conduct with a minor in the second degree.
Moultrie is 19 years old, approximately 6 feet, 2 inches tall and weighs 175 pounds.
He has short hair and may possibly be in the Burton or Hilton Head area. On his left forearm is a tattoo of a crescent moon and a palm tree. On his right forearm are the letters "PHP."
Anyone with information is asked to call Investigator Cornillus LaVan at 843-255-3313 or BCSO Dispatch at 843-524-2777.
Accidents snarl afternoon traffic
The City of Beaufort/Town of Port Royal Fire Department responded to separate motor vehicle collisions that snarled afternoon traffic on Sept. 26 on Ribaut Road.
Firefighters responded to a two-vehicle collision at about 4:30 p.m. with reports of injuries at the intersection of Ribaut Road and Lady's Island Drive.
One occupant of the vehicles was apparently injured and received attention from Beaufort County EMS.
Firefighters then responded to the second collision on Ribaut Road, this time in front of the bowling alley. Firefighters found that two vehicles had collided but there were no injuries and only minor hazards in the roadway.
In both instances, traffic was interrupted and re-routed temporarily while EMS from the City of Beaufort/Town of Port Royal Fire Department, Beaufort County EMS, Port Royal PD, and the city of Beaufort police worked to clear the collisions and return traffic flow to normal.
Fire department gets $1.57M to hire personnel
The Federal Emergency Management Agency has awarded an Assistance to Firefighters Grant Program Award in the SAFER category (Staffing for Adequate Fire and Emergency Response Grants) to the City of Beaufort/Town of Port Royal Fire Department in the amount of $1,569,678.
This grant will allow the department to hire 15 new firefighters.
"This is an economic boost for our economy at a time when our communities are seeing growth in many sectors," said Fire Chief Reece Bertholf. "Our department has a residency requirement of Northern Beaufort County. That means that every dollar of this grant, which will be spent directly on salaries and benefits for firefighters, has a high probability of being spent right here in our community."
Driver freed from gateway wreck
A driver was freed from a two-vehicle accident on Sept. 29 at the intersection of Savannah Highway and Parris Island Gateway
Just before 7 a.m., the Burton Fire District responded to the reported motor vehicle accident.
Burton fire crews arrived to a two-vehicle accident between a passenger vehicle and a pickup truck.
The driver of the passenger vehicle was trapped inside.
Burton firefighters were able to free the driver using the jaws of life and the driver was transported to the hospital.
The driver of the pickup truck was not transported.
The intersection of Parris Island Gateway and Savannah Highway was blocked for approximately an hour due to leaking fluids from the vehicles. SCDOT was called to assist in fluid cleanup.
Smoke detector saves family, limits damage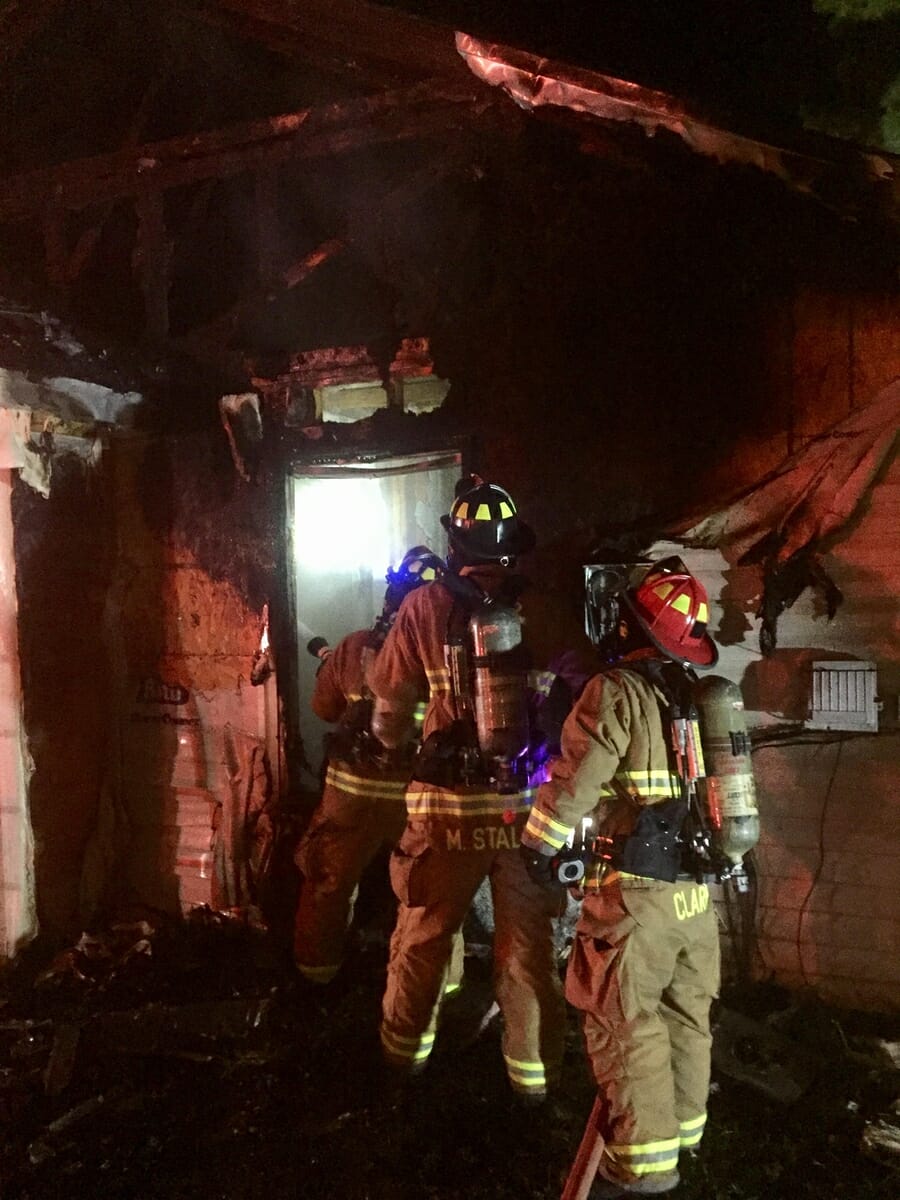 A smoke detector alerted a Burton family to a fire in their home on Sept. 27, allowing the family of three to safely escape and limited damages.
Just after 11:30 p.m., Burton firefighters were dispatched to a reported house fire on Mroz Road in Burton. They arrived to find smoke and flames coming from the side of a single-story home.
The family, an adult and two children, were safely outside.
Firefighters were able to quickly contain and control the fire. While the home suffered smoke and heat damage throughout, the fire damages were limited to the bedroom area where the fire is believed to have started by a Hoverboard that was recharging.
The MCAS Beaufort Fire Department also responded and assisted at the fire as part of a new automatic aid agreement between the air station and the Burton Fire District. As part of this new agreement, the air station will now automatically dispatch a fire engine to assist Burton.