Two shot, killed on Hilton Head Island
Two men were shot and killed on April 2 on Hilton Head Island.
According to the Beaufort County Sheriff's Office, a suspect is in custody. No motive for the crime has been released.
The two victims of the shooting at 54 Muddy Creek Road have been identified as Marcol McNair, 25, and Quincy King, 20. All three men lived at the residence.
Forensic autopsies were scheduled to be performed at the Medical University of South Carolina.
Malcolm Melton, 30, was arrested near the scene, who was located using a Beaufort County Sheriff's Office K-9 track, according to a release.
The sheriff's offices said Melton had a semi-automatic handgun and a small amount of marijuana when he was arrested.
He was charged with simple possession of marijuana, interviewed and transported to the Beaufort County Detention Center without incident.
On April 3, investigators obtained warrants for Melton's arrest on two counts of murder and two counts of possession of a weapon during the commission of a violent crime.
The handgun found in Melton's possession will be subjected to forensic examination to determine if it is in fact the murder weapon.
Anyone with information is encouraged to contact Cpl. Seth Reynells at 843-255-3709 or CrimeStoppers 1-888-CrimeSC to remain anonymous and for possible reward.
Burton Fire District contains second brush fire
The Burton Fire District responded to its second large brush fire endangering homes in just over one week in the Seabrook area late on March 28.
Just before 4 p.m., firefighters responded to a report of a brush fire off Creekmoor Lane in Seabrook.
Fire crews arrived to find an approximately 3-acre brush fire endangering nearby homes.
It took three Burton fire engines and over 3,000 gallons of water, as well as assistance from the SC Forestry, to contain the fire. Crews were on scene for over two and a half hours and hampered by heavy rainfall.
On March 20, the Burton Fire District, along with units from the MCAS Fire Department and SC Forestry, contained an approximately 10-acre brush fire off of Delany Circle in Seabrook that was also endangering nearby homes.
The Burton Fire District has responded to over 20 brush fires so far in 2017; 10 of those brush fires have occurred in the Gray's Hill – Seabrook area.
Walterboro man gets 10 years for sexual assault
A 58-year-old Walterboro man was sentenced March 29 to 10 years in prison for sexually assaulting a teenage girl in 2015.
Michael Anthony Bodison was found guilty of third-degree criminal sexual conduct following a one-day trial at the Colleton County Courthouse in Walterboro.
Bodison sexually assaulted the 16-year-old girl in August 2015 while the girl was in his care.
The victim was able to record Bodison "saying some disgusting things in preparation" for the assault, according to the case's primary prosecutor, Assistant Solicitor Reed Evans. "We were able to play that recording for the jury."
The jury deliberated about 25 minutes before returning a guilty verdict.
"We are so proud of the victim in this case," Evans said. "She did a great job in her testimony."
Circuit Court Judge R. Lawton McIntosh handed down the 10-year sentence, the maximum for this charge.
Sheriff's Office: Man wanted on several charges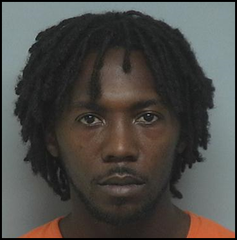 The Beaufort County Sheriff's Office is searching for Lucas Lamont Lynard, who is wanted for fleeing to evade, operation of an uninsured vehicle, habitual traffic offender and failure to stop for blue lights.
Lynard is 27 years old, 5 feet, 11 inches tall and approximately 170 pounds.
Anyone with information is encouraged to contact Cpl. J. Difalco at 843-521-7530; Beaufort County Dispatch at 843-524-2777; or, to remain anonymous and collect a possible reward, call CrimeStoppers at 1-888-274-6372.