Hundreds of search and rescue personnel comb through the ashes of California wildfires
By Bill Rauch
The first thing you notice, way before you get to the destruction, is the smoke. Descriptions of top shelf Syrah wines sometimes use the word "smoky" to describe subtle differences between vintages. This smoke is the wretched cousin to that. It is acrid and stale, and it burns your eyes and nose and throat. After a couple of days in it, even if you wear your dust mask all the time, it turns your voice raspy.
Those who keep track of these things say the air in Paradise, California, last week was the worst in the world, worse still than famously bad Beijing.
All day, when there's not a cloud in the sky — and the air, like the soil, is dry, dry, dry — looking down a road looks like looking down a Lowcountry road on our foggiest morning. Sometimes you can see 100 feet and sometimes you can't.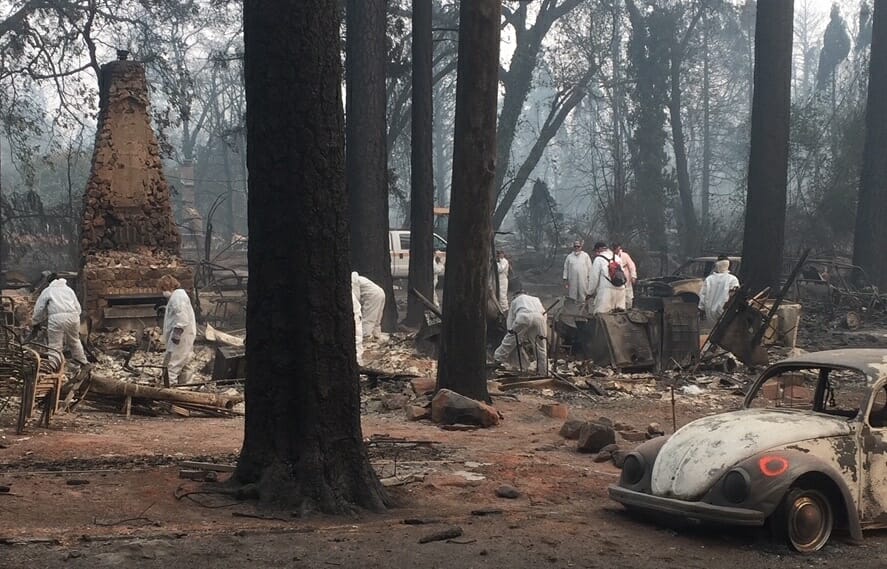 When you look up at the sun high in the sky it is redder than Mars.
Some schools 200 miles away in San Francisco were let out for all last week because the fire had made the air there so bad.
Then there's the grim somberness. Men, women and children died in this fire that swept across the Town of Paradise with way too short notice. The 30mph Santa Ana winds picked the fire up and flung it from hilltop to hilltop toward the 27,000 residents of Paradise. Sometimes, witnesses say, the fire spread at speeds exceeding 90 mph. More than 10,000 residences in the town and on its outskirts were destroyed by the fire, according to recent California Department of Forestry and Fire Protection (CAL FIRE) estimates. That's about the number of houses in Beaufort and Lady's Island combined.
The Paradise Fire Department sent sound trucks through the town's streets imploring people to evacuate, and they knocked on some doors, but some particularly hard-of hearing elderly people and people in remote corners of the town went unnotified, local news reports say.
There was very little time.
Others fled into frantic traffic jams chased by the flames.
This is what it must have been like in Pompeii in 79 AD, when the ash from the sudden explosion of Mount Vesuvius suddenly began settling on the town, smothering everything — children in their beds, mothers in their baths, pets in their kennels — beneath it.
Butte County, California, is facing criticism because the officials there did not have in place the most effective warning system available today, Wireless Emergency Alerts (WEAs) that tone out an alert signal followed by a message to every mobile phone within range of designated towers.
At last weekend's count 77 people had died in the fire, and roughly 1,000 people are still missing, according to the Butte County Sheriff and Coroner. Search and Rescue teams grimly rake through the remnants of the houses where the missing were known to live.
Judged both by deaths and acres affected, the Camp Fire, as the Paradise killer is known, is already the largest wildfire in California history. And the Search and Rescue teams continue their work, as do the 5,800 firefighters with more than 600 pieces of equipment and 25 helicopters who had the blaze 55 percent contained last weekend.
Human nature makes us respect a force like that. We are awed by it. It stuns us. And our hearts are broken for the people who love those who have perished or are missing.
When we see the casually life-changing effects of such a brute force of nature it takes a little bit of our breath away … every time.
What can be done to confront such a force?
President Trump and Governor Brown visited Paradise last Saturday and, stunned by the nuclear winter-like remnants of the town, each pledged their government will do whatever can be done to bring it back.
It will take all that, and years. And much that was will still never be returned.
Bill Rauch was the mayor of Beaufort from 1999-2008. Email Bill at TheRauchReport@gmail.com.