Veteran paddles 2,000 miles to help fellow Vets
By Kat Walsh
Joseph Mullin, a U.S. Naval Air Reserve veteran with post-tramautic stress disorder (PTSD), has a problem with the number 22. That's the number of veterans, on average, who die by suicide every day, 365 days a year, every year.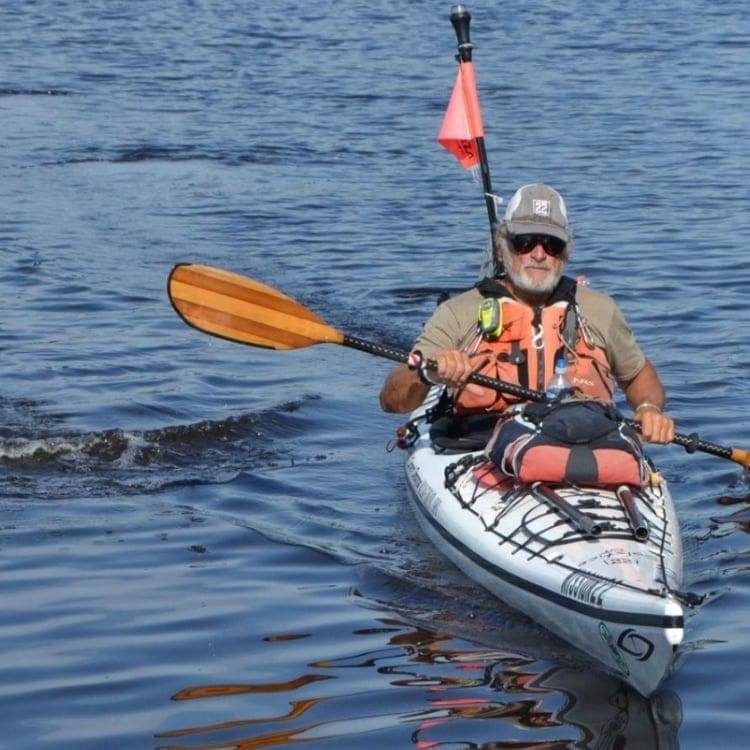 So when Mullin retired, he decided to do something big about that number and helping his fellow veterans with the struggles they face. He just didn't yet know what that big thing would be.
Mullin found his answer in Mission 22, a nonprofit founded by three veterans whose personal battles with PTSD and traumatic brain injury (TBI) led them on their own mission to end veteran suicide in the U.S. It was a mission that Mullin could believe in – all funds the organization raised help pay for treatment programs for veterans with PTSD, TBI and other combat-related injuries.
Mullin figured – correctly – that paddling more than 2,000 miles solo in a kayak would draw attention to Mission 22's cause. So he spent two years preparing: studying water, winds and currents, researching equipment, gathering charts and plotting courses. In order to not take funds from Mission 22, Mullin is paying for this journey with his pension, and a Go Fund Me campaign helped pay for his equipment.
A life spent on – and under – water
From 1970-74, Mullin served in the Navy as a jet mechanic and on an anti-submarine helicopter squadron. He then spent 20 years as part of an underwater recovery team, recovering vehicles, evidence, and human remains.
These experiences weighed heavily on him – "I've seen my fair share of bodies," he says – and they still do. There's always the fear that a place, a voice or music will trigger an episode. His most recent struggle took place at a campground in Myrtle Beach.
"I could hear helicopters going up and down the beach and I am telling myself it's just a tour, just ignore it," he says. "But my mind was screaming 'You gotta get down to the water, they need you!'"
While he has able to make it through the first night, the internal conflict made a longer stay impossible. He cut his stay short and took off on his kayak the next morning.
So how is it that Mullin finds paddling for up to 10 hours a day on the water so therapeutic? The difference, he says, is that this time he's on the water. Not under it.
An Ominous Beginning
If most of us had a first day like Mullin's, there would never have been a second day. His kayaking journey began near the Canadian border at Quoddy Head Lighthouse in Lubec, Maine — the easternmost point in the U.S. — on April 30, 2017.
"I was paddling right along in a cove appropriately-named Baily's Mistake and was hit broadside by an 8-inch wave," he sighs, shaking his head. "Eight inches was all it took to capsize."
Using his beacon to alert the Coast Guard, it took an hour to locate Mullin at night in the 38-degree water. He ended up in the hospital with a case of mild hypothermia and a severely bruised ego. Lesson learned, he says. He packed less gear, more common sense, got himself a better boat and got back on the water.
"Hey, you're that guy on TV!"
Mullin's media presence – he's made it on several TV stations and into nearly every newspaper in his path – has made him and his mission recognizable to many. He says he usually gets one of two reactions from people when they find out what he's doing. "Either they think it's great or they think I'm insane," he chuckles.
Depending on the conditions, the 67-year-old paddles anywhere from six to 10 hours a day, covering 20-40 nautical miles in his 17-foot fiberglass kayak. At the end of the day, he looks for a campground or a hotel to spend the night. Occasionally a veteran or a newfound friend will share a meal or give him a place to stay.
All the unforeseen obstacles and pleasant surprises Mullin has encountered along the way taught him to be flexible in planning. Case in point: his one-night stay in Beaufort became a two-day delay dedicated to repairing a broken rudder cable. What keeps him going, despite it all? Two things.
"I'm no good at worrying and I don't know the meaning of quit," he says.
"We have reduced the number of suicides per day from 22 to 20, but our goal is zero, so we still have a long way to go," Mullin added. "This is not about me, it's about the mission. The mission is far greater than the journey."
How to Help
For information or to donate to Mission 22, please visit www.mission22.com. For updates on Mullin's trip, follow his journey on his blog: www.acske2017.org.
Photo at top: Joseph Mullin loads up the first kayak for the first day of his 2,000-mile solo kayak journey to raise awareness for Mission 22, a nonprofit dedicated to helping pay for treatment programs for veterans with PTSD, TBI and other combat-related injuries.