No one claims outdated utility pole that smashes family car

By Mindy Lucas

When Bunny Winkler woke up Christmas morning in 2020, she got a present she wasn't exactly expecting. An old utility pole had fallen and smashed the back end of her car.
But not just any car. It was "Old Bessie" – the Beaufort family's 2007 Honda CR-V. A workhorse of a car, Old Bessie had more than 160,000 miles on her but had never let Winkler or her family down.
She took the kids to school and back, to music lessons and to softball practice. She carried groceries from the grocery store and faithfully performed all the duties a "mom taxi," as Winkler called it, usually performs without fail.
But now Old Bessie sat wounded in the family's driveway, her rear windows smashed, her once gleaming black roof now dented inward.
"It was my baby," Winkler said, as she recently recounted what happened after the utility pole with loose wires came crashing down on top of Old Bessie, effectively ending the car's long run.
It all started when some contractors who were cutting trees in the neighborhood in mid-December caused some wires from the pole to fall down across Winkler's car and driveway. The lines also tore a few shingles off her home's roof as they fell.
Winkler knows because she was sitting in her bedroom watching TV at the time and had a clear view of the action outside.
"I could see them out there working on the tree," she said, referring to a scrub tree in front of her neighbor's house.
As Winkler and most everyone in Beaufort knew, Dominion had work crews in the area cutting trees back from power lines. But mostly they were trimming or pruning back vegetation along North Street, Winkler said.
This tree, however, was being completely cut down and removed.
So when the lines came down on Winkler's home and car, naturally she wanted to know what the workers outside were planning to do about it, and if she should be concerned about any live wires.
"I walked out there with my hands on my hips and said, 'Excuse me,'" she said, in what can only be described as an unusually laid back tone given the situation.
The men indicated they would put the lines back, which they did, but not before one of them poked and prodded around the base of the pole with his work boot. Winkler could see that the pole was wobbly at the base, but if they weren't concerned about it she wouldn't be either, she thought.
Some days later, however, on Christmas Day, the family woke to realize the pole had come down in the night and had smashed their beloved Bessie on her side.
The pole was lying beside the car in the family's small front yard facing North Street and the car's back windows were smashed.
"I said, blankity, blank, blank, Merry Christmas to me," Winkler said.
So Winkler took some photos and after the holidays started making calls. And that's when the real problems began.
No one, it seems, would claim the pole.
After many calls to Dominion Energy, customer service representatives told her the pole wasn't theirs. She also tried calling the City of Beaufort and they too said the same thing – not theirs.
Winkler didn't believe the pole was hers, but if it was, she just wanted to know that so she can figure out how to have it removed. If it wasn't, she wanted to know that too, so the right company or entity could take responsibility and come get the pole.
"If indeed it's someone other than me, I want them to take responsibility," she said recently. "And if it's me, then so be it."
Winkler also happened to take a photo of the work truck belonging to the work crew out cutting trees the first time the line came down. She took the photo in case she needed to follow up on the downed line.
A plate number on the truck is registered to the Columbia, Miss.-based tree cutting company "Looks Great Services."
Calls and messages left by a reporter through the company's main number listed on its website went unreturned, but a call to a foreman was answered. That individual said he would investigate the incident.
As of press time on Tuesday, neither the paper or the homeowner had heard from the company.
A call to Dominion's media line resulted in a call back from Senior Communications Specialist Paul Fischer who asked for more information and promised to look into Winkler's situation.
In an email sent on Tuesday, Fischer said the company's lines were removed from the pole in 2009 and that often other utility lines, such as telephone and cable TV lines, remain attached to poles once electric lines were removed, requiring the pole to remain in place until "all attachments are removed." He said the company was "actively working with the local telecommunications company."
He also said and that Dominion would send a crew to remove the pole from in front of the customer's home and apologized for the delay in resolving the incident.
However, there was no mention in the email of what the company plans to do, if anything, about Winkler's roof or car.
In addition, the company did not answer specific questions about whether it has any policies or protocols in place if a subcontractor working in the area sees or causes a pole to become loose around a homeowner's property. Are they to flag that pole, for example, or notify a foreman on the job to prevent property damage or worse from happening, should the pole fall?
Winkler doesn't necessarily blame Dominion for the pole coming down, she said, but these older poles, located directly next to the newer taller power line poles, can be seen throughout the neighborhood. So surely someone must be responsible for their upkeep, she reasoned.
"We are continuing to review this incident," Fischer said in an email. "The safety of the general public and our employees remains our top priority. We have also reached out directly to the customer, and will continue to work with her to further resolve this issue."
As of press time on Tuesday, Winkler said she had heard from Fischer as well, but only once and it was to say a work crew would be by to remove the pole.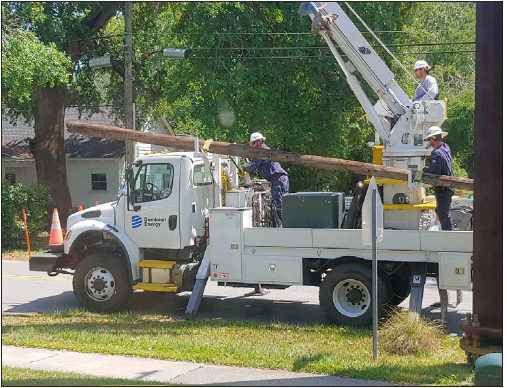 In the meantime, it's been four months since the pole smashed her vehicle and Winkler has pretty well given up on anyone taking responsibility for the pole or what happened to her car.
And it hasn't been easy – going without a car.
A single mom with one child still at home, Winkler relied on Old Bessie to take her 11-year-old to school or pick up groceries or do any of the things busy parents normally do. And with limited liability coverage, there was no replacing the car through insurance, she said.
So last week Winkler finally had the car hauled away to the salvage yard and went and purchased a 2017 Kia Sportage. She hasn't given the new car a name yet.
"I figured Ok, let's face facts," she said. "This is probably going to be too expensive to repair or more than it's actually worth so the best bet is to get it out of here. I'm sure my neighbors will appreciate not looking at in anymore and I have to let go."
Still, Winkler was disappointed about the loss of "her baby."
"It was the first new car I ever bought," she said sounding nostalgic. After all, the family had had a lot of good times in the car, from the road trips back home to Myrtle Beach each year to just running errands with the kids around town.
Though Old Bessie was a little long in the tooth, Winkler had taken such good care of her that her mechanic had said she could easily get another 10-15 years out of it.
But all that's gone now in the blink of an eye. Or the downing of a pole.
And the unsightly pole which laid along the sidewalk on North Street for the last four months?
A work crew from Dominion finally came and collected it Tuesday afternoon as this paper was going to press.

Top photo: Bunny Winkler stands next to the utility pole that fell on her car on Christmas Day 2020. Photo by Mindy Lucas
Mindy Lucas is the Beaufort reporter for The Island News and is a staff writer for Lowcountry Weekly. She can be reached at mindy.islandnews@gmail.com.