By Mike McCombs
The old saying goes "success breeds success."
When it comes to Coach Ray Jones and the Team Beaufort Olympic Weightlifting program, it couldn't hold more true.
During a week that saw Beaufort natives and standbys C.J. Cummings and Dade Stanley claim USA Weightlifting National Championships in Detroit, two more Team Beaufort (Team Divergent) lifters emerged as stars.
Ian Graham, a 17-year-old Beaufort native, won gold in the Clean & Jerk (131 kg), bronze in the Snatch (107 kg) and silver Overall (238 kg) – all personal records – in the 102-kilogram weight class of the Youth National Championships. He finished second by just a kilogram.
And 19-year-old Marr-Khie Desvarieux, originally from New Smyrna Beach, Fla., won gold in the Clean & Jerk (109 kg), silver in the Snatch (87 kg) and silver Overall (196 kg) in the 71-kg weight class in the Junior National Championships.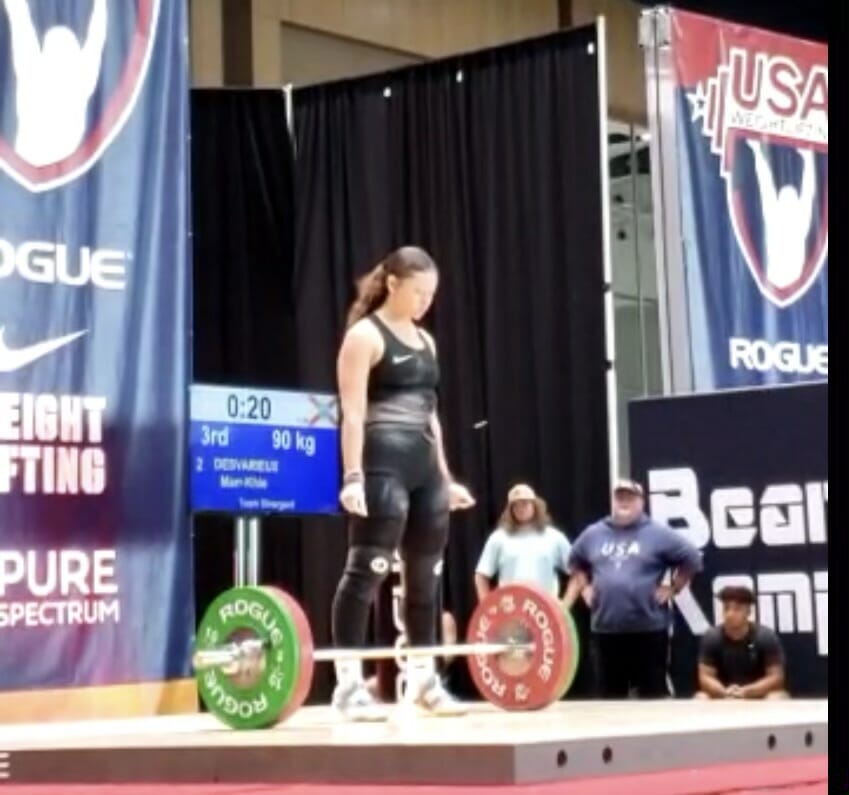 Desvarieux, too, finished second by a kilogram. In fact she thought she had completed her final lift that would have given her the win. But it was disallowed on a technicality by the judges.
"She had it overhead," Jones said. "She did it."
"It was a lot of fun," Desvarieux said. "I had a lot of support from my coach and my teammates. It definitely could have went a lot worse. I'm definitely happy. I'm just really happy to be competing on a stage again."
Because of the pandemic, instead of separate events, this year's USA Weightlifting Championships – Youth, Junior, Under-25 and Senior – were all held in the same place at the same time.
Jones said this was beneficial for Team Beaufort as Cummings and Stanley could be there to encourage the other lifters.
"C.J. was there and involved, and that's what I wanted," Jones said. "He was there and involved and humble and supportive. And Dade was the same way, too."
Turns out, Lebanese-born Mahassen Hala, who trains with Team Beaufort, was a big influence, as well.
Marr-Khie Desvarieux
Desvarieux, who has been lifting since 2016, said she has always played sports but eventually switched to CrossFit. But she didn't like the cardio training and was much happier after making the switch to weightlifting.
Last year, she and a friend grew disenchanted with their coaching situation at the time. Her teammate was friends with Hala, and that connection helped Desvarieux earn the chance to train remotely with Jones beginning in October 2020.
Recently, Desvarieux had been staying with Hala in Beaufort to train in person with Jones,
"She's really, really talented, just the way she moves," Jones said. "Her biggest obstacle at this point is overcoming attitude and gaining confidence. She's going to do really, really well over the next six to eight months or so."
"It's been pretty life-changing, a whole different environment," Desvarieux said. "I just turned 19, I'm traveling on my own. I'm just way more positive than used to be. I think over time it's really going to improve my weightlifting."
Desvarieux said just being around Hala has been motivation for her.
"I try to stay with what she does, training habits and eating habits, you know," she said. "Obviously you have the same goals like the Olympics. It makes it seems possible. And the way she's always so positive … about everything.
"That's cool because I was never like that, but I'd like to be. And she's so positive about everything she does."
With Cummings and Hala leaving soon for the Tokyo Olympics, Desvarieux will train from Florida for the next few weeks.
"I'll keep training, tying to stay confident, and when he says we have a meet, we'll be ready for that," she said.
Ian Graham
"This kid (a couple years) ago could not qualify for the youth nationals – you talk about progress," Jones said. "He did things that he's never touched in his life."
Graham bested his personal record in the Snatch by 2 kg (105 to 107) and he beat his best in the Clean & Jerk by 6 kg (125 to 131).
"It felt good, and I think it was something I was planning on doing" Graham said. "I had a lot of people behind me supporting me – a lot of my family, my friends, my coach, people on my team, my nutritionist, even my therapist."
A bit of a late bloomer – both Graham and Jones agree – he's been lifting for about seven years.
"I was definitely trying to find my niche," Graham said about focusing on weightlifting. "Sports weren't doing anything for me. But I never thought I'd be traveling like this or be doing this in weightlifting."
Graham said this week's success is a turning point for him.
"It's changed a lot of things," he said. "It changes how I look at weightlifting, how I treat it. It's a big step for my weightlifting career."
Graham said he now knows he can make bigger strides, make Pan Am teams, make World teams and progress in the sport.
"Just phenomenal and he's just 17. He's just figured things out. He's getting aggressive," Jones said. "And Dade (Stanley) is such a positive influence on Ian, how positive they are with each other. He respects and admires him so much. He just keeps his head down and works.
"It's a big deal to have an Olympic guy (Cummings) and a Pan Am guy (Stanley) training right in front in my eyes," Graham said. Also Hala, … between the three of them, they put it in perspective of what it is that I'm trying to work for."
Mike McCombs is the editor of The Island News and can be reached at TheIslandNews@gmail.com.
Top photo: Ian Graham, a 17-year-old Beaufort native, won gold in the Clean & Jerk (131 kg), bronze in the Snatch (107 kg) and silver Overall (238 kg) – all personal records – in the 102-kilogram weight class of the Youth National Championships this week in Detroit. Photo by Ray Jones.