By Lolita Huckaby
Want to get political?

Mayor, City Council seats up for grabs in November in Beaufort

BEAUFORT – Okay, we just got the June party primaries behind us but, … lest we forget, there are LOCAL elections on the ballot come November.
Mayor Billy Keyserling's seat will be up, along with City Council members Nan Sutton and Mike McFee. None have publicly shared their plans.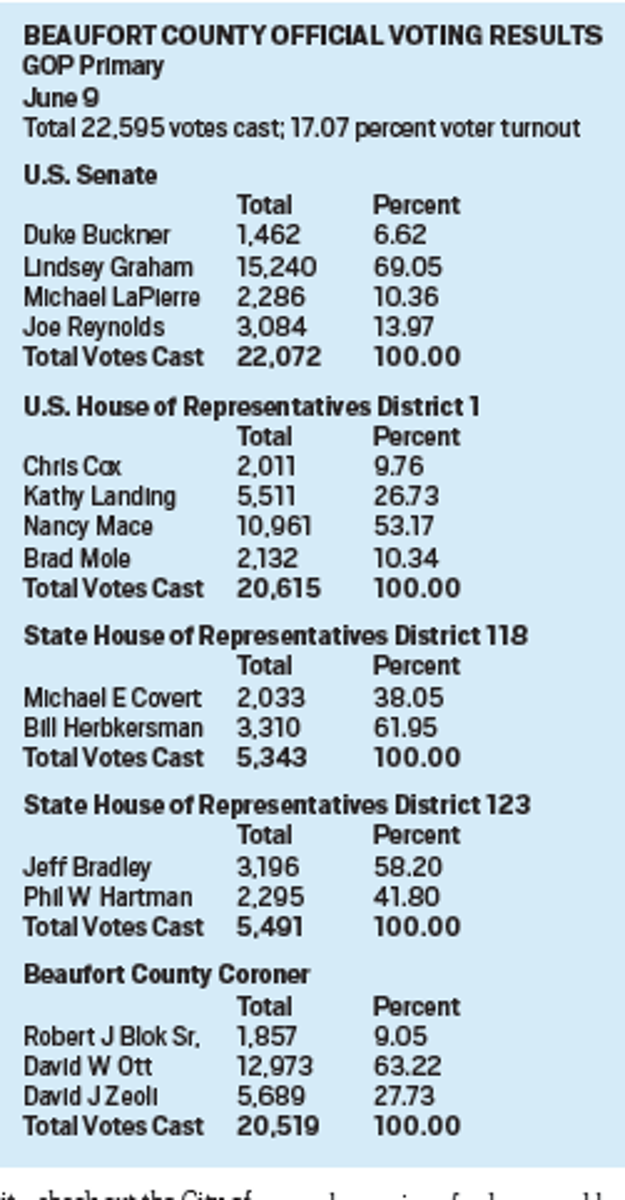 The council seats are non-partisan and city-wide, no individual districts.
Filing officially begins when the City Council approves an ordinance establishing the dates which should happen at their next meeting June 23. Deadline will be noon, Aug. 14.
Some Beaufort County Council members face re-election as well. That would be District 1's Gerald Dawson, District 3's York Glover, District 5's Brian Flewelling and District 7's Michael Covert. Deadline for filing was March 30 and all filed to run again.
Over at the school board, where elections are non-partisan, District 1's Earl Campbell is up for re-election, as is District 6's John Dowling, Board Chairwoman Christina Gwozdz of District 9 and District 11's JoAnn Orischak.
They have until Aug. 17 to file.
Over in Jasper County, local Democratic primary elections already showed HUGE upsets. The incumbents – Sheriff Chris Malphrus and Coroner Martin Sauls, who's had the job for 40 years – lost to political newcomers Donald Hipp (sheriff) and Willie Aiken (coroner).
Thirty-three percent of the Jasper voters went to the polls.
In Beaufort County, where there was only the GOP primary ballot, 17 percent of the voters turned out and elected a new coroner, David Ott. Ott, replaces Ed Allen who has been coroner for 12 years and who followed the late Curt Copeland, who was coroner for 12 years.
Get that water out of here!
BEAUFORT – City officials are slowly, slowly making progress to improve drainage in nine different neighborhoods, a project that's been in the works for at least the past two years and is anticipated to eventually cost in excess of $13 million.
Some in-house work in the Azalea Drive area of Mossy Oaks has already been done by cleaning ditches. Last week, the City Council gave the first reading vote of approval (two votes are necessary) to the sale of $8 million in revenue bonds to fund the drainage work. Payback will come from the $135 annual stormwater fee property owners are taxed, plus grants.
The council also authorized City Manager Bill Prokop to negotiate contracts with Gulfstream Construction Co. and Truluck Construction Co. for work to improve two separate drainage basins in the Mossy Oaks area.
And council approved a grant application for $1.3 million to help fix the drainage problems around Johnny Morrall Circle (where the old Pizza Hut used to be, the United Way offices are now and a swimming pool appears when there is heavy rain on high tides.)
This is the preliminary work that has to be done before (a) the city gets the money and (b) contractor backhoes show up and (c) homes in the Mossy Oaks area don't flood like some do now.
Playground changes
BEAUFORT – The beloved Henry C. Chambers Waterfront Park is getting some new play equipment. Hooray!
City Council recently approved a $274,000 contract with a Murfreesboro, Tenn., company for new playground equipment in the park. If you want to see what it will look like – and read comments about it – check out the City of Beaufort Facebook page.
It's supposed to be complete by August. Can anyone say "hurricane season?"
Follow up
LADY'S ISLAND – Plans for the new Wendy's have been given final approval by the city planning department and all that awaits now is for the property to officially change hands, according to the staff.
Then it's farewell to the Steamer building, hello to a fast-food restaurant.