Kenneth Szarek is the Field Service Representative for Boeing and he's in charge of the training and support of Marine Corps customers relative to the operation and maintenance of the F/A-18 Hornet aircraft at the Marine Corps Air Base Beaufort. A former Marine himself, Kenneth says he's humbled and honored to support the USMC mission through his work.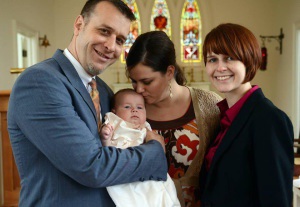 "What they do every day is amazing and necessary," he says. "I'll do whatever it takes to support them."
Kenneth's USMC active duty aviation maintenance background, his MBA from Webster University in Webster Groves, Missouri, and a lifelong appreciation of the engineering behind military aircraft led him to his current occupation. He's also worked as an Adjunct Professor at both Embry-Riddle Aeronautical University and USC Beaufort.
Father to 20-year old Errin, a Beaufort High School graduate now attending Coastal Carolina University, and 13-month old Elijah, Kenneth says nothing makes him prouder than being a dad.
He enjoys pick-up volleyball and basketball games and has visited five of the seven continents. He's a writer, an inventor and owns "a 1958 Oldsmobile, a Russian motorcycle and other really cool stuff in my office."
A true example of the old adage, "if you love what you do, you'll never work a day in your life", Ken says, "I have been with Boeing for 20 years. I was with Marine aviation for even longer. I absolutely love going to work every day. For that, I am truly grateful."  So are we, Ken. So are we.