Hundreds turn out for Father's Day
'March for Justice' in Beaufort
By Mindy Lucas
Photos by Jeff Coyle
Vaughn Holland, of Beaufort, sat along a low wall looking out onto the stretch of grass in front Waterfront Park's amphitheater on Sunday.
Sandwiched between his wife and three grandchildren, Holland was there for the "March for Justice" and he was certainly not alone.
A crowd estimated somewhere north of about 400 filled the park and, following a number of speeches from civic and religious leaders, took to the streets for the Father's Day silent march.
"I love the diversity," said Holland at the start of the march. "I don't know the numbers, but I would guess it's about 70 percent white and I appreciate that. It shows the support from the community."
Holland said he thought such events were important because of the "things that were going on right now" in the country. He was also personally concerned since his oldest grandson, who just turned 16, would be driving soon.
"He's about 6-foot-1 right now, so he's a tall kid," Holland said, adding that even though he was still just a boy, some might consider him a threat just the same.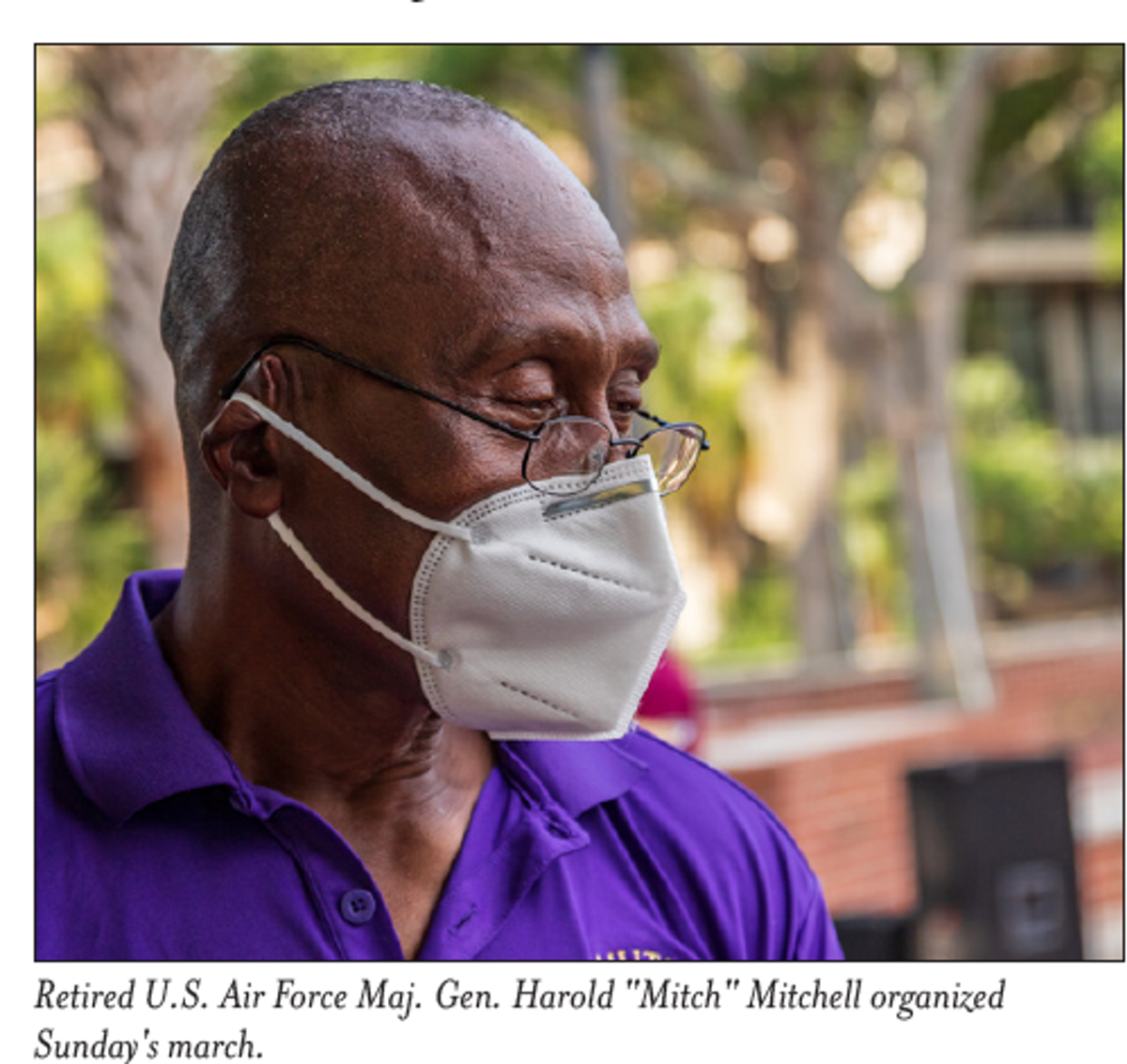 "Tamir Rice was just 12 years old with a toy gun," Holland said, referring to the young black boy killed in Cleveland, Ohio after calls about a male with a gun in an area park were relayed to officers. "So yes, I'm concerned about it."
Organized by retired Air Force Maj. Gen. Harold Mitchell, the event featured a program of guest speakers including Mayor Billy Keyserling, who read a resolution recently passed by city council at its June 9 meeting.
The resolution recognizes "the deep historical systematic oppression of black people in our city and worldwide."
At that meeting, Mitchell said he had been struggling with the death of George Floyd at the hands of police in Minneapolis. He also paused to remember the Charleston church shooting victims who were killed by a self-proclaimed white supremacist during a Bible study at the Emanuel African Methodist Episcopal Church.
"I never thought in my wildest imagination that anyone could walk into a church and shoot nine persons while they were praying," he said.
A Sheldon native, Mitchell attended Robert Smalls High School before graduating in 1968, the same year that saw the assassination of Dr. Martin Luther King Jr. as well as Robert Kennedy.
In 1968, Mitchell was also preparing to leave home for his first year at S.C. State in Orangeburg when three student protestors, fired on by S.C. highway patrolmen, were shot and killed in a protest after tensions flared in the city after the owner of a bowling alley refused to allow entry to blacks, despite the Civil Rights Act of 1964 having passed four years earlier.
Many more were wounded in the shootings and the killings would become known as the Orangeburg Massacre.
"It was a terrible time for our country and a time that I thought by now, and in keeping with Dr. King's dream, we wouldn't be having these conversations," Mitchell said at the meeting. "Yet here we are."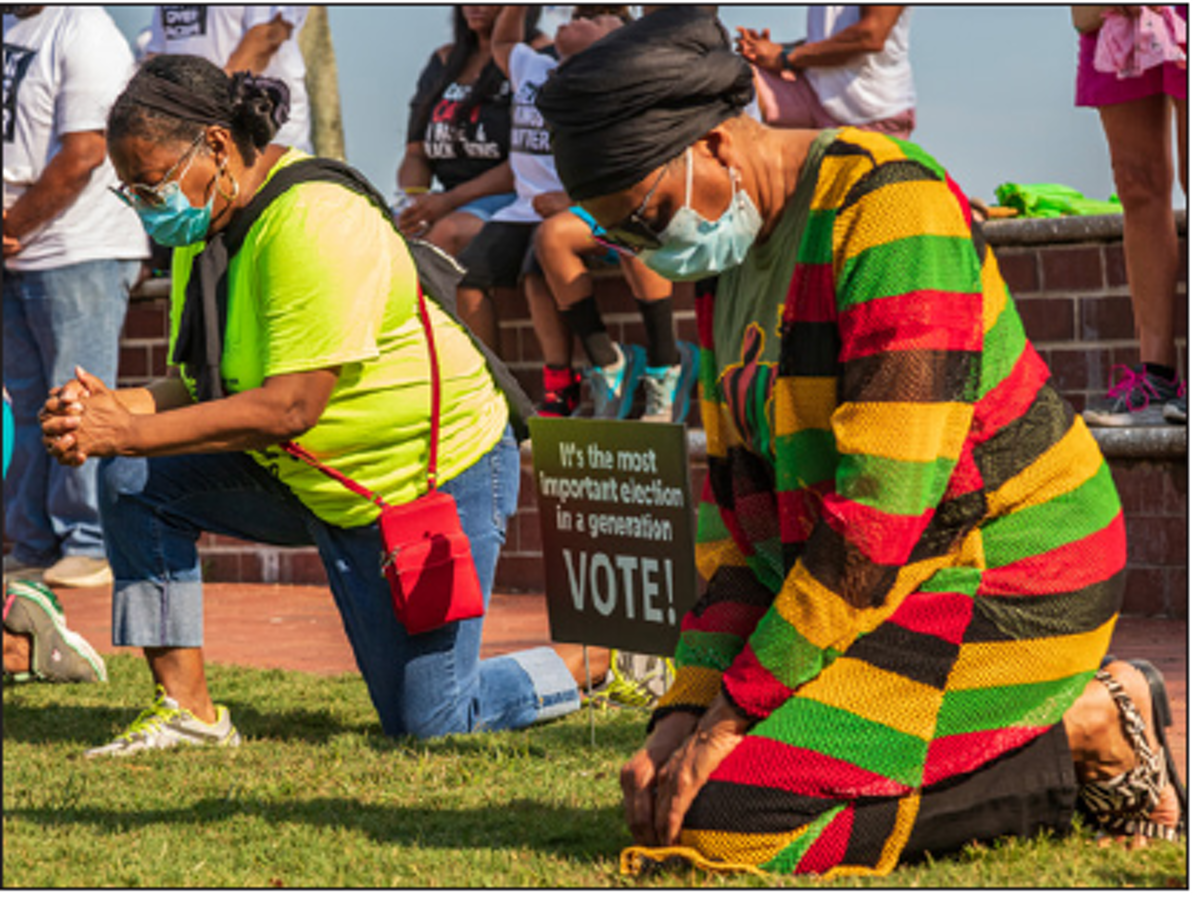 Mitchell went on to become a commissioned officer before graduating from S.C. State in 1972 and earning his Navy pilot's wings and for nearly 40 years he served in the military before recently retiring and moving back to South Carolina in 2015.
Now more than 50 years later, Mitchell said he found himself in a similar situation as he did in 1968 — struggling with the same feelings he had all those years earlier.
"I am saddened and anxious for the well-being of my wife, our children and our grandchildren," he said at Sunday's event. "I must say that it angers me, that after flying all over the world, protecting the freedom of others, the place I sometimes feel least free is right here at home. That's not right."
Earlier, he said he keeps getting disappointed but that he "keeps the faith and continues praying."
"I remain steadfast in my belief evidenced by your very presence," he told the crowd of various races, ages and backgrounds gathered on Sunday. "That good shall prevail over evil, and that we will prevail. And that America will go on to be the nation that it should be."