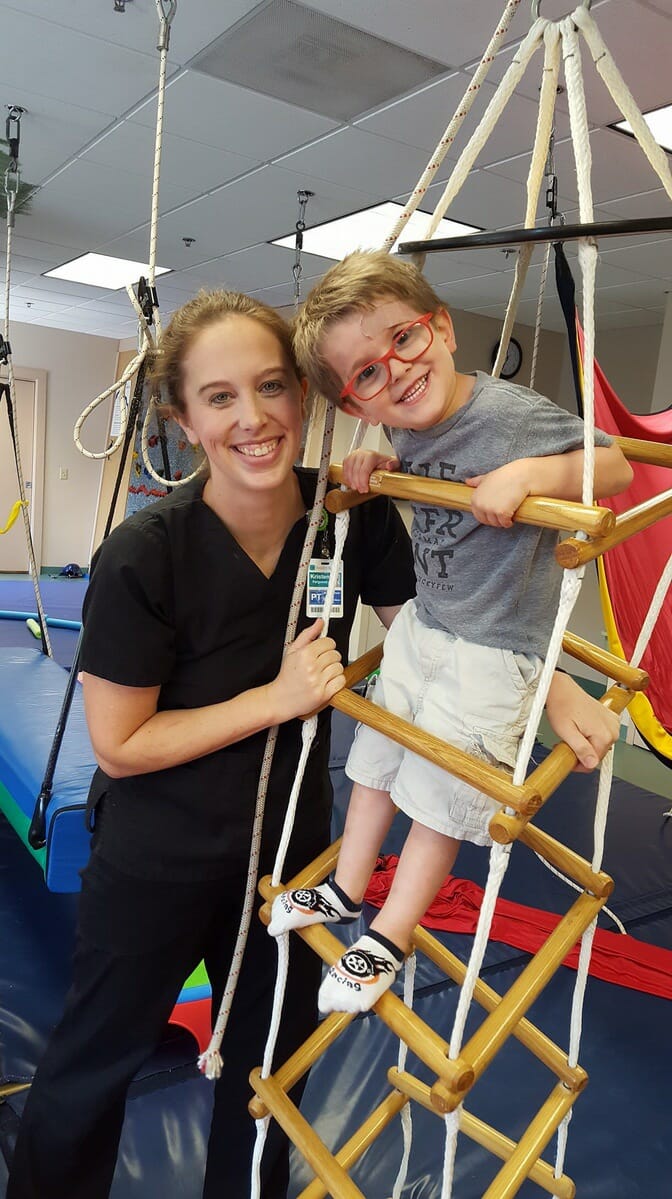 BMH physical therapist certified as specialist
Kristen Ferguson, a physical therapist at Beaufort Memorial HealthLink for Children, has earned certification as a clinical specialist in pediatrics from the American Board of Physical Therapy Specialists and the American Physical Therapy Association.
She is one of only 15 physical therapists in South Carolina currently holding the credential of clinical specialist in pediatrics. Across the country, there are 1,330 physical therapists that have earned the prestigious certification.
A physical therapist with eight years experience, Ferguson spent six months studying for the rigorous four-hour exam.
"Although I am licensed to treat anyone of any age, I wanted to specialize in pediatrics," she said. "This certification ensures that I have all the knowledge and skills to best serve my patients."
Beaufort Memorial's HealthLink for Children offers outpatient rehabilitation for patients from birth to age 21 in Beaufort and Bluffton. For more information on available services, call 843-522-5900.
Ribbon-cutting planned for new BJVIM eye clinic
Patients from Bluffton Jasper Volunteers in Medicine (BJVIM) will soon have access to free vision screenings.
Thanks to generous donations from local Lions Clubs, individuals and grants, a room in the Ridgeland clinic has been outfitted with state-of-the art ophthalmic equipment.
"We will be one of only a handful of free clinics in South Carolina to have an ophthalmic exam on site," said Pam Toney, BJVIM executive director.
A ribbon-cutting is scheduled for 3:30 p.m. Friday, Aug. 19, at the Ridgeland Clinic, located at 11332 N. Jacob Smart Blvd. The public also is invited to free vision screenings courtesy of the Sun City Lions Club from 1-3 p.m.
Dr. James Kondor, an optometrist on Hilton Head, is leading the charge in soliciting local Lions Clubs for donations and also in donating his time to the clinic.
"I told each club's board of directors, 'If certain vision problems were left undetected, it may cause patients to lose their sight.' That hit home with them," Kondor said. "The goal of the Lions Club is to eradicate treatable eye diseases in the world."
Toney said many of BJVIM patients suffer from diabetes and are in desperate need of quality eye care. Many of the conditions that they expect to come across include diabetic retinopathy, glaucoma, low vision and cataracts.
The clinic's first day for appointments will be from 1:30-4:30 p.m. Thursday, Aug. 25, at the Ridgeland Clinic.
Optometrists and other eye specialists who are interested in volunteering their time are encouraged to call Pam Toney at 843-706-7090 ex 104.
The Bluffton Jasper County Volunteers in Medicine provides services free of charge to individuals who are without health insurance, live or work in Greater Bluffton or Jasper County and qualify based on income.
Coastal Carolina Hospital earns screening designation
Coastal Carolina Hospital has been designated a Lung Cancer Screening Center by the American College of Radiology (ACR).
The ACR Lung Cancer Screening Center designation is a voluntary program that recognizes facilities that have committed to practice safe, effective diagnostic care for individuals at the highest risk for lung cancer.
In order to receive this distinction, facilities must be accredited by the ACR in computed tomography in the chest module, as well as undergo a rigorous assessment of its lung cancer screening protocol and infrastructure. Also required are procedures in place for follow-up patient care, such as counseling and smoking cessation programs.
Lung cancer screening with low-dose computed tomography scans, and appropriate follow-up care, significantly reduces lung cancer deaths.
Patients at Coastal Carolina Hospital will need a physician referral to have a lung cancer screening procedure.
Patients may schedule lung cancer screening by calling 843-784-8230.
New physician assistant joins Dermatology Associates
Heather Riessland has joined Dermatology Associates of the Lowcounty.
She is a certified physician assistant with over a decade of experience in dermatology.
Riessland completed a Master's Degree in Medical Sciences in Physician Assistant Studies, with a clinical focus in family practice and dermatology from Midwestern University in Glendale, Ariz., in 2005.
She practiced in general medicine for the Department of Defense for five years followed by over five years of experience practicing dermatology with Kaiser Permanente in Denver.
Riessland has professional affiliations with the American Academy of Physician Assistants, Society of Dermatology Physician Assistants and the Colorado Society of Dermatology Professionals.
She is currently accepting appointments in all three of the following Dermatology Associates of the Lowcountry's locations: Hilton Head Island at 3901 Main St., Suite D, 843-689-5259; Bluffton/Okatie at 40 Okatie Center Blvd. South, Suite 201, 843-705-0840; and Beaufort at 242 Lady's Island Drive, 843-525-9277. Visit www.dalcdermatology.com.