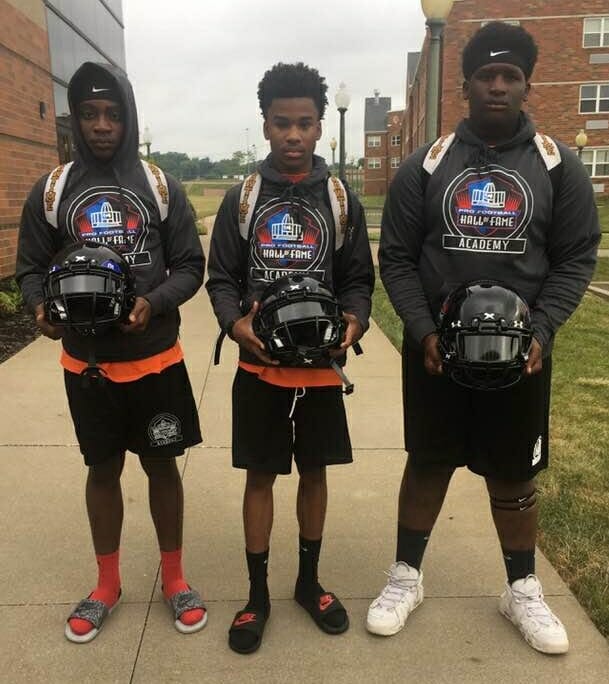 Their dream is to one day be enshrined in the Pro Football Hall of Fame, and their names will soon be there.
A trio of eighth-graders from northern Beaufort County – Kacy Fields, Eamon Smalls, and Daryl Depass – played in the inaugural Hall of Fame 8th Grade All-American Game on Friday, helping the East squad to a resounding 48-14 win over their West counterparts. As a result, their names will be engraved on a trophy that will take up residence in the Hall of Fame.
In fact, Fields, Smalls, and Depass – who are members of the Extra Mile Club of the Lowcountry (EMC), a non-profit athletics and mentoring program in Beaufort – are becoming quite familiar with Canton, Ohio. The trio was there from July 13-15 for the Pro Football Hall of Fame Academy camp, where they were evaluated and coached by NFL scouts. All three local players were among 60 rising eighth-graders selected to return to play in the inaugural 8th Grade All-American Game during Enshrinement Week.
Prior to playing in the All-American Game, they were tested at an exclusive combine for National Preps College Report, performed a Pro-Day style workout with former NFL GM Ray Farmer, and were featured as "Top 100 Middle Schoolers" for National Preps. They took part in press conferences, took in a private tour of the Pro Football Hall of Fame, and watched the NFL Hall of Fame game between the Chicago Bears and Baltimore Ravens from the VIP suite with recently inducted Hall of Fame members.
"This is huge for our program," EMC founder Christopher Dantzler said. "They have opened doors for their peers who are coming behind them."