Absentee voting
starts soon; registration deadline first week in October

By Mindy Lucas

An important update to this story: On Wednesday, Sept.16, after this story went to press, S.C. Gov. Henry McMaster signed into a law a bill allowing all registered South Carolina voters to vote absentee without needing a reason because of the Covid-19 outbreak.

Unless you've been living in a cave these last few months, you know the 2020 election is less than seven weeks away but will you be ready?

Below are few things election officials want you to keep in mind, as well as few key dates to remember.

Registering to Vote

If you're new to the area or will be voting for the first time, the deadline to register to vote in person is Oct. 2.

The deadline to register online, by fax or email is Oct. 4 and the deadline to register by mail is Oct. 5.

You can register in person at either of the two county election offices:

Beaufort Office

15 John Galt Road, Beaufort

Hours: 8 a.m. – 5 p.m.

Monday – Friday

Phone: (843) 255-6900

Bluffton Office

61B Ulmer Road, Bluffton

Hours: 9 a.m. – 1 p.m.; 2 p.m. – 4 p.m. Monday – Friday

Phone: (843) 255-6940

Even if you aren't new to voting, it never hurts to go ahead and dig out your voter's registration card to make sure everything is up to date.

If you've moved in recent years, or haven't voted in awhile for example, you may want to check your voting precinct which you can do at www.scvotes.gov.

In Person Absentee Voting

In-person absentee voting begins Oct. 5, and depending on what the South Carolina General Assembly decides this week, may open earlier.

Earlier this month, lawmakers convened in a special session to expand absentee voting to all registered voters in response to Covid-19 as they did earlier this year for the June primaries.

Legislators will also take up whether to allow for an even earlier start date of Sept. 28.

In the meantime, voters can definitely cast their absentee vote in person beginning Oct. 5 and have up until 5 p.m. the day before the election to do so.

A third office on Hilton Head, at 539 William Hilton Parkway, will be opening then for in-person absentee voting only.

Mail-In Voting

Voters can also vote absentee by going online and printing an application, or can call or email one of the county's election offices to request an application be sent via U.S. mail.

However, due to the expected surge in election mail this season, election officials are strongly encouraging voters to go ahead and request their applications now, so that they can receive those and turn them around as soon as possible.

In mailers sent to Lowcountry households by the U.S. Postal Service this week, the service recommends voters request mail-in ballots at least 15 days before Election Day, and again, as Marie Smalls, director for the Board of Voter Registration and Elections of Beaufort County said, the sooner you can request your ballot the better.

In fact, as of Friday, Sept. 11, the county elections board had already received 22,808 applications, she said.

Ballots will start going out to those who have already requested them toward the latter part of September and first part of October, she noted.

Once voters have received their official ballot, they can either mail it back or take it to their county's election office.

Voters can also track their mailed-in ballot at www.scvotes.gov (click "Check My Absentee Ballot".)

And if voters have requested a ballot and have not received them in a reasonable time, they can also track that online or call the election office, Smalls said.

"They can give us call and we can follow-up on it for them," she said.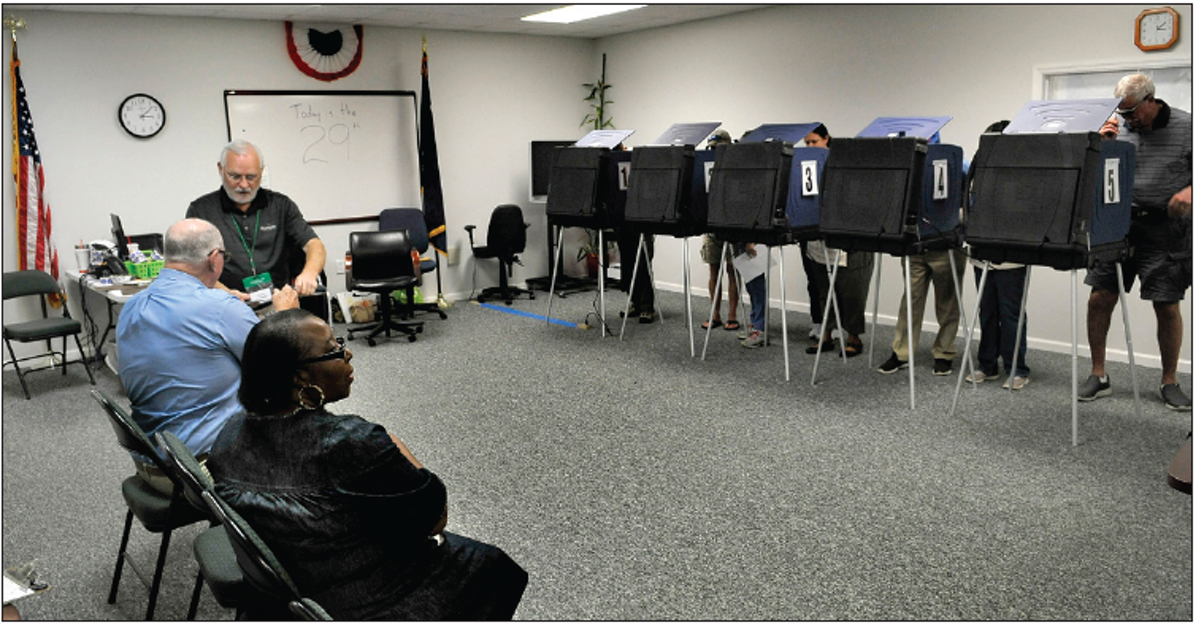 If voters want to take their ballot to one of the election offices to drop off, they should know they will need to take those inside and wait for a staff member to verify that their ballot is complete, Smalls said.
The deadline to return applications in person for absentee ballots is 5 p.m. four days before Election Day or by Oct. 30. The completed ballot must be received by 7 p.m. on Election Day to count.
Who Can Vote Absentee?
The S.C. House of Representatives, on Tuesday, passed changes to a bill already cleared by the Senate that would expand absentee voting to all registered voters as a safety measure in response to the pandemic.
If passed, that would mean voters would not need one of the 18 reasons for voting absentee under current law, says S.C. Election Commission Director of Public Information Chris Whitmire.
Voters will still need to have a witness watch them sign their absentee ballot. That bill now heads to S.C. Gov. Henry McMaster.
Covid-19 Precautions
Those voting in-person should know election officials are taking steps to protect the health of voters and poll managers, Smalls said.
"We're going to practice all of the CDC regulations," she said.
Earlier this year, poll managers received special Covid-19 training. New poll managers will receive the same training.
In addition, poll workers will be required to wear masks and personal protective equipment.
Check-in stations and voting equipment will be spaced at least six feet apart and voters voting in person will be encouraged to social distance and wear masks.
Hundreds Applied for Poll Worker Positions
After a call went out for more help at the polls, the election board received more than 650 applications in response, Smalls said. Staff are in the process of processing those and notifying workers for training now.
"The citizens of Beaufort County really came to our call and really stepped up," she said. "I think we will have more than enough workers now."
Above: A volunteer poll worker, far left, gets prospective voters to sign in prior to voting during the 2018 election. Photo by Bob Sofaly.