By Mike McCombs
Given her parents, it's not shocking that Skylar Bruner took to the water. Swimming is in her blood.
Both parents – Carlton and Heather Bruner – swam competitively. Carlton Bruner, swam for the United States in the 1996 Summer Olympic Games in Atlanta.
But Skylar Bruner has clearly taken to swimming in the open water.
Two years ago at 14 years old, she won the women's title at the 3.2- mile Beaufort River Swim, finishing 8 seconds behind her then 16-year-old brother for the overall championship.
Last year in a COVID-19-delayed race, she took the overall crown by 1:20 over the runner-up.
"It might be safe to say she has the Olympic genes," Beaufort-Jasper YMCA Healthy Living Program Director and Beaufort River Swim organizer Denice Fanning said after last year's race.
This year, the 16-year-old Hilton Head Island High School swimmer is back to defend her title in the 15th annual Beaufort River Swim at 7:15 a.m. Saturday.
"Obviously, not being in a pool, (the Beaufort River Swim) is really different. It's one of the reasons I like it," Bruner said. "It's more about the way you swim the race. You can be fast, but it's the smartest race that wins."
Bruner explained that spotting the buoys, taking the shortest route and knowing where everyone is around you make the open water much different than a pool.
"Wildlife and waves can all be factors, as well," Bruner said.
Bruner swims the 500- and 200-yard freestyle events, as well as relays for the Seahawks. In the fall, as a sophomore, she finished second and fourth in those events, respectively, in the Class 3A state championships.
"My best events in the pool are the longer events," said Bruner, who also swims competitively for the Hilton Head Aquatics.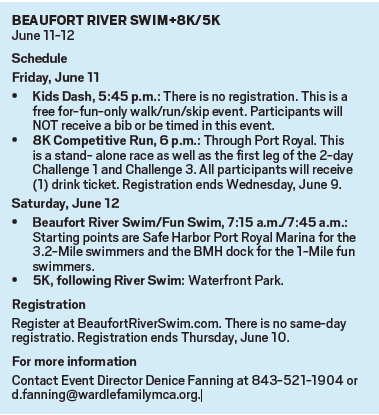 Bruner said it was actually her parents' success that inspired her to take to the open water.
"Growing up, I watched my parents swim the race and when they won, they would give us their trophies," Bruner said. "I wanted a trophy of my own."
Believe it or not, this is just Bruner's third Beaufort River Swim, but she has done other open water swims, including a 10K once where "a lot of jelly fish" made for an interesting race.
Once again, Bruner' high school team is sending several swimmers to compete in this year's race.
"I'll have a lot of teammates there, and some of them are pretty fast," Bruner said. "I'd say anything can happen this weekend. I'm pretty excited."
The Beaufort River Swim is one of the key fundraisers for the Y's Learn To Swim program. Bruner said swimming has been big in her life.
"For young people who want to learn to swim, it just opens up another avenue," Bruner said. "You are exposed to people and you meet new people."
Bruner said swimming is an aimportant skill for fun, safety, and to be athletic and stay in shape.
"I'd say swimming is all around a good skill to have."

Mike McCombs is the editor of The Island News and can be reached at TheIslandNews@gmail.com.
Above: Skylar Bruner, 15 was the first female and overall winner of the 3.2 mile swimming portion of the 14th Annual Beaufort River Swim in 2020. Her time was 50:39.8. Photo by Bob Sofaly.