Naturalized citizens recall emotionally powerful experience
Labi Kryeziu remembers the first time he saw Beaufort.
He was on a trip visiting friends in the Lowcountry but wouldn't return to what would eventually become his home for another couple of years.
"It was beautiful," Kryeziu said, recalling a walking tour of Beaufort's downtown and historic neighborhoods. He also remembers seeing the Shrimp Festival and Waterfont Park, which left a big impression on the then 27-year-old.
"That was really cool," he said.
Kryeziu's early youth, spent as a refugee from Kosovo, was very different from the life he would go on to lead as a young man in the United States.
Plagued with war and ethnic cleansing in the 1990s-era conflict, much of Kosovo had been burned or destroyed, its residents devastated. Kryeziu's teen years were filled with "suffering, civilian massacres, the sound of enemy jets, tanks and guns in distant villages," he said.
Now, nearly 10 years after the first time he stepped foot in the United States, Kryeziu will join hundreds of others celebrating their status as new Americans in a public celebration coming up this weekend in Beaufort.
Celebrate Citizenship will take place from 2 to 4 p.m. Saturday, Oct. 26 at Beaufort's Waterfront Park Pavilion.
Saturday's event is important in raising awareness, Kryeziu and others said, not only of those who have immigrated and made significant contributions to their communities, but also as a reminder to those who take their freedom for granted.
"Freedom isn't free," said Kryeziu, who now lives in Beaufort with his wife, Lycia.
If anyone knows that, it would be Kryeziu.
War comes to Kosovo
When Kryeziu was just 13, he and his family – including his mother, grandparents, sister and two younger brothers – were forced to flee their village in Kosovo.
Paramilitary forces from Serbia had begun pushing into the country in Southeastern Europe and had gone from village to village burning houses and forcing people out. Over the next year, Kryeziu and his family moved to three different villages but were eventually found and forced out of Kosovo altogether.
His older brother, then 16, and his father were hiding in the mountains nearby when they were forced out since any adult male, if found, risked being taken away and never heard from again.
Fleeing to the neighboring country of Albania, they became refugees, and Kryeziu feared he'd never see his father and brother again.
In Albania, the family stayed in a refugee camp, then lived with a host family for four months.
Finally, after months of not knowing if his father and brother were safe, Kryeziu and his family received word – the two were alive and well. Shortly thereafter, the family was reunited in Albania.
"It was very emotional," said Kryeziu.
When the war ended, he and his family returned home to find their village had been burned. Still, it was a miracle to return at all, he said.
"We cried tears of sorrow and tears of joy as we remembered the lost, saw our village burned down and reunited with brothers, fathers, cousins and uncles. Freedom is good, but freedom isn't free," he said.
A talented educator
Babet Villena-Alvarez is another naturalized citizen who remembers the joy she felt at becoming an American.
Born in the mountainous city of Baguio, in the Philippines, Villena-Alvarez did not know her life's path would traverse three continents before eventually settling in the United States.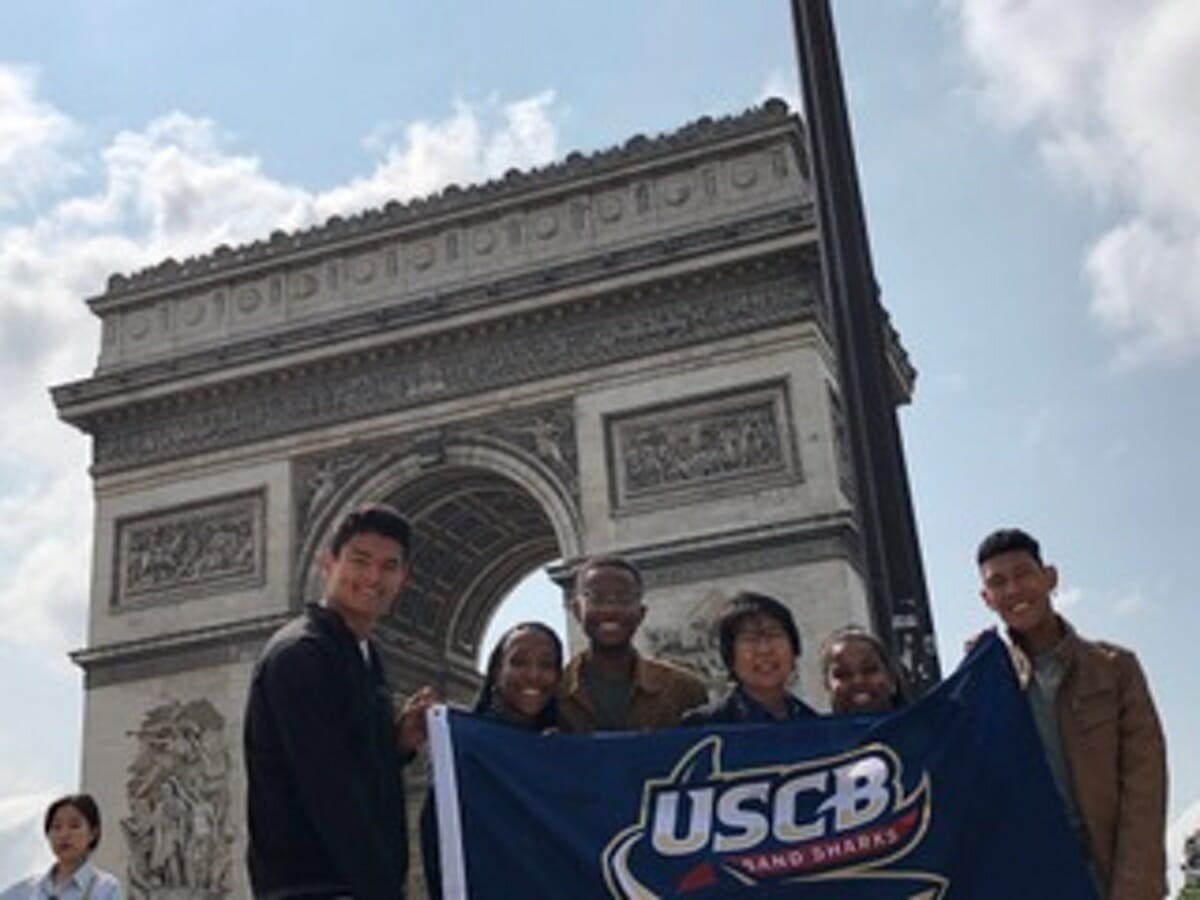 A distinguished linguist, Villena-Alvarez began college at the age of 16. She was then selected out of millions competing for a Rotary scholarship in her country to attend the prestigious Paris-Sorbonne University in France where she studied French literature.
The first time she recalls seeing the United States was on a trip with another Rotary ambassador who happened to be going home to Iowa.
"It was so clean and the air was so crisp, she said. "And, it was so beautiful with all these wide open spaces as far as the eye could see."
After she completed her masters degree in Paris, she went on to complete another program in partnership with the University of Cincinnati that allowed her to convert her masters and go on to earn a PhD.
After completing her PhD program, Villena-Alvarez interviewed with and was offered a number of academic positions around the country. She chose the University of South Carolina Beaufort, where she would become a professor of Romance Languages and French Literature in the university's Department of Humanities.
"Twenty-five years later, I'm still here," she said.
In fact, Villena-Alvarez is the longest serving full-time faculty member at USCB.
Today, she serves as Interim Assistant Vice Chancellor for Academic Affairs. She's also served as the Chair of Humanities/Fine Arts from 2007-2016, been awarded the Carolina Trustee Professorship 2012 and was the South Carolina Governor's 2010 Professor of the Year.
But it's those early years of teaching that surprised her the most, particularly at how accepting Americans were of her.
"I was an Asian teaching a European language to American students," she said. "The students did not see anything wrong with that."
Like those who will attend the celebration on Saturday, Villena-Alvarez still remembers taking the oath in 1996 in Atlanta to become an American citizen.
"They gave us all a little flag and I tell you, I held that flag to my heart and I thought, 'I can vote now. How is this possible that I get to be part of this great nation and make a difference,'" she said.
Proud to be Americans
While Villena-Alvarez' and Kryeziu's paths to citizenship were different, both are proud to be Americans.
"I think one of the greatest aspects of the American dream is that you can share past and futures with others and celebrate those who are new to our country," she said. "Not only does this provide diversity to the experiences to the rest of the country, but it also opens Americans' experiences with other countries."
The experience of becoming a citizen has never left her, she said.
"It's stronger than ever," she said. "I connect better with my students, my work, my community and my friends because of that sense of belonging."
Kryeziu agrees. When he took the oath in 2018, he wasn't prepared for how "emotionally powerful" the experience was, he said.
"I felt like I'd won my freedom all over again," he said.
An entrepreneur, Kryeziu works in real estate and financial services and is proud of the life he has made in his new country.
If he could convey anything to his fellow countrymen, especially young people just starting out, it would be to recognize what a tremendous advantage it is to be an American.
"What you have in your hand is very valuable," he said. "… The U.S. is the only place on this earth that offers the opportunity to work hard, learn and establish yourself. Anyone can achieve their American Dream."
Want to go?
What: Celebrate Citizenship
When: 2-4 p.m. Saturday, Oct. 26
Where: Henry C. Chambers Waterfront Park, Beaufort
About: A celebration to honor and welcome all of Beaufort's naturalized citizens. There will be refreshments and live music. Bring a chair!