From staff reports
There's one Beaufort tradition that keeps getting bigger and bigger, and it's only days away.
The Wardle Family YMCA will be holding the 15th annual Beaufort River Swim (BRS) on Saturday, June 12, but this year, organizers have expanded the event to include more running events.
The BRS+8K/5K not only includes the traditional 3.2-mile open water competitive swim and 1-mile Fun Swim, but additional running events and three Challenges: Run/ Swim/Run, Swim/Run, and Relay held over two days, June 11-12.
Denice Fanning, Event Director and YMCA Healthy Living Program Director, has been planning this expanded 2-day event since last September's successful BRS when a 5K was added.
"Last's year's BRS was moved because of the pandemic, but we were able to hold a very successful event in September 2020, adding the 5K as a test," Fanning said in a release. "We found there was a lot of pent-up demand for athletic events and that demand has certainly increased, so we have added an 8K timed run, a Kids Dash fun run, as well as the 5K run."
The 8K Run and Kids Dash will take place on Friday, June 11 starting at 5:45 p.m. in Port Royal at the Community Beer Garden/Sands Beach, and the 5K run will take place on Saturday, June 12 following the Beaufort River Swim, which stages at the downtown Beaufort Marina parking lot with check-in starting at 6 a.m.
"We have set up three Challenges which will test the mettle of serious athletes such as triathletes, high school and college athletes and any multi-sport athlete who is up for the 'challenge,'" Fanning said. "There is also a relay feature, so swimmers and runners can create teams and partner up – we've got something for everyone!"
The Friday evening event starts at 5 p.m. and will also include live music, food trucks, and plenty of libations, with both adult and non-alcoholic beverages available for purchase at the Community Beer Garden.
The Kids Dash on Friday is perfect for those who want to walk, kids of all ages (including families with strollers), and everyone who wants to burn come calories before having a libation. There is no registration – this is a free for-fun-only walk/run/skip event.
"Get in a brisk walk, support our local YMCA and have a great time with friends and neighbors at the Community Beer Garden," Fanning said.
It's not just for fun
Sure the BRS+8K/5K is competitive and good exercise. But there's another reason to participate.
As recently as 2019, the Wardle Family Y taught more than 900 local kids and adults how to swim, more than half for free or at a reduced cost. This was made possible through donations to the YMCA Annual Scholarship Campaign, the Y Learn to Swim program and grants.
But it was also made possible by the funds raised at the Beaufort River Swim.
The YMCA raised more than $15,000 for the Y Learn To Swim program each of the last two years at this event.
"We exceeded our goals by even having (the race) and not having it canceled altogether," Fanning said last year. "I couldn't be happier."
As a leading nonprofit committed to youth development, the Y has been a leader in providing swim lessons and water safety locally for more than 25 years through a variety of programs, including:
Age group lessons including parent/child and private swim lessons;
Lap swimming;
(BYAC) Tiger Sharks Swim Team;
Water aerobics group exercises classes;
Lifeguard training;
CPR and first-aid training;
Masters Swim;
100-mile Swim Club; and
Seasonal outdoor pool.
To ensure that everyone has an opportunity to participate, financial assistance is available.
To learn more about Wardle Family YMCA swim programs, contact Kaylin Garst at 843-522-9622 or k.garst@wardlefamilyymca.org.
Last year's event
After winning the women's title in the 2019 Beaufort River Swim, 15-year-old Skyler Bruner beat everybody else last year, turning in a time of 50:39.8 and claiming the overall and women's title.
Michael Wendt was the runner-up and men's winner with a time of 52:59.8. Yorlliry Moreno, 29, was the overall biathlon champion with a time of 1:18:14.5.
There were 141 swimmers and 32 runners last year.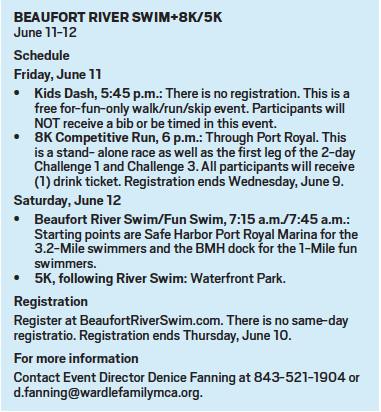 Photo from last year's Beaufort River Swim by Bob Sofaly