A Beaufort restaurant owner who helped lead a public protest against another Beaufort businessman's treatment of women was arrested last week and charged with assault and battery and criminal sexual account.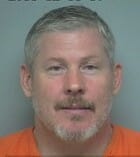 Kenneth Reed, 47, owner of Maggie's Pub and Eatery in Habersham, was arrested Thursday, Sept. 27, and released the next day, according to the Beaufort County jail log. He was charged with three counts of second degree assault and battery and two counts of third-degree criminal sexual conduct.
The Beaufort County Sheriff's Office said five women have filed complaints against Reed since July 20. The initial report came from a former employee of Reed's who said he physically assaulted her at his residence in Habersham.
In the weeks that followed the woman's report, four other women, who had also worked for Reed, reported that they suffered similar and more serious sexual assaults. The women reported the incidents occurred over a period of a year from May 2017 through May 2018 at Maggie's Pub and at another business in Beaufort where Reed is an employee.
Sheriff's Office investigators met with the five victims over the past few months to obtain statements and details of the incidents. Investigators also consulted the 14th Judicial Circuit Solicitor's Office during the investigation and, after the cases were reviewed by solicitors, they recommended that warrants be sought for Reed's arrest for the five offenses.
On Thursday, Sheriff's Office investigators met with a Beaufort County magistrate and presented the facts of the cases. The magistrate found probable cause existed and issued warrants for Reed's arrest for the five offenses. Deputies assigned to the Sheriff's Office Warrants Section located Reed at his place of employment in Beaufort and arrested him for the five active warrants. Reed was transported to the Beaufort County Detention Center without incident.
Reed was released on $29,000 bond.
In August, Reed helped organize a protest in downtown Beaufort against Gene Brancho, the former owner of Eat Sleep Play Beaufort, and hosted a meeting for women who claimed to have been victims of bullying and unfair business practices.