By Mike McCombs
Battery Creek High School biology teacher Aimee Whitesell was named Beaufort County's 2021-2022 District Teacher of the Year on Friday, Oct. 1 at a breakfast honoring teachers of the year from all of the district's schools.
Whitesell was aware winning was a possibility. That's why she went through the process – she was nominated by coworkers, wrote numerous essays and filled out an extensive application form and submitted it. And she hoped.
Still, she was surprised.
"I really was shocked when they announced," Whitesell said. "Very humbled, too. It was pretty spectacular."
Battery Creek High School Principal Denise Lessard said in a district release that Whitesell's students are authentically engaged during her classes and are empowered to direct their own learning.
"Building relationships and serving as a role model are her two strengths which enable her to make a profound impact on the daily lives of students and enhance our school culture," Lessard said.
The four other finalists were Hilton Head Island High School's Oana Bejan, Hilton Head Island Middle School's Ann Buckley, Mossy Oaks Elementary School's Christopher Crabb and H.E. McCracken Middle School's Lynne Sunday.
Despite the win, Whitesell said Friday was pretty much a normal day for her.
"I had students that knew what was happening," she said. "Thye knew where I was going in the morning and that this was a possibility. They all came to me and congratulated me. But I still had a normal day. I taught a lesson."
Along with the honor of being selected the best of the best in the district, Whitesell received flowers and a certificate. But Whitesell said the biggest prize is that the award opens up lines of communication with her peers that she did not have before.
As a top five finisher for District Teacher of the Year, Whitesell is now a part of the Advisory Council. The top five for the past two years make up the counsel, which Whitesell calls a kind of teacher forum. The Council's big focus this year is teacher morale and retention.
"Now, I get to help teachers around the district," Whitesell said. "Normally, you don't get a lot of outside input. They amount of people I get to talk to now has improved."
Whitesell is excited about the exchange of ideas and the possibility of learning from, or helping, her peers at other schools in the district whom she might not otherwise engage.
"This changes the perspective, this changes the conversation," she said. "Say for instance this school is doing X, Y, Z and excelling … I can improve on what we're doing just by talking to someone at a school that's just two miles down the road, or five miles down the road. I'm super excited to be able to talk to other teachers."
Whitesell said that before the award, as a regular teacher, she didn't even know this existed.
"(We had a previous) teacher who was in the top five," she said. "I was so busy figuring out COVID that I honestly didn't pay enough attention. Any teacher can have input just by going through their school's teacher of the year, I just missed it.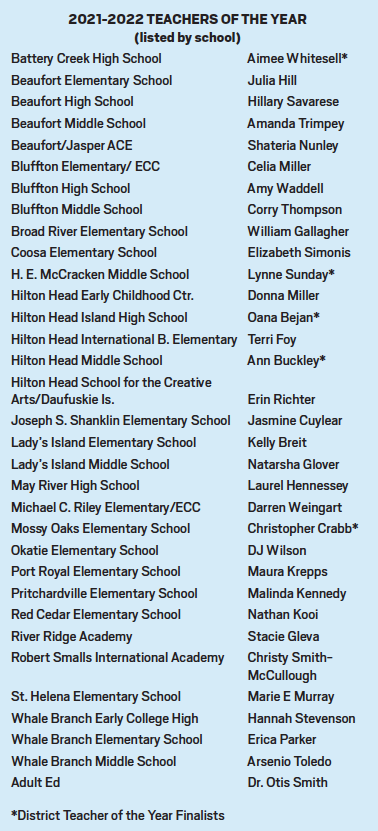 A part of her four years at Battery Creek that Whitesell loves is being a part of the Leader in Me program. Whitesell serves as the Student Lighthouse Coordinator for Battery Creek, a Leader in Me Lighthouse School.
In the district's release, Whitesell said the program "is not about the status or being the person speaking to everyone, it is about giving the students (even the ones too afraid to speak) and myself, the ability to speak the same language and understand how we can use the language and skills taught to make us successful."
The program starts small in the classroom, allowing students to step up, answer more questions and become leaders, putting the all of the students on equal footing.
"What ideas do you have? How do you want to implement this?" she said. "I … have 16 students under me. Those students give other teachers breaks on Leader in Me lessons. They actually help lead the school."
Whitesell has been teaching for nine years, five at a high school outside New Orleans before coming to the Lowcountry. She holds a master's degree in in Educational Leadership from the American College of Education and a bachelor's degree in Natural Science and Biology Education from Missouri Western State University.
She holds a Cambridge International General Certificate of Secondary Education and is certified in Sheltered Instruction Observation Protocol (SIOP), helping to make content material more comprehensible to English Language Learners.
Whitesell said in the release that it's an honor to be named with other outstanding teachers, but she sees herself as an ordinary teacher who loves her students like family, working hard to show them how much she cares about them.
She wrote in her Teacher of the Year application, "Being an outstanding teacher is someone who builds the whole student and looks for that spark to make the students better inside and out."
Mike McCombs is the editor of The Island News and can be reached at TheIslandNews@gmail.com.