CJ Cummings follows in siblings' footsteps on road to Tokyo 
Above: C.J., Crystal and Omar Cummings, left to right, have all lifted weights competitively for Coach Ray Jones. Also pictured is Crystal Cummings' daughter Christin. Photo courtesy of Crystal Cummings. 

By Mike McCombs

Crystal Cummings remembers when Coach Ray Jones first came to her school and gave a weightlifting exhibition. 
"It was something I'd never seen before,"Cummings said. "I was interested. I wanted to try it."
First, she had to convince her father.
And Clarence Cummings Sr. was having none of it.
"Daddy said 'no,'" Crystal Cummings said. "For two or three months."
But Crystal Cummings kept asking. And if she hadn't, C.J. Cummings would likely never have taken up weightlifting, much less be competing in the 2020 Summer Olympics next week in Tokyo.
"My dad, he wasn't too fond of it," Crystal Cummings said. "He wasn't too familiar with Olympic style weightlifting. But I kept asking, and one day, he saw me crying and he said, 'If that's what you want to do, go ahead.'"
"Crystal was in one of my original after school programs I did. I went to Lady's Island Elementary when she was 10 years old. And she signed up there," Jones said. "I had something really light, like some PVC pipes and 5-pound bars or something like that, and they would work with those. And once that program ended, the ones that would want to, you would invite them to come to the gym. And I had my gym at that time. And they would come and try to train. And that was their introduction to weightlifting."
Jones said only three from that first group stuck it out. One was Crystal Cummings.
Already a good athlete, Crystal Cummings excelled at basketball and softball. Weightlifting became another sport she excelled at.
"Just like C.J., I was good at it," Crystal Cummings said.
"Crystal, you could just tell … I'm not joking when I say it, as talented as Omar (Cummings) is, and as talented as C.J. is, I don't know that Crystal wasn't the most talented of them all. Because it was just easy for her, too," Jones said. "She wasn't doing all the little things, she would just come in and train – 11, 12, 13, 14 years old. But by the time she was 14, she was ready to make a Junior World team. Just a lot of ability if she had chosen to stick with it."
Instead, Crystal Cummings stopped lifting weights competitively in 9th grade when she made the varsity girls basketball and softball teams at Beaufort High School.
"Coach Jones didn't have the time he has now," Crystal Cummings said. "If you didn't make it in the morning, that was it. I chose basketball and softball.
"If I knew back then what I know now, I would have chosen weightlifting," Crystal Cumming said. "I was so fortunate I met Ray Jones."
Fast forward
Crystal Cummings is 11 years older than Omar Cummings and almost 13 years older than C.J. Cummings. When she began lifting weights with Coach Jones, neither were born yet. And neither have many concrete memories of her lifting.
By the time C.J. Cummings was 10 and older brother Omar Cummings was 12, they were both star football players for Beaufort County PALS and Jones was the strength and conditioning coach at Beaufort Middle School.
Crystal Cummings was visiting Jones one day when he told her he had a conditioning program that featured Olympic weightlifting. She wanted her brothers to get involved.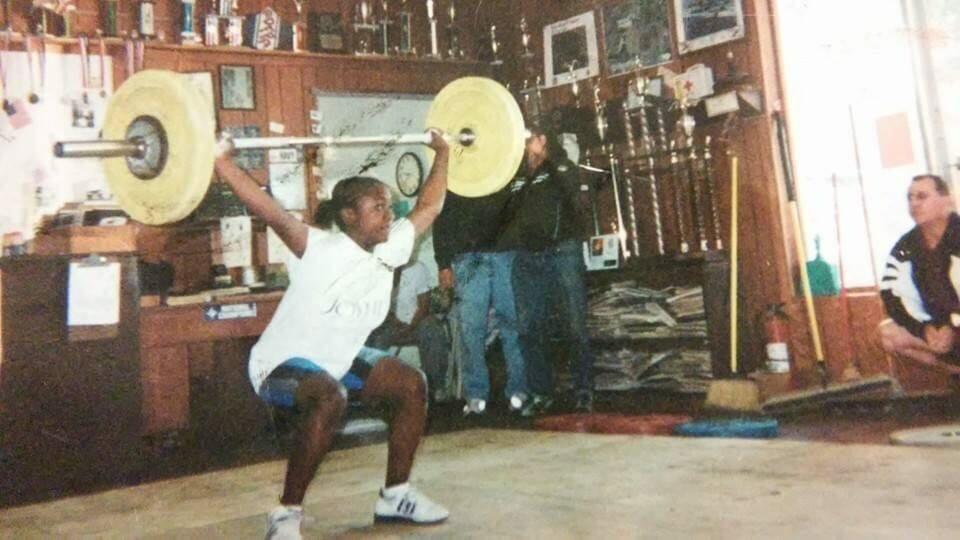 Savasha Cummings, the boys' mother, was OK with the idea. But once again Clarence Cummings said "no."
This time, Crystal Cummings handled it differently.
The boys loved hanging out with their much older sister. She had a driver's license and a car, which provided a measure of freedom for Omar and C.J. Cummings.
One day, Crystal Cummings was in town running an errand with the boys in tow. On a whim, she stopped by Beaufort Middle School and introduced them to Jones.
"He showed them the movements with a hard plastic pole, the same way he did me, and they did that and loved it," Crystal Cummings said. "Once he did that, it was me taking them behind my parents' back, almost."
Eventually, Clarence Cummings found out, but the boys were allowed to continue with Coach Jones.
Crystal Cummings said it took a while, but eventually, Clarence Cummings was on board with the boys' weightlifting.
"To be honest I don't think initially he understoood how good Omar and, particularly, C.J. could have been or how fast things were moving for them," Crystal Cummings said. "But Coach Ray saw the potential."
Omar breaks out
In his first competitive meet, C.J. Cummings lost to William Coin of Savannah.
"He cried about it," Crystal Cummings said. "He didn't like losing, so he did something about it after that.
And so began C.J. Cummings rise to the top of the American weightlifting mountain.
By the spring of 2015, 14-year-old C.J. Cummings was expected to do well and possibly win his first international medal in the 69-kilogram weight class at the IWF Youth World Championships in Lima, Peru. His 16-year-old brother Omar Cummings made the team in the 77kg weight class and made the trip to Peru, as well.
The trip to Peru didn't follow the script.
C.J. Cummings struggled mightily, making just one of six attempted lifts, and failed to place.
The next day, a day he dedicated to his younger brother, Omar Cummings stepped out of his younger brother's shadow. He set American Youth records for the Clean & Jerk and Overall total, claiming bronze medals for both.
"I feel a lot of love from my coach, my team, my family, my hometown and my country," Omar Cummings told the Beaufort Gazette after the competition. "It's just a lot of love going on right now and excitement.
"I'm just thankful for the support, and most of all, Coach Ray (Jones). Because without him, none of this would be possible."
"Of the Cummings family, he was the first one – before C.J. – to win an international medal," Jones said of Omar Cummings. "He won a bronze medal at a Youth Worlds. And he wasn't expected to. If he had maybe cracked the top 10 at the Youth Worlds, it would have been good for him. But that son of a gun ended up getting a bronze medal."
Just a couple months later in June, Omar Cummings swept golds in the Snatch, Clean & Jerk and Overall in the 77kg weight class in the Age 16-17 bracket at the USA Weightlifting National Youth Championships in Bloomington, Minn. In July, he was named the nation's top weightlifter in the Age 16-17 bracket.
More outwardly emotional than his younger brother, it was hard to gauge just how good Omar Cummings was because he simply didn't lift enough.
When C.J. Cummings began lifting weights competitively, he immediately gave up football. Omar Cummings, however, was a football star.
As a Beaufort High School junior that same year, Omar Cummings rushed for 404 yards and eight touchdowns in a single game against Berkeley. The following fall, as a senior, he had 1,270 yards rushing for the season and scored 16 touchdowns, numbers good enough to earn a selection to the North-South All-Star Game in Myrtle Beach.
"The thing with Omar, you never really knew how good Omar could be with weightlifting because from the time he started with me, he was always playing football every year," Jones said. "The brutal way it breaks your body down when you play football, I only had him half a year when he had just recovered from football and I could see what he could do with weightlifting."
In February 2017, Omar Cummings signed a National Letter of Intent to play football for S.C. State University in Orangeburg. After redshirting in 2017, he was a reserve running back in 2018 and 2019.
"He was No. 3 in the world when he quit lifting," Crystal Cummings said. "In the world."
It just keeps getting better
C.J. Cummings recovered from that awful performance in the 2015 IWF Youth World Championships in Peru. In fact, that was likely his lowest point as a weightlifter.
Since then, he has won two IWF Youth World Championships, four IWF Junior World Championships, two Pan-Am Championships, and has set 23 American and three World records. He just won his first U.S. National Championship as a senior weightlifter and he's on his way to his first Olympics.
C.J. Cummings is only 21 and he's the top American male weightlifter.
And to think, without his sister's persistence, it might never have happened.
"I guess you could say she was the reason I found this sport," C.J. Cummings said of his sister Crystal. "If it wasn't for her, I would never have been introduced to the sport. And if it wasn't for her support and bringing me to the gym when I first started, I probably would have probably quit.
"It was a long time ago, but she was there, she supported me and she introduced me to this. So all of this was because of her."
And Crystal Cummings is still supporting her youngest brother. She is his biggest cheerleader on social media and is always the first to share videos or photos of his exploits.
And like "Coach Ray," she thinks it was ultimately a good thing that the 2020 Summer Olympics were delayed a year.
"C.J. is more mentally there now. It was a good thing," Crystal Cummings said. "I don't think he was a focused as he is now. He understands, now. He's more disciplined about his weight, his work habits and about not putting pressure on himself."
Crystal Cummings hopes her brother is able to enjoy the experience of competing in the Olympics, not matter how he fares in the competition.
"Just do what you're supposed to do," Crystal Cummings said. "Just do what Coach Ray says, and it'll all fall into place."
Mike McCombs is the editor of The Island News and can be reached at TheIslandNews@gmail.com.