Top photo: Hilton Head Prep boys' tennis player Cleeve Harper finished ninth at the Canadian U16 Junior Nationals. Harper was awarded the Sportsmanship Award at the tournament. Photo courtesy of Hilton Head Preparatory School.
HIGH SCHOOL FOOTBALL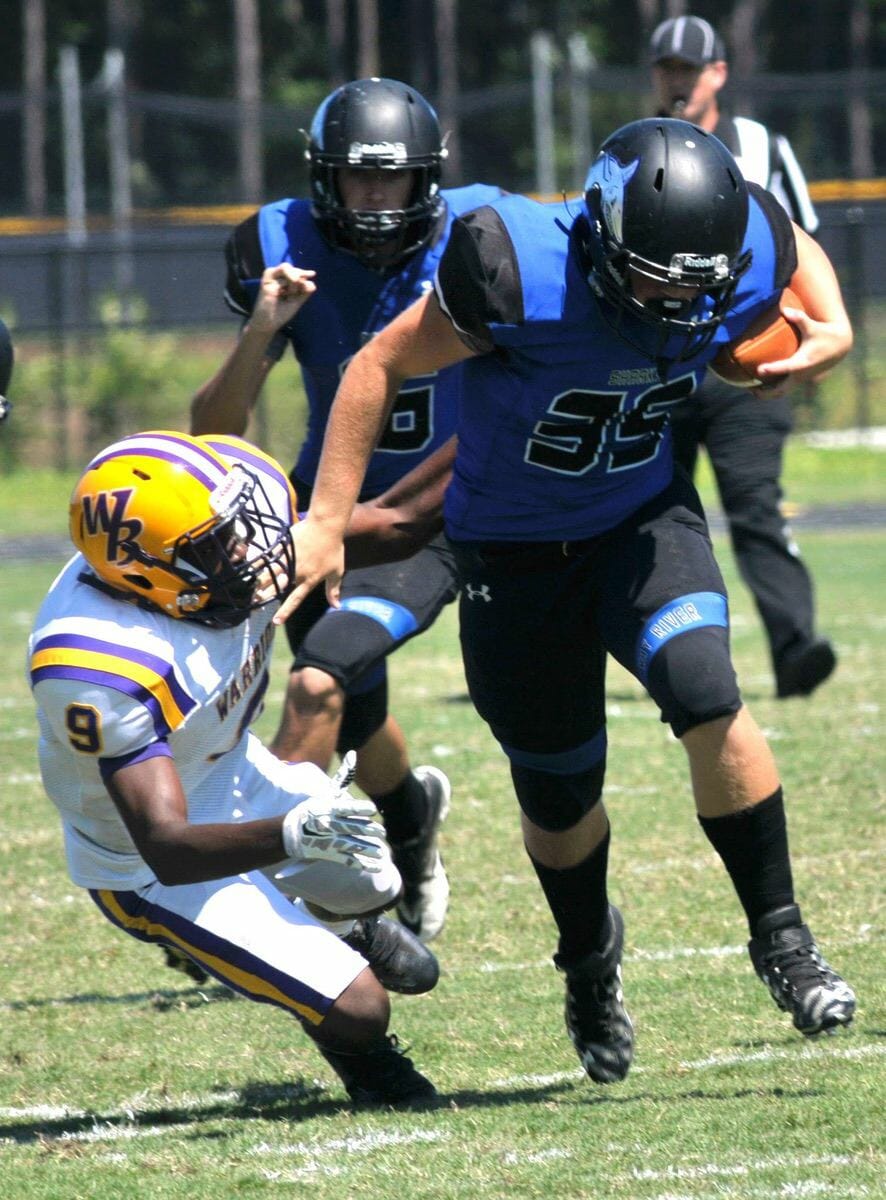 Hilton Head Island levels Battery Creek
In a dominant performance, host Hilton Head Island pulled away to beat Battery Creek 48-3 in an early-season high school football game on Sept. 3.
With the win, Hilton Head Island moved to 2-0.
Battery Creek dropped to 0-3 with the loss.
After Hurricane Hermine forced the game to be postponed, Hilton Head Island and Battery Creek met on Saturday.
The game was originally scheduled to be played at Battery Creek, but Hilton Head hosted the contest after school officials felt there might be a drainage issue at Battery Creek due to heavy rains from Tropical Storm Hermine.
Hilton Head Island, under the direction of veteran head coach B.J. Payne, dominated throughout the early-season high school gridiron affair.
The Seahawks overcame numerous penalties to win convincingly.
Leading Hilton Head Island to the win, junior quarterback Collin Kaiser completed 11-of-15 passes for 312 yards and three touchdowns. Kaiser completed scoring passes to Bryce Singleton, P.J. Franklin and Tyler Hamilton during the winning performance.
Pacing the Seahawks on the ground, John Bell rushed for two touchdowns. The hard-running Bell scored on a 75-yard scamper in the third quarter.
Kicker Jonathan Orr led the Seahawks' special teams unit, connecting on six-of-six extra point kicks and drilling two field goals that covered 32 yards and 43 yards.
Battery Creek's only points came on a 35-yard field goal by Brandon Benke in the fourth quarter.
Gabe Singleton led the Battery Creek offensive effort with 62 rushing yards.
Shorthanded Battery Creek played without six players, all of whom were suspended following an altercation with rival Beaufort High during a game eight days earlier.
Both Hilton Head Island and Battery Creek are due back in action. Battery Creek is slated to host Charleston Math & Science on Thursday, Sept. 8. In another upcoming high school football game, Hilton Head Island is scheduled to host upstart May River on Friday, Sept. 9.
Bluffton turns back Beaufort High, 35-14
In an early-season high school football battle of unbeaten teams, Bluffton pulled away to beat visiting Beaufort High 35-14 on Sept. 3.
The two teams met over the weekend after weather forced the Sept. 2 game to be postponed.
With the win, Bluffton moved to 3-0. Beaufort High dropped to 2-1 with the loss.
The Bobcats, under the direction of head coach Ken Cribb, amassed 323 yards of total offense and shook off a slow start to earn the win.
Beaufort High led 14-7 at the conclusion of the first quarter. Bluffton, however, battled back. The Bobcats eventually battled back to lead before halftime.
Quarterback Hunter Eldridge led Bluffton to the victory. Eldridge, one of the area's top high school football quarterbacks, passed for 202 yards.
Patterson emerged as Bluffton's leading receiver, reeling in three receptions for 71 yards.
The productive Patterson rushed four times for 35 yards in the Bobcats' win.
Tyrese Sandgren, hauled in another scoring pass from Eldridge in the Bobcats' victory.
Showing some explosion on special teams, Cam Bent scored Bluffton's first touchdown on a 94-yard kickoff return.
Defensively for Bluffton, Dylan Lapinksi added an interception as the Bobcats prevailed.
Struggling offensively after a strong start, Beaufort High failed to score following the first quarter.
Jeffrey Smyth, a backup quarterback, led the Eagles in rushing with 55 yards via 12 carries.
Beaufort High running backs Omar Cummings, Wyatt Sherpensky and Kyleik Middleton were limited to a combined 72 yards.
Tim Clark scored Beaufort High's first touchdown on an interception return.
Cummings provided the Eagles' second touchdown on a 1-yard rushing effort.
Beaufort High committed four turnovers and missed a field goal in the short effort.
Both Bluffton and Beaufort High are due back in action on Friday, Sept. 9. Bluffton is scheduled to host New Hampstead of Savannah, Ga., while Beaufort High entertains Whale Branch. Kickoff for each of the upcoming high school football games is set for 7:30 p.m.
GIRL'S HIGH SCHOOL TENNIS
Beaufort Academy doubles up John Paul II
Beaufort Academy doubled up visiting John Paul II 6-3 in a girls' high school tennis match on Aug. 31.
With the win, Beaufort Academy improved to 2-1 overall and 2-0 in the region.
Five different Beaufort Academy singles players – Jayda Scheper, Abby Dalton, Lila Alcott, Juliana Lane and Weezie Gallant – won matches.
John Paul II singles player Jayne Trumps also notched a win in the girls' high school tennis match.
On the doubles side, the Beaufort Academy duo of Mary Alden Cooper and Emma Dillinger posted a win.
Doubles winners for John Paul II in the away match were Sarah Barevich/Megan Reilly and Katherine Reilly/Jayne Trumps.
High school girls' tennis and boys' tennis teams from throughout the area continue to compete in regular-season matches.
WOMEN'S COLLEGE TENNIS
Carter selected for invitational
North Carolina rising senior Hayley Carter has been selected to play in the third annual American Collegiate Invitational at the 2016 US Open, Sept. 8-10 at the USTA Billie Jean King National Tennis Center in Flushing, N.Y.
The American Collegiate Invitational, open only to American college players, began in 2014 as a way to spotlight college tennis during the U.S. Open. Former Tar Heel teammate Jamie Loeb won the inaugural event in 2014.
From Hilton Head, Carter was the 2016 ACC Player of the Year and the ACC Women's Championship MVP. She became the first player in program history to hold the nation's No. 1 ranking in both singles and doubles simultaneously during the 2016 season. Carter garnered the No. 1 seed in both singles and doubles at the NCAA Championship and advanced to the title match in singles while reaching the semifinals in doubles in Tulsa, Oklahoma.
Carter was named All-America in both singles and doubles by the Intercollegiate Tennis Association (ITA). Hayley registered a 49-5 overall singles record and a 37-7 doubles record playing alongside fellow All-American Whitney Kay.
Eight men and eight women play single-elimination singles tournaments during the second week of the U.S. Open, with the winners receiving a wild card into the 2017 U.S. Open, main draw or qualifying, depending on their ranking next summer.
The fields are comprised of the top two players in the ATP/WTA rankings (as of July 18) and the top five players in the year-end Intercollegiate Tennis Association singles rankings (excluding those selected by pro ranking), including at least two graduating seniors or players who have turned pro/exhausted their collegiate eligibility.
The American Collegiate Invitational men's champion will receive a main draw wild-card entry into the 2017 U.S. Open if he is ranked No. 250 or better by the U.S. Open entry deadline next summer; the women's champion will receive a 2017 U.S. Open main draw wild card if she is ranked No. 150 or better. Otherwise, the winners will receive wild-card entries into the U.S. Open Qualifying Tournament. The champions will also get wild cards into two USTA Pro Circuit events, while each runner-up will receive one.
GIRL'S VOLLEYBALL
Lady Eagles sweep Hilton Head Prep
The Beaufort High Lady Eagle volleyball teams swept Hilton Head Prep in straight sets.
The BHS JV won 25-20; 25-6.
Chase Vaigneur led the offense with five kills; Zyaire Middleton provided strong setting with seven sets for kills. Tiffany Linton contributed excellent serving, with five aces and a serving run contributing 15 points toward the Eagle win.
The BHS Varsity squad won 25-7, 25-20, 25-20. Kaylie Richardson and Julia Smith led the offensive attack with seven and six kills, respectively.
Macy Purdy provided solid setting with 14 sets for kills, along with strong defense with 11 digs. Rebecca Fancher, libero, continues to lead the Eagle defense with 29 digs. Richardson provided solid serving with four aces and long serving runs; Madison Gallion had five ace serves.
BIKING
Annual walk, bike ride comes to Parris Island
The Annual Iron Mike Bike Tour will be held from 9 a.m. to 2 p.m. Saturday, Sept. 10.
There will be a 5-mile walk or 15-mile bicycle cruise around historical points of interest on the infamous Cradle of the Corps, Marine Corps Recruit Depot on Parris Island.
Registration can be completed online at www.eventbrite.com or on site between 9 a.m. and noon at the Parris Island Museum located at 111 Panama St. aboard the Depot. The ride at a leisurely pace should be completed by 2 p.m.
Sponsored by the Parris Island Historical and Museum Society, this event is to raise awareness for the Parris Island Museum and to make history available in an enjoyable outdoor format. The Iron Mike Tour will include local historians to answer any questions about the past of Parris Island.
The Parris Island Historical and Museum Society is a 501(c)3 that provides funding for the Parris Island Museum and its mission is to preserve the history of Parris Island.
Visitors to Parris Island must provide a driver's license, proof of insurance and vehicle registration. All bicyclists must wear approved helmets and observe all standard rules of the road. For more information, visit www.mcrdpimuseum.com.
WOMEN'S COLLEGE SOCCER
Clemson Tigers fall to rival South Carolina 
The sixth-ranked Clemson women's soccer team fell to 22nd-ranked South Carolina 2-1 at Eugene E. Stone III Stadium on Sept. 2 in Columbia. With the loss, the Tigers dropped to 3-2 on the season, while the Gamecocks improved to 4-0-1.
The last 10 minutes of the match were the best for the Tigers offensively, with another good chance by sophomore Miranda Weslake in the final minute, but they were unable to find the equalizer. Weslake is a Beaufort native.
Clemson will return to action on Friday, Sept. 9, when it hosts High Point at 4:30 p.m. at Historic Riggs Field.